Besmir Yvejsi, Kosovo Correspondent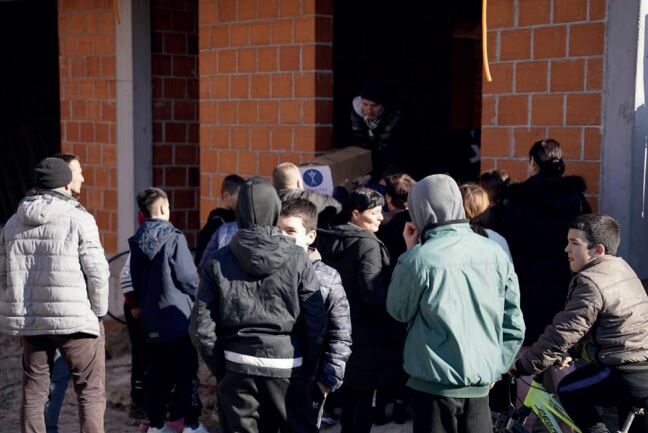 Last month, Kosovo was hit by bad weather, where it rained for several days consecutively with large floods in several cities in Kosovo, such as Istog, Podujeva, Deçan, Gjakova, Klina, Skenderaj, Mitrovica, and the surrounding villages. The last two cities were hit the hardest; according to estimates, in one municipality alone there was material damage worth millions of euros.
In these cities, there are destroyed bridges, blocked roads due to landslides, the destruction of thousands of hectares of agricultural land, and damage to residential buildings, households, and household tools. As a result, many families have evacuated.
The Municipality of Mitrovica, namely the Directorate for Social Welfare, officially contacted us to support some of the families that have been affected by the floods and families that live in severe economic conditions.
On 7 February 2023, we met with Mrs Drita Gashi Ibrahimi, Director of the Directorate of Social Welfare of the Municipality of South Mitrovica, to learn more about the difficult situation of the families receiving social assistance in this municipality who were affected by the floods last month. On February 11 and 12, after signing a memorandum of understanding with the mayor of this municipality, Mr Bedri Hamza, Humanity First Germany distributed 100 packages of food and 100 packages of hygiene products to families on social assistance in the Roma, Ashkali, and Egyptian minority neighbourhoods, as well as the "2 Korriku" neighbourhood in South Mitrovica.
Some of these food and hygiene products included rice, white flour, oil, pasta, sugar, tea, salt, vegetables, beans, milk, noodle soup packages, dishwashing detergent, hair shampoo, hand soap, and laundry detergent.
Next week, we are waiting for the distribution of another 200 packages in the Municipality of Skenderaj to the families affected by the floods, insha-Allah.