Muhammad Jamal, Niger Correspondent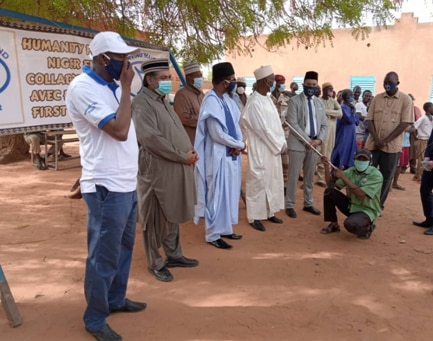 In less than 30 days, Covid-19 cases spiked dramatically in Niger. So far Niger has 955 confirmed cases, 64 deaths were also registered. The worst affected area is Niamey, which is the capital of Niger.
Due to lack of resources and being the poorest country in the world, the hardships of people are more than any other developed country. Here people toil on the daily to support their families and the government imposing the lockdown in Niamey has made life miserable for the poor.
In these circumstances, Humanity First is diligently engaged in the service of people in Niger, regardless of race or religion. A link in the same chain is a ration distribution programme in Niger, for which Humanity First Niger was supported both financially and morally by Humanity First Norway.
On 6 May 2020, in a neighbourhood of Niamey, Humanity First Niger distributed 200 ration bags to the needy and less privileged. All the bags contained five kilogram of rice, one kilogram of sugar, one litre of oil and soap. Through this programme, awareness was also raised amongst people regarding maintaining social distance and practicing good hygiene etiquette.
At the invitation of Amir Jamaat-e-Ahmadiyya Niger, Asad Majeeb Sahib, the governor of Niamey also attended the event and appreciated the role of Humanity First. Apart from the chief of the neighbourhood, some other members of the governor's cabinet also attended the programme and everyone expressed their gratitude for Humanity First Niger and Humanity First Norway.
At the end, Amir Sahib Niger and President Humanity First Niger thanked all the attendees for their participation. National television of Niger covered the programme and aired it in the 9pm bulletin, in which they praised the efforts of Humanity First.