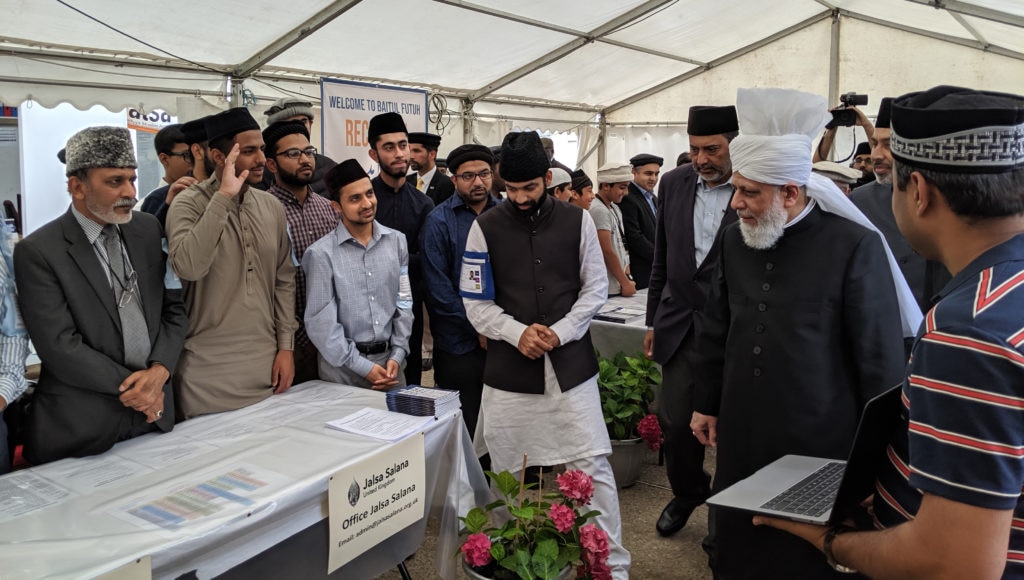 Baitul Futuh, 26 July: A major event before Jalsa Salana UK is the inspection of arrangements and inauguration of duties by Hazrat Amirul Momineen, Khalifatul Masihaa. During the inspection, Huzooraa inspects the arrangements of Jalsa Salana ensuring that the guests of the Promised Messiahas, who flock from all over the world, will be looked after well and that plans are set to run the grand operation smoothly.
This year, after delivering the Friday Sermon at Baitul Futuh earlier this afternoon, Huzooraa inspected the arrangements at Baitul Futuh – one of the major sites of Jalsa UK operations.
After delivering the sermon, many volunteers were seen assembling at their relevant departments to welcome their beloved Imamaa and to inform him of their respective arrangements.
Huzooraa started the inspection from the ladies' food marquee, where food is served not only for the guests staying at Baitul Futuh but those staying at a number of other locations. Girls sang taraney (choral poems) as Huzooraa blessed their marquee with his footsteps.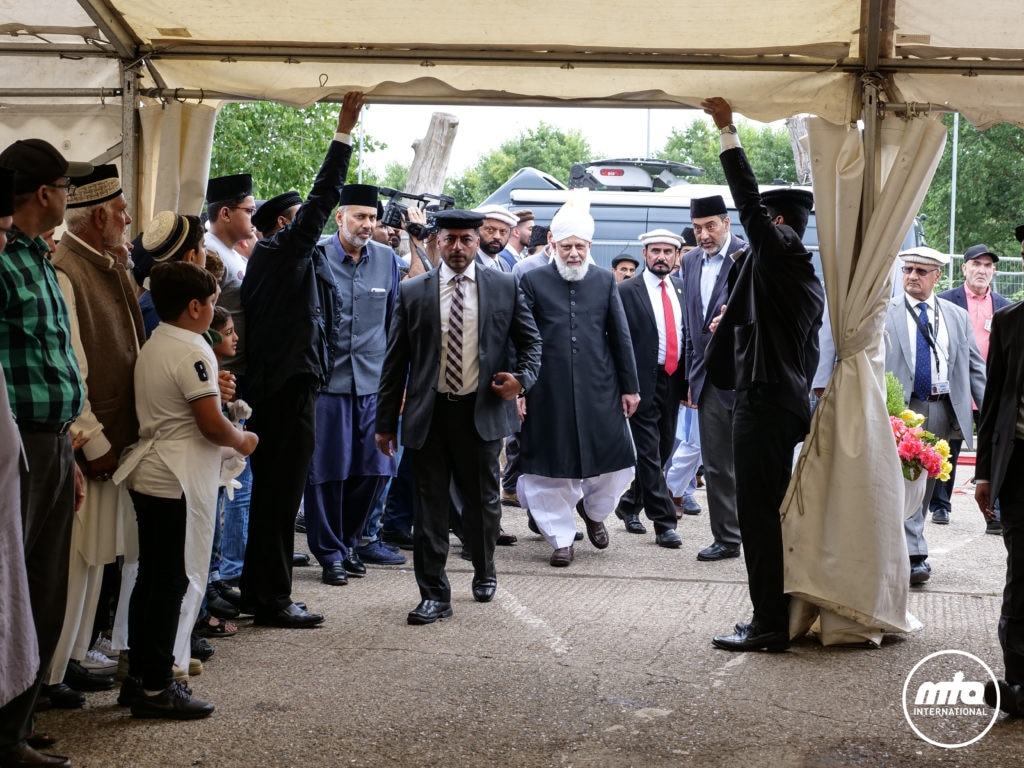 From here, Huzooraa proceeded to the men's food marquee, followed by men's accommodation in the Baitul Futuh complex where residence is arranged for participants during the Jalsa hospitality period. A separate marquee has been allocated in the car park of Baitul Futuh to accommodate male guests, where Huzooraa inspected the bedding that all guests will use in the marquee.
All these guests, men and women, will be moved to the accommodation marquees in the Jalsa Gah at Hadeeqatul Mahdi on Thursday – the day before Jalsa starts.
Thereafter, Huzooraa proceeded to the Jalsa Salana reception where the administration will welcome guests, prepare for their accommodation and provide food.
Zaheer Ahmad Khan Sahib, Naib Afsar Jalsa Salana UK, told Al Hakam:
"Recently, a proposal was sent to Huzooraa that locals of Baitul Futuh, Fazl Mosque and Islamabad be offered a parchi [ticket] system, where if they have guests, they may be able to obtain food from the Jamaat's Langar so that food does not go to waste and it benefits the local Ahmadis, much like the system that was in place during the Rabwah Jalsa Salanas. Thus, Huzooraa, during the inspection, enquired of me whether this was being implemented this year.
"Sadrs of local Jamaats or their representatives, according to Huzoor's instruction, will be available 24 hours a day to issue such tickets. During the inspection, Huzooraa said, 'Even if the Sadrs are not available, no one should be denied food.'"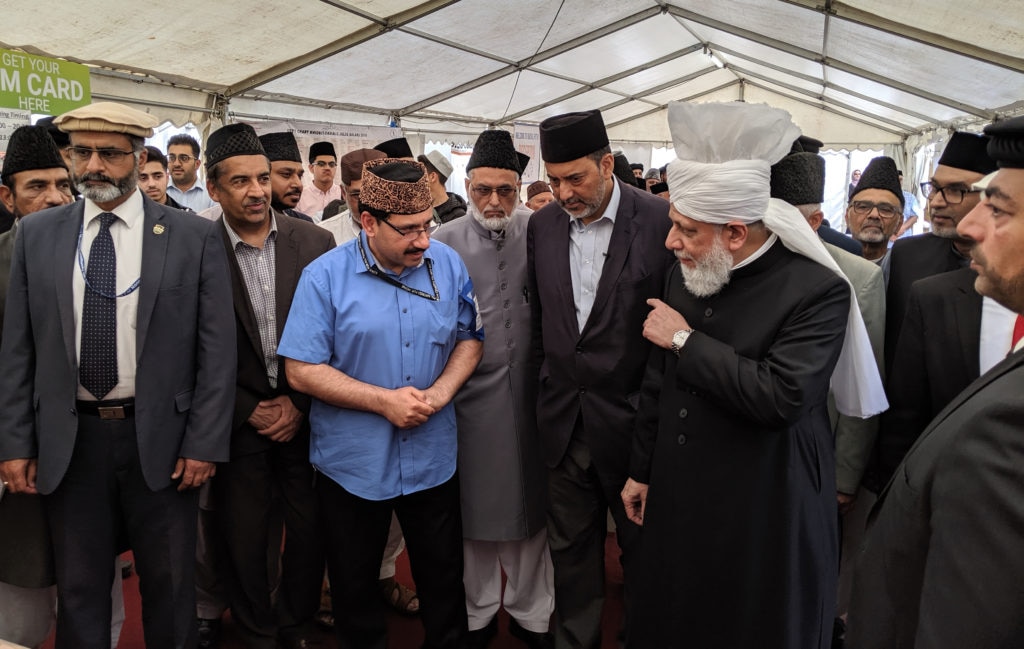 Huzooraa then enquired about various arrangements and graciously gave instructions to the people at work. One such department was the department of overseas registration, of which Khawaja Abid Rasheed Sahib is nazim, from whom Huzooraa enquired about the procedure of registering guests.
Al Hakam will be reporting on the main inspection event that is due to take place on Sunday, 28 July at Hadeeqatul Mahdi Insha-Allah.
Follow our Twitter handle @AlHakamWeekly and download our app to receive notifications of Al Hakam live-reporting throughout Jalsa Salana UK.