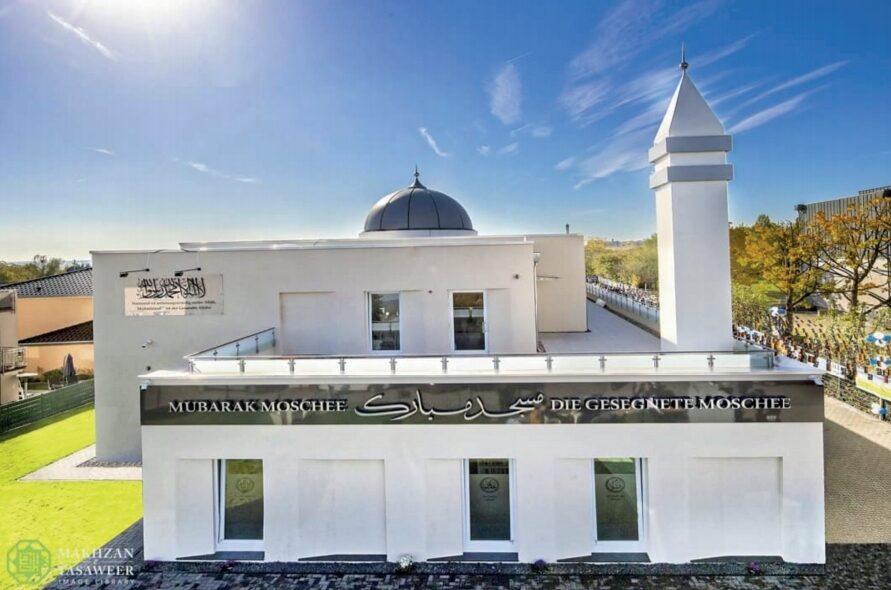 Hazrat Mirza Masroor Ahmad, Khalifatul Masih Vaa is on a tour of Europe, taking the message of Islam to its citizens. Having addressed Jalsa Salana Holland and France, opened mosques in Almere and Strasbourg and spoken at UNESCO, he is now in Germany.
We have reported on the opening reception of Mubarak Mosque in the German city of Wiesbaden and, moments ago, Huzooraa has delivered his Friday Sermon in Giessen.
He is scheduled to visit other parts of Germany where mosque openings and addresses to German dignitaries are said to be on agenda. MTA International and its portable live-coverage facilities are accompanying Huzooraa and we have seen most of Huzoor'saa engagements live via satellite and the internet.
Huzoor'saa message, as always, is crisp and clear: Peace is what the world needs most and Islam stands for peace. We will have more opportunities to listen to Huzoor'saa addresses on various occasions in the coming couple of weeks; all during this blessed tour.
One would naturally want to know how this message is received by the German nation. As a specimen, let's have a look at what Frankfurt based journalist Benjamin Kilb has to say in his award-winning work, A Ray of Hope, Growing in the Shadows: Ahmadiyya in Germany: "Debates on Islam in Germany rarely feature the Ahmadiyya community (AMJ), a reform-oriented movement, but for more than 90 years it has been part of our society. Ahmadis are well-integrated, open-minded, socially-active and law-abiding…
"However, the community only appears in the headlines when conservative initiatives want to prevent them constructing a mosque, and to do so equate them with Islamists. Meanwhile, many Muslims on the other side allege that Ahmadis are heretics. In some Muslim countries they face brutal persecution. For my feature, I travelled to several German cities to portray the AMJ and to show that Islam can coexist in symbiosis with German society, belongs to our country and does not pose a danger." (www.zenith.me)
Ahmadiyya media has joined hands to ensure that Ahmadis all around the globe are not missing out on any event of Huzoor'saa tour; this is what every Ahmadi wants the most and this is what Ahmadiyya media is trying to deliver.
While MTA International brings all addresses live to the comfort of our sitting rooms, MTA Online is trying to show as much as possible from behind the scenes.
Al Hakam and Al Fazl websites have been busy reporting on as many details of the events as possible.
Makhzan-e-Tasaweer has had their camera shutters clicking and been putting photographs together for newspapers, journals and websites.
The Review of Religions has shared some very interesting angles, and press releases from the Central Press and Media Office have been coming through bringing exclusive information about the events.
Stay tuned to the above sources and feel virtually present at the blessed events; whatever part of the world you may be in.
(Useful sources: mta.tv, alhakam.org, alfazl.com, makhzan.org, reviewofreligions.org and pressahmadiyya.com)