Muhammad Aniff Muslam, Amir Jamaat Mauritius
On 20 December 2020, waqifaat-e-nau Mauritius had the opportunity to attend their first virtual mulaqat with Hazrat Amirul Momineenaa. 64 waqifaat-e-nau attended the virtual mulaqat. Alhamdolillah.
The planning started as soon as we got approval from the Markaz. One week's refresher course and tarbiyyat camp was organised in the mosque to fully prepare the waqifaat-e-nau on a wide range of topics and materials from the Syllabus. Everyone's name tag was prepared well in advance for the historic event. Parents also bought new clothes for their daughters on this special occasion.
With the help of MTA Studios Mauritius, rehearsals for the seating arrangements and tests were carried out along with guidance on etiquette of a mulaqat. The muavina sadr Waqf-e-Nau did a survey and prepared her report with the latest figures to present to beloved Huzooraa. They had the chance to do a final rehearsal a day before the mulaqat.
A small programme was also made for the virtual class, consisting of a short tilawat with translation and nazm in chorus.
The atmosphere was very tense minutes before the class started. Everyone was eager to welcome beloved Huzooraa. As soon as Huzooraa greeted us with Salaam, everyone's tension and stress vanished, leaving them at ease just with the presence of the Khalifa. The waqifaat-e-nau were very happy to see Huzooraa.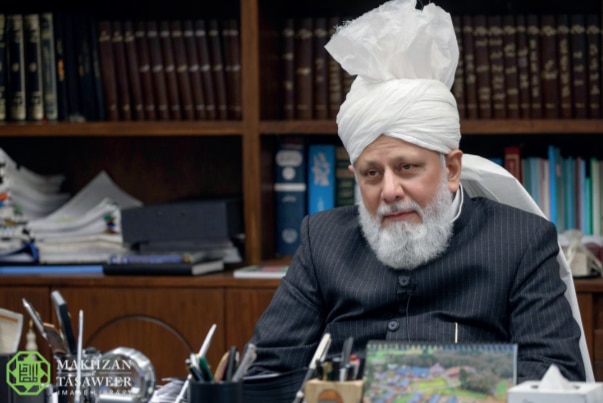 When the class ended, impressions of the waqifaat were noted. Here are some of those impressions:
Amina Mehreen Bukhuth Sahiba said:
"I feel deeply humbled and honoured to have had the blessed opportunity to watch Huzooraa speak to us live and advise us with so much gentleness, kindness and love. Especially during these times, when Covid-19 has put the whole world in confinement, seeing Huzooraa live gives us a breath of freshness and brings much peace and contentment to our hearts, alhamdolillah"
Munreddy Warzeefa Hania Sahiba said:
"I was so happy. My heart was filled with joy. It was the first time that I saw Huzooraa live, talking to us."
Aisha Sultana Begum Aullybux Sahiba said:
"Coming up to the mulaqat, we were all very tense, but on seeing Huzooraa speak to us directly, I instantly felt relaxed. I was grateful to be blessed with an opportunity like this and pray that we have another."
Madiha Hadi Bhugeloo Sahiba said:
"At first, I was nervous but when the meeting was being carried out the nervousness went away. I felt a sense of joy by seeing Huzooraa. It was memorable experience."
Hadiyah Kawthar Hosany Sahiba said:
"It was such a blessed and historic moment, which will forever be cherished in my heart."
Shakila Tayyeba Taujoo Sahiba said:
"The experience that we have had was incredible; a chance that not many have had or may have in the future. Although Huzooraa was not physically here, the feeling which we felt throughout the mulaqat was incredible. I will forever remember this event".
Amtul Kafee Aullybux Sahiba said:
"It was an amazing experience to see Huzooraa live in front of us and he was able to answer the questions of waqifaat-e-nau. I wish we could have such meetings frequently."
Aisha Mohun Sahiba said:
"The topics on which Huzooraa was asked questions were all very interesting and the answers Huzooraa gave were all very resourceful and eye-opening."
Bhugeloo Masheerah Begum Sahiba said:
"I felt anxious before the start of the mulaqat, but as soon as Huzooraa showed up, all my stress went away and I felt relaxed. I always watch Huzoor'saa classes with other waqifaat on MTA and I am very happy that we also got the opportunity to meet Huzooraa and benefit from his guidance".
Saima Afzal Durgauhee Sahiba said:
"We always look at videos of Huzooraa having classes with other waqifaat-e-nau and it felt really nice to be part of this. Seeing Huzooraa smiling was really overwhelming. Time flew by very quickly during the mulaqat."
Amtul Kafee Taujoo Sahiba said:
"I am very happy that all waqifaat-e-nau had the opportunity to have a mulaqat with Huzooraa. Indeed, this mulaqat was a heart-warming one. Moreover, it was a complete pleasure to receive all these beautiful advices from our beloved Huzooraa. This day will remain memorable. Jazakallah."
Arzeena Bakarkhan Sahiba said:
"It was a pleasure to have this mulaqat with Huzooraa. Throughout the questions and answers, we got to learn new things, the best part of which was Huzoor'saa humour and smile. If possible, these mulaqat sessions should be done at least twice a year."
Jowahir Nighat Ayesha Sahiba said:
"I felt as if we were sitting in Huzoor'saa office in Mubarak Mosque, Islamabad. I could feel the love, affection and trust beloved Huzooraa has for us. Jazakallah beloved Huzooraa, MTA Team and Waqf-e-Nau department for this memorable and wonderful mulaqat!"
Humaira Haneefa Durgauhee Sahiba said:
"It was a great pleasure to have this mulaqat with Huzooraa. He spoke to us in a jovial manner, which was so overwhelming to see and also made us comfortable during this mulaqat. I feel very proud to be a waqifa-e-nau. I hope to have more mulaqats with Huzooraa, insha-Allah."
Rahimun Inayah Sahiba said:
"Like every mulaqat, this one also was very enlightening. However, to experience it first hand is a whole higher level of happiness. I feel blessed to have had the opportunity to talk to beloved Huzooraa."
Madiha Taujoo Sahiba said:
"I was overwhelmed to see Huzooraa. He was very patient in answering our questions with so much love. I will always remember this experience and hope to get the chance to have such sessions like this again."
Farzana Jamal Ahmad Sahiba said:
"It was a real pleasure to hear beloved Huzooraa addressing us."
Amreena Khan Croutsche Sahiba said:
"It was a historic moment for me. I strongly felt beloved Huzoor'saa presence amongst us. For me personally, this was a learning experience and after this mulaqat, I firmly believe that we should reform ourselves to be worthy members of the blessed scheme of Waqf-e-Nau. Jazakallah."
Aysha Nooreen Khudurun Sahiba, Muavina Sadr Lajna Waqf-e-Nau, said:
"As in-charge Waqf-e-Nau, I was very much anxious and kept praying for the success of the mulaqat. When Huzooraa addressed us, I felt mostly relieved of the anxiety. Huzooraa asked me to let the girls ask their questions first and if there was time, then I could ask. I was really thrilled when, at the end, Huzooraa remembered and asked me to continue with my questions. I feel Huzooraa takes care of every detail in a mulaqat and remember every little thing, which is amazing."
The virtual mulaqat was one-hour long, alhamdolillah.