Batte Ahmad Kaire, Uganda Correspondent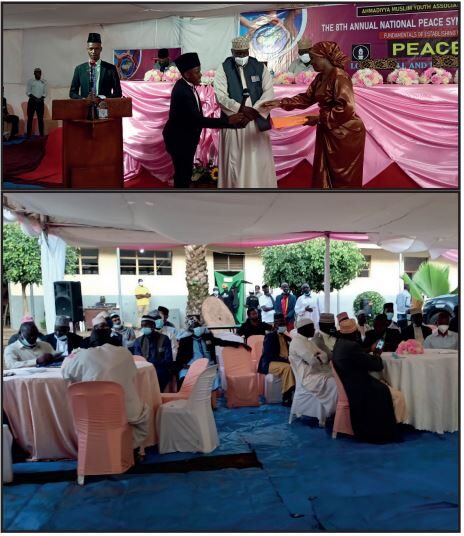 On 24 April 2022, Majlis Khuddam-ul-Ahmadiyya Uganda had the opportunity to organise its 8th Annual Peace Symposium.
Only one hour was remaining before the arrival of guests according to the programme and suddenly heavy rain, flooding and slippery ground were the view insight of every member of the Jamaat and naturally, they were very worried and agitated as to how the long-awaited event will go on? The youths had spent the whole day zealously fighting rainwater.
The first sign of the success of the peace symposium whose theme was "Fundamentals of Establishing World Peace",was that Allah generated heat from the ground and the ground was dry in 30 minutes and by the time of receiving the first guest, no traces of slippery mud was visible.
During his speech, Amir Jamaat-e-Ahmadiyya Uganda expounded on Islamic teachings on how to eliminate spiritual maladies of the societies like arrogance, injustice, religious blasphemy, ego, selfishness, sin and transgression, the main causes behind the world's turbulence, turmoil and insecurity.
Najib Nsubuga, a non-Ahmadi Muslim scholar said:
"On behalf of Buganda youth council and Buganda kingdom, we thank you for the invitation […] I want to specifically thank the Ahmadiyya Muslim Community that when I looked around here, I noticed that 50% of the working force is of youthful age […] Thus, in Ahmadiyya, the youth are well represented and this is a great practical, progressive sign and a hope for our nation and establishment of peace which was being preached today […] Thus, I want to request the Amir of Ahmadiyya Muslim Community Uganda that if there is any programme of youth emancipation which is aimed at uplifting the youths' condition of living, we are ready to join hands to bring about that service which will be vital in the quest of establishing peace and harmony in Uganda and the world at large."
Jawad Mbogo, the head of Uganda Museum and Research Centre, the first Islamic museum in East and Central Africa, said:
"[…] I thank the Ahmadiyya Muslim Community for such programmes, and want to extend my sincere gratitude to Ahmadiyya for being the first to translate the Holy Quran in Luganda, a task which was spearheaded by the late Hajji Kizito Burwadda. They're also the first to translate Juzu Amma which we have looked for, for decades that we may put in our museum but we haven't found it yet."
The OC Police Station Wandegeya Division, Batamye Ibrahim said:
"Such gatherings are adding to the noble cause of the nation. […] In the language of the police, this is pure policy community because I've been following all preachers […] but everything said was relevant […] and if we take all the points made, we can surely have a change of hearts. […] These were the words which you cannot add on or subtract but just confirm […] If possible, we should be having these events at least twice a year and we should invite more youth to listen to words of this kind. […] As a police officer, I've seen that these words have been delivering us to the vision and mission of Uganda police, a crime-free society. Thank you for inviting me, thank you very much."
The central region youth representative in parliament, Madam Kilabo Agnes Nantongo said:
"The government is very appreciative of your support of the people of Buyikwe district. […] I cannot end my comments without thanking you for giving the youth a space to contribute to such a vital activity. […] As a youth representative, allow me to call for partnership with this Ahmadiyya Community in youth emancipation through training and creating job opportunities."