Abdul Hadi Qurashi, Sierra Leone Correspondent
On 9 June 2021, Jamaat-e-Ahmadiyya Sierra Leone inaugurated a new mosque in Kamasondu Chiefdom's Bundulai Kamaat. The Jamaat was established in this village four years ago through the efforts of a local missionary, Abubakar Fuad Sahib.
The foundation of the mosque was laid by Mir Wasim Ur Rashid Sahib, regional missionary Lungi, on 14 November 2020. Safeer Ahmad Sahib, regional missionary Port Loko, looked after the construction work. 
Jamaat members participated in the construction works of the mosque too. May Allah bless them all.
Approximately 300 people can offer prayer in the mosque. A hand pump is also installed by the mosque for the worshipers and for the people of the vicinity to access clean drinking water.
The programme was presided by Saeedur Rahman Sahib, Amir and Missionary-in-Charge Sierra Leone. The ceremony started with recitation from the Holy Quran followed by introductions of the guests.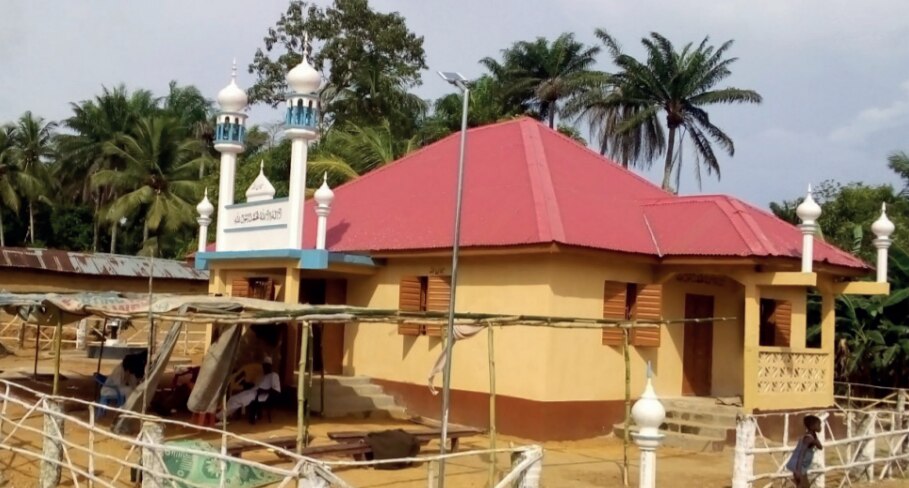 Muhammad Morris Kamara Sahib delivered a speech on the advent of the Promised Messiah and Imam Mahdias, and amir sahib answered the questions from the audience.
Alhamdulillah, this proved to be a great source of preaching.
Amir Jamaat-e-Ahmadiyya Sierra Leone listened to the Holy Quran from four children who completed the first reading of the Holy Quran and gave them certificates.
Amir Sahib cut the ribbon and officially opened the mosque and led the Zuhr prayer. After the prayer, the guests were served lunch.
Including representatives from 12 Jamaats, a large number of non-Ahmadis and their Imams attended the ceremony – more than 250 people attended this programme.
We pray that may Allah keep this mosque inhabited with true worshipers. Amin.