On 19 June 2021, amila members of Majlis Ansarullah Switzerland had the opportunity of virtually meeting Hazrat Amirul Momineen, Khalifatul Masih V, may Allah be his Helper.
After conveying salaam, Hazrat Khalifatul Masihaa led everyone in dua, after which the amila members introduced themselves and the work assigned to them.
Hazrat Amirul Momineenaa saw on the screen that some Ansar were not wearing their masks and asked Sadr Sahib if they were exempt from wearing them. Sadr Sahib replied that all Ansar were wearing their masks; however, some had removed them just for now.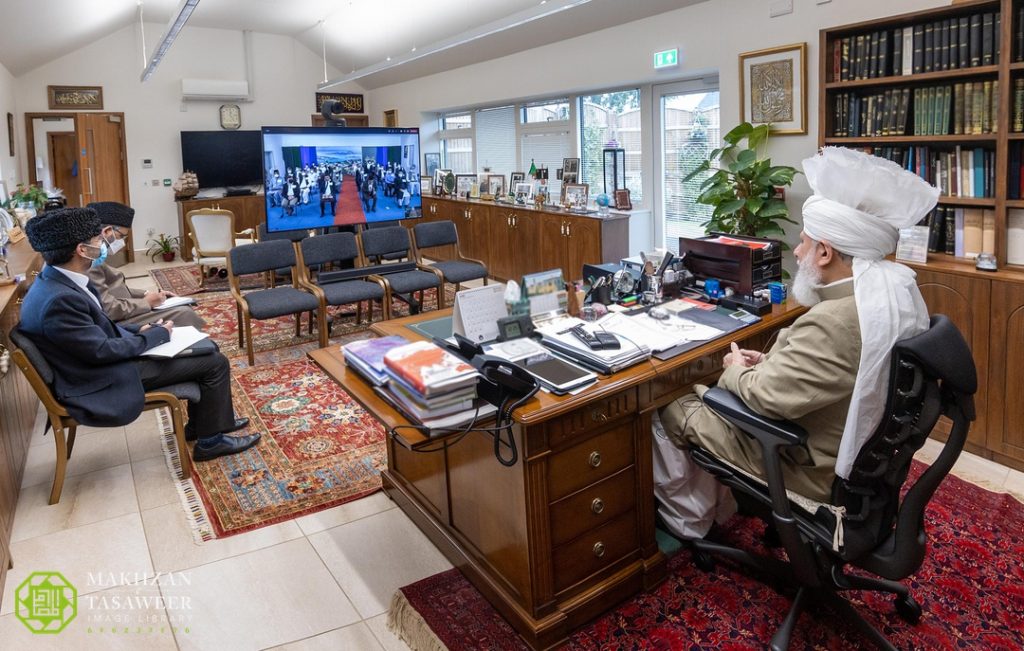 The first to present their report was Qaid Umumi (general affairs), Rizwan Mubashar Sahib, who stated that there were 12 majalis in Switzerland. Hazrat Amirul Momineenaa then asked how many Ansar there were in Switzerland, to which the qaid umumi answered that there were 172 members of Majlis Ansarullah: 82 in saf-e-awal, and 90 in saf-e-daum.
Hazrat Khalifatul Masihaa further said, "Of the 12 majalis, how many send their reports regularly?" Rizwan Mubashar Sahib responded that all majalis sent their reports regularly.
With regard to tabligh, Hazrat Amirul Momineenaa, speaking with Munir Ahmad Munawar Sahib, Missionary-in-Charge Switzerland, said:
"Pay attention towards tabligh. As opposition increases, more efforts should be made on tabligh."
Huzooraa said that to counter the rising anti-Islamic views, efforts should be made on spreading the message of Islam.
Shamim Ahmad Qazi Sahib, Qaid Tarbiyat, reported that 91% of Ansar offered the five daily prayers and 77% recited the Holy Quran regularly.
Huzooraa said:
"It is the duty of Ansar to morally train Khuddam and Atfal; until the Ansar themselves do not set an example, how will they able to train the youth?" Huzooraa added that Ansar must also look after the welfare of future generations.
Addressing Awais Tahir Shaib, Naib Sadr II, Hazrat Amirul Momineenaa enquired how many saf-e-daum Ansar exercised or cycled regularly; answering, Awais Tahir Shaib said there were 60 Ansar who frequently exercised and 13-15 Ansar cycled.
Qaid Ishaat, Basharat Ahmad Sahib, reported that as per Huzoor'saa instructions and guidance, an Ansarullah magazine was established and two issues had already been printed and published.
Speaking with Naeemullah Sahib, Qaid Talim (education), Hazrat Amirul Momineenaa asked, "Are you the father of Maulvi Wahab [a missionary serving the Jamaat]?" to which he replied in the affirmative. Naeemullah Sahib then reported that this year, Ansar were prescribed the Promised Messiah'sas book, Paigham-e-Sulh [A Message of Peace], after which a test was also conducted.
Addressing Rahmatullah Zahid Sahib, Qaid Zehanat-o-Sehat-e-Jismani (physical and mental wellbeing), Hazrat Khalifatul Masihaa asked about the department's plan for the year. Rahmatullah Zahid Sahib said that they focused on promoting good health and a wholesome diet and sent videos to Ansar about the importance of maintaining good health. He had urged them by saying that when the body was healthy, the mind would also remain healthy.
Huzooraa encouraged all Ansar to pay attention to health and to partake in regular physical activities.
Alluding to what Rahmatullah Zahid Sahib said about a healthy mind, Hazrat Khalifatul Masihaa said that this was very good and added, "With good health, one is able to serve the Jamaat even more."
Yahya Bajwa Sahib, Muavin Sadr, reported that his duties were to remind the various departments to send their reports and attend various events where interreligious dialogue was held. He said that just two weeks ago, he was sent to the Church of St Peter in Zürich where he was able to meet people and introduce the Jamaat to them.
Hazrat Khalifatul Masihaa mentioned the banning of constructing minarets in Switzerland and the votes, by the Swiss public, in favour of banning the Islamic veil. In response, Yahya Bajwa Sahib provided his view on the matter and said that such policies were set to gain votes.
Hearing this, Hazrat Amirul Momineenaa said that this meant that the agenda made by political parties had been made after considering the mentality of the public, which showed that there were sentiments against Islam in the general public which the political parties moulded their agendas around to advance their own interests. This meant, Huzooraa said, that there was no freedom of religion in Switzerland, no freedom of expression and no freedom of expressing one's beliefs in its true sense.
Speaking with Khadim Hussein Warraich Sahib, whose son, Abdul Waheed Warraich Sahib, recently passed away this year while descending from the summit of Mount Everest, Hazrat Amirul Momineenaa said, "I was very much saddened to hear about the passing of your son. May Allah elevate his status." The late Abdul Waheed Warraich Sahib embarked on his journey to climb Mount Everest and carrying with him the Liwa-e-Ahmadiyyat.
Huzooraa further said:
"Insha-Allah, I will, at some point, lead his Janazah prayer. He embarked on his journey for a purpose and strived to fulfil his objective; and, in this sense, we can say that his passing away was a martyrdom as he had a pious purpose. May Allah reward him."
Qaid Isaar (sacrifice), Mahmud-ur-Rahman Anwar Sahib, reported that throughout the period of this pandemic, he and Sadr Sahib were in continuous contact with all Ansar and provided them assistance. He said that they had handed out hand sanitisers and masks.
Whilst addressing Mubashar Sheikh Sahib, Qaid Tajnid (census), Hazrat Amirul Momineenaa asked if the tajnid was collected from the grassroots level. Mubashar Sheikh Sahib answered in the affirmative and stated that as there were not many Ansar, all zaeems knew the exact number of Ansar in their regions and also kept a personal relation with them all. Huzooraa said, "The Qaid Tajnid should also keep personal contact."
Speaking with Jamal Khurram Khokhar Sahib, Qaid Tabligh, Hazrat Khalifatul Masihaa asked about the target set by his department and asked whether he would be able to convert 100 during the year. Responding to Huzoor's question, the qaid tabligh said that 100 was difficult and said that they had set their target for 5-10 people. He expressed that atheism was more dominant in Switzerland and thus, they decided to set a realistic target. Upon this, Huzooraa said, "The target should be realistic, but also ambitious."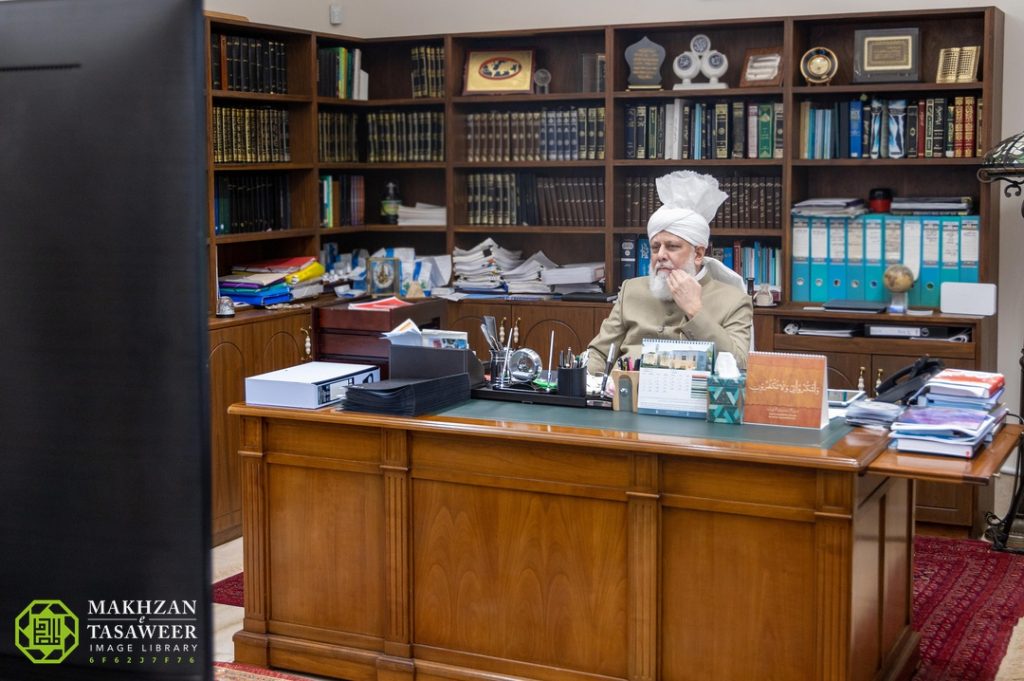 Hazrat Amirul Momineenaa said that one should endeavour to spread the teachings of Islam in a way that removed the reservations people had in their hearts for Islam.
Huzooraa said:
"Majlis Ansarullah should make a scheme to spread the basic teachings of Islam, which is peace, love and compassion."
Huzooraa stated that it was our duty to spread the message of Islam, and whether people joined the Jamaat or not was in Allah's hands as it was He who guided people.
Jawed Babar Sahib, Qaid Talim-ul-Quran and Waqf-e-Arzi (teaching the Quran and temporary life-devotion), reported that 108 Ansar regularly recited the Holy Quran. With regard to waqf-e-arzi, Hazrat Amirul Momineenaa said emphasis should be given on waqf-e-arzi too and if it was difficult to go to various places, due to the pandemic, then waqf-e-arzi could be held online.
Huzooraa said, "Start with your national amila and muqami amila, then ask others to do waqf-e-arzi."
Following this, all zaeems had the opportunity to speak with Hazrat Khalifatul Masihaa and reported the number of Ansar residing in their respective regions.
After this, Sadr Sahib said that there were some questions that some Ansar members desired to ask Huzooraa. Hazrat Amirul Momineenaa accepted this request.
One nasir asked Huzooraa if the Holy Prophetsa would be the greatest prophet for those living on other planets.
To this Huzooraa said that if there was life on other planets, and they were conscious and if they ever received the message of Islam, then yes, the Holy Prophetsa would be the prophet for them too.
Huzooraa said that the Holy Prophetsa was "a mercy for all the worlds", therefore any world that received the message of the Holy Prophetsa must accept his message too. However, Huzooraa emphasised, our duty is to first pay attention to this world and spread the message here, before thinking about other worlds.
Next, a member of Ansarullah stated that the plots for graveyards or cemeteries in Switzerland were temporary and asked Huzooraa for the solution to this problem and how graves could be preserved.
Huzooraa said that a plot could be acquired for 50 years, a contract could be drawn to maintain the graveyard or permission could be sought for this. Huzooraa said that as other countries had done, multi-storey graves could also be considered.
Hazrat Amirul Momineenaa said that graves, after some time, cease to remain. Huzooraa gave the example of the graves of Companionsra of the Holy Prophetsa and other noble people, whose whereabouts today is unknown. Huzooraa added, graves should be preserved for as long as possible.
With this, Hazrat Khalifatul Masihaa conveyed his salaam to all members and the meeting drew to a close.
(Report prepared by Al Hakam)