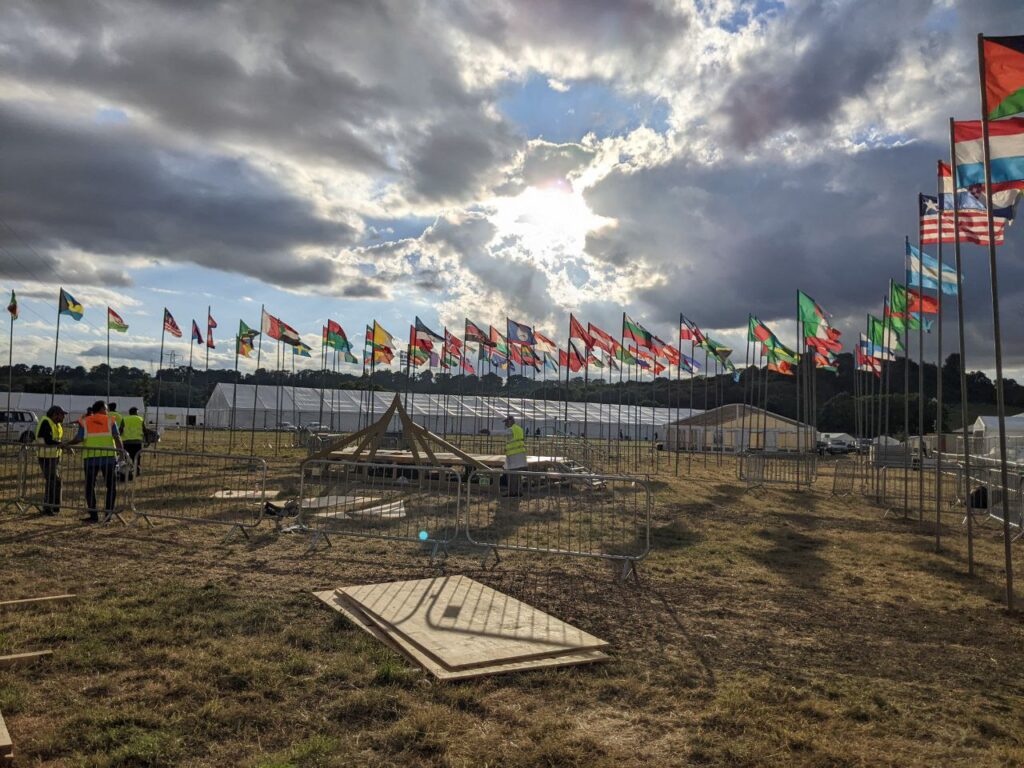 Hadeeqatul Mahdi is beginning to take shape for Jalsa Salana UK 2022. Hazrat Amirul Momineenaa will carry out the inauguration, insha-Allah, on Thursday 4 July 2022 and will address the Jalsa workers from within the main men's marquee.
As the guests for Jalsa Salana UK, 2022 will predominantly be from the United Kingdom (due to the Covid-19 pandemic), yet still, in large numbers, the Jalsa Salana Committee is modelling Jalsa Salana 2019 in terms of preparing the site and is aiming for 80% of the logistics and set up carried out in 2019.
The main two marquees for the Jalsa attendees – on the Lajna side and in the men's – have been set up and now internal decoration and carpet laying etc. are taking place. Zahid Khan Sahib, Afsar Jalsa Gah told us more details about the main men's and Lajna marquees and the Jalsa Salana programme.
Last year, social distancing was strict however as the pandemic has somewhat improved, there will be a hybrid social distancing format within the main marquees – groups of families will be able to sit closer together while others will be socially distanced. Masks will be mandatory and sanitation points will be available before guests enter the main marquee. In fact, after every session, the whole Jalsa marquee will go through a sanitation process including the main stage, the podium and mics, etc. All precautions will be taken.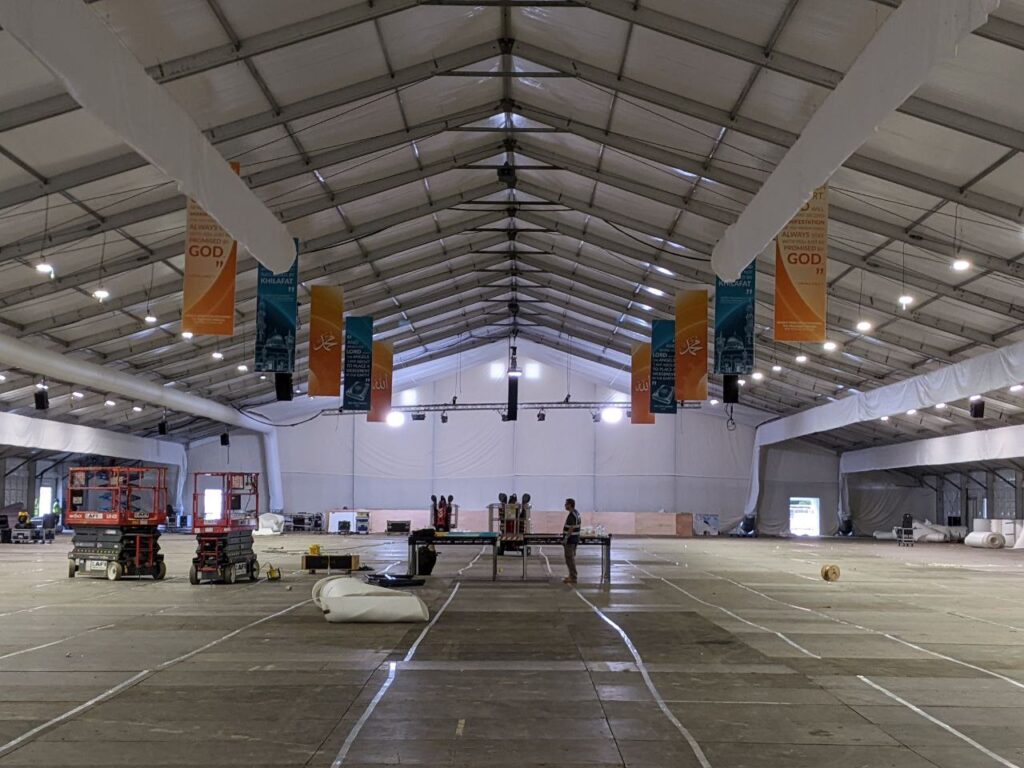 Keeping in mind the hot spell of weather the UK is currently facing, there will be a special air-cooling system in place to ensure the ventilation and temperature of the main marquees are agreeable.
This year, Hazrat Khalifatul Masih Vaa has permitted a much larger stage and has many more guests on the stage compared to last year, but all of whom will be socially distanced.
Going back to the Jalsa Salana 2019 model, elder children will be providing water to keep the guests well hydrated during the Jalsa proceedings. These children will be well taken care of and will be given precautionary homoeopathic medicines for Covid-19.
For the first time, last year's Jalsa Salana UK saw a digital backdrop and this will continue only that the digital backdrop will be much larger. Other new aspects are planned for the digital backdrop, which Jamaat members will see and benefit from during Jalsa Salana. There will also be a large screen outside on both the men's and Lajna sides, so that no one misses out on the proceedings.
Last year, there were limited translation booths on site due to the pandemic but this year there will, insha-Allah, be a full complement of translators on site. However, as most of the attendees will be from the UK, the availability of translation headsets will be limited to a few languages.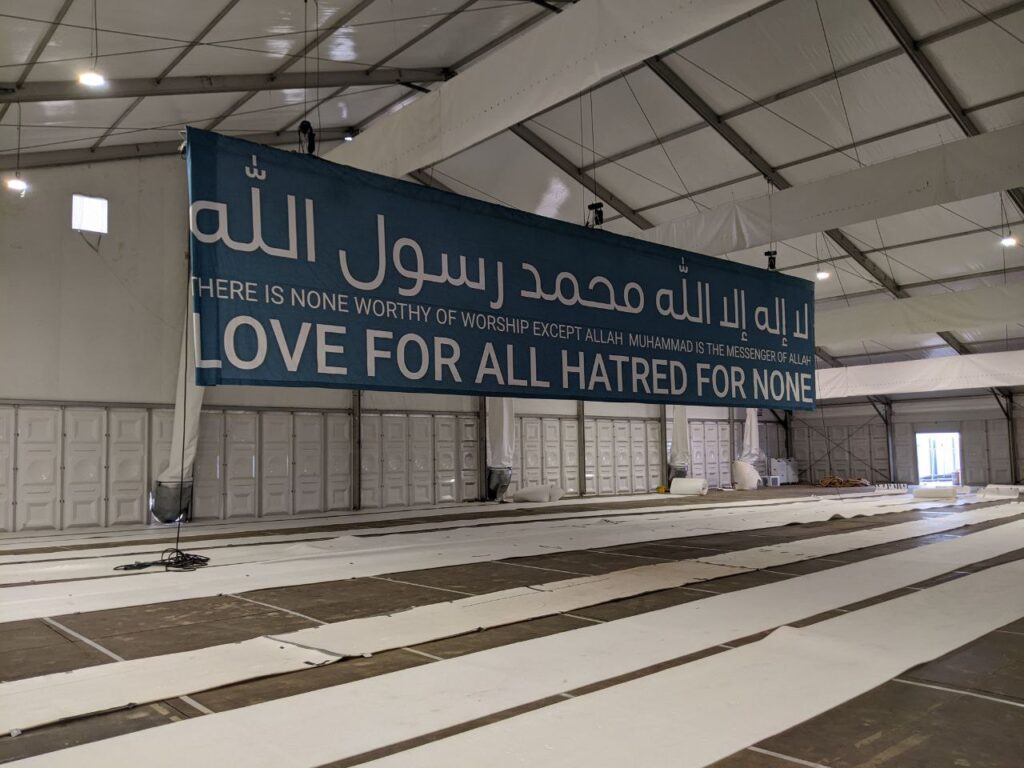 Dr Zahid Khan Sahib, Afsar Jalsa Gah also told us that Hazrat Khalifatul Masih Vaa had been guiding his department at every turn and with great detail and attention. He told us that he was amazed how Huzooraa always considered little details and how his guidance was full of wisdom and benefit. From social distancing guidance to the selection of topics for the Jalsa speeches, Hazrat Amirul Momineenaa has been the guiding light for the department, Dr Zahid Khan Sahib said.
Zaheer Ahmad Khan Sahib, who supervises the Jalsa Salana UK office and Reporting Department, told us more about the latest updates at the Jalsa Salana site in Hadeeqatul Mahdi.
Overall 95% of all the small marquees have been erected with only a few more to go and a total of 8.5km of tracks for vehicles have been laid in Hadeeqatul Mahdi.
At Hadeeqatul Mahdi there is a constant influx of volunteers who are helping with various departments. It is also inspiring to note that members of Khuddam-ul-Ahmadiyya UK are carrying out waqf-e-arzi and staying over at Hadeeqatul Mahdi to help different departments every day and with waqar-e-amal. As always, Jamia Ahmadiyya UK students are also staying at Hadeeqatul Mahdi and assisting in the set up and various departments.
Since the 28 days (given by the council) to set up, hold and dismantle Jalsa Salana, there has been 24-hour security by Khuddam which includes 8-10 Khuddam being on site at all times. These Khuddam are also monitoring and checking everyone who enters the site.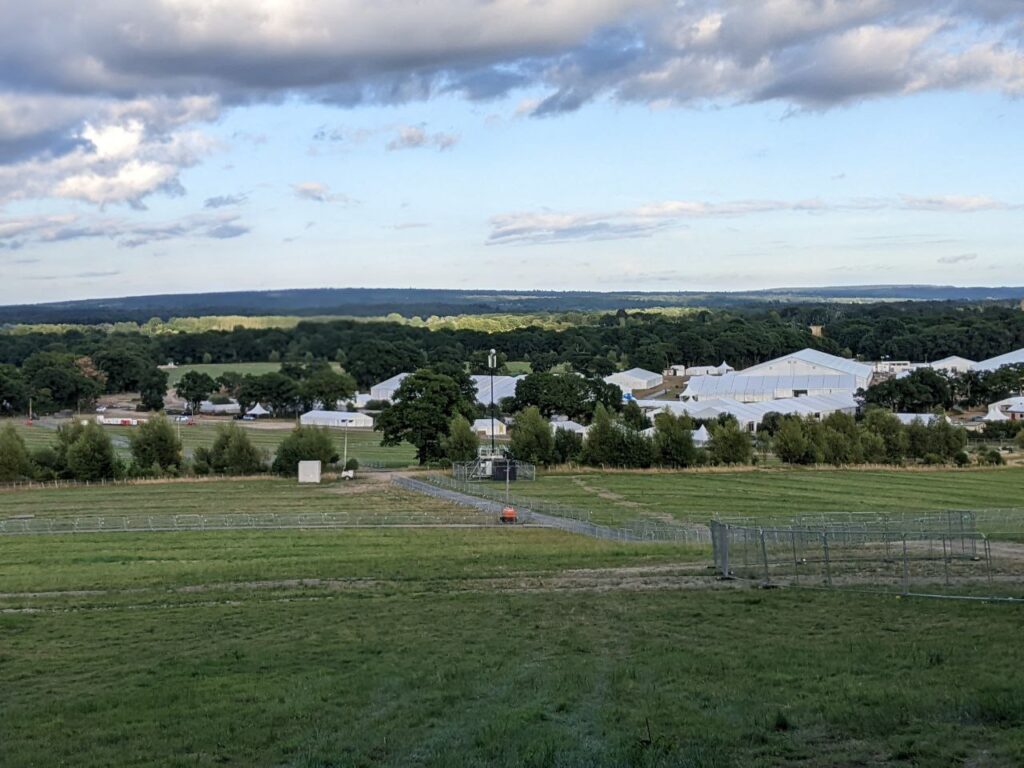 The carparks at Hadeeqatul Mahdi are ready for the guests and the designated areas will be able to accommodate approximately 7000 cars. We also have a neighbouring field as a backup and the Country market not far from Hadeeqatul Mahdi as stand-by if more car spaces are needed. Over 6000 car passes have already been issued, including passes for volunteers, guests and the disabled.
The Langar Khana (kitchen) has been preparing meals for the hundreds of volunteers and contract workers while simultaneously preparing for the three days of Jalsa too; for example, preparing spice mixtures to use during Jalsa. The Langar Khana and Roti Plant are regularly maintained and painted every year before Jalsa. There will be 180 burners in the main kitchen alone.
There are so many areas for the preparation of Jalsa Salana, including the electricity and communications departments. This year, optic fibre has been laid for the whole Jalsa Salana site and EE boosters installed. Workers will also be provided with free WiFi on site.
To ensure lighting is adequate throughout the site and in the car parks, 80 tower lights and 21 generators have been put in place. There are also 15 electrical circuits in Hadeeqatul Mahdi that have all been thoroughly tested and are now live.
Water supply is a huge element for the Jalsa site. To date (1 August), most of the water has undergone chlorination and samples have been sent to the local council as well. Eight reserve tanks of water have been filled and their chlorination is being done.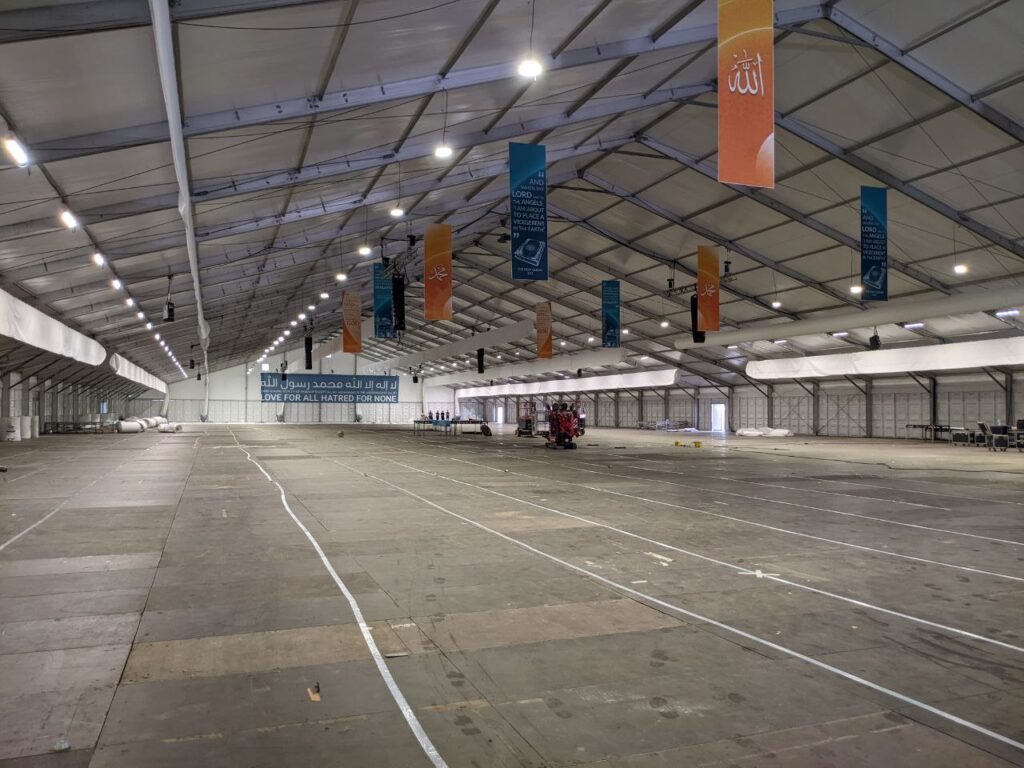 The limited guests from abroad – who have all sought permission from Hazrat Khalifatul Masihaa – are being provided accommodation in various guest houses, especially in Jamia Ahmadiyya UK. It is important to note that there are no accommodation arrangements in Baitul Futuh.
In terms of registration for Jalsa Salana, attaining car passes, badges and AIMS IDs it is important to note that the registration office, the Jalsa Salana Office and the office for car passes will be open from 10 am until Isha time at Baitul Futuh, London. The duty badge office will be at Baitul Ehsan mosque, London and will be open during the same time.
All members of the Jamaat are requested to pray for the success of Jalsa Salana.