Maham Warraich, Belize
Jamaat-e-Ahmadiyya Belize had the opportunity to hold its first-ever Remembrance Day ceremony at Bait-ul-Noor Mosque located in Belize City.
Belize is one of the 54 commonwealth countries that traditionally observes Remembrance Day every year.
On 11 November 2021, Jamaat-e-Ahmadiyya Belize joined the observance and held a ceremony to commemorate the sacrifices of those in the armed forces that fought during the War.
The purpose of this event was to inculcate an appreciation for those who served to defend Belize, as well as to acknowledge that as Ahmadi Muslims, we stand with the community and honour their sacrifice.
The esteemed attendees included high ranking military officials and members of the Belize Defence force.
The event was initiated with a traditional march parade presented by the Defence force, followed by a moment of silence and the national anthem. This tradition began in all commonwealth countries to commemorate the end of World War I which ended on 11 November 1918.
All major media outlets were very eager to attend and cover this historic event.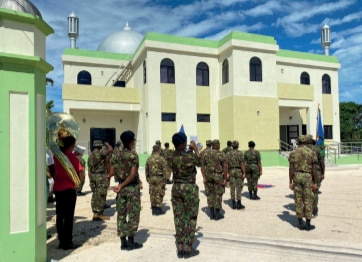 A note of appreciation was presented to thank all the brave men and women across the globe who present themselves in uniform to serve their country.
This event marked a return to in-person Remembrance Day ceremonies a year after the Covid-19 pandemic forced limited gatherings. Invitations were distributed in adherence to the 50% capacity limit at the mosque. Additionally, seating and food arrangements were made with careful consideration to limit physical contact between all attendees.
Members of Majlis Khuddam-ul-Ahmadiyya Belize worked tirelessly prior to, during and after the event to ensure that all aspects of the programme ran smoothly.
Although Jamaat-e-Ahmadiyya Belize is still a young Jamaat, these events serve as an opportunity to help enhance the organisational skills of our members.