Stephen Ata'ul Haq Gabb, Missionary, Belize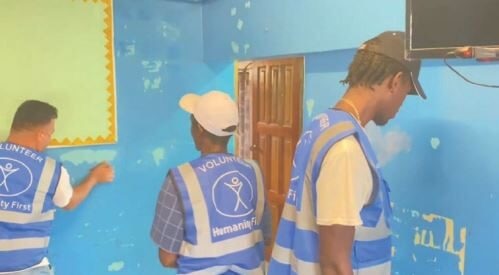 The country of Belize is home to about 13 orphanages. Countless Belizean children have been traumatized by gang violence, domestic violence, losing loved ones to murder, traffic accidents, and illnesses.
Jamaat-e-Ahmadiyya Belize, knowing of this situation, was very fortunate to provide an assisting hand to one of the local orphanages in Belize City. Upon a visit to the orphanage, it was noticed that it was in need of some renovations. As these are children who are often neglected, Jamaat Belize ensures they support the local orphanages in every possible manner.
The Khuddam of Belize worked together to help renovate the orphanage. This gesture brought great joy to the children and was a very humbling experience for Khuddam of Belize as well.
It is noteworthy that the khuddam of Belize, who are all converts, may not have had prior experience in selfless service to mankind before joining Jamaat-e-Ahmadiyya Belize. Nonetheless, they are now committed to serving others without any expectation of personal gain. Serving mankind in countries like Belize is a unifying force for members of the Jamaat, bringing them together in a shared mission to alleviate the suffering of those in need.