Atif Ahmed Zahid, Missionary, Australia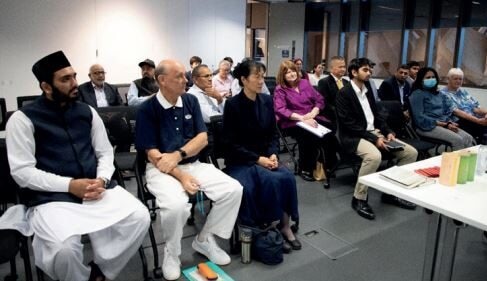 Jamaat-e-Ahmadiyya Victoria, Melbourne East, Australia had the opportunity to be a part of the Harmony Week Celebrations organised by the Casey Multi-Faith Network. The programme was coordinated by the external affairs department, where I was fortunate enough to be one of the presenters at the event. The interfaith dialogue revolved around the theme of "How different faiths observe community service" and was held at the hub of the City of Casey Council offices at Bunjil Place, Narre Warren. The other speakers at the event were from Tzu Chi, a Buddhist organisation based in Taiwan, Sikh Interfaith Council of Victoria and Casey Women of the Year, representing the Christian faith. Among the guests from various communities and people, there were 11 Jamaat members who participated, including one tifl as well. It was a great opportunity to interact and introduce the Jamaat, as the MTA team was also present and acknowledged by the organisers for their assistance in live streaming the event and covering the whole event. We were able to make new contacts as well.
The dialogue was opened by myself. I started the conversation by presenting the teachings of the Holy Quran and the Holy Prophet Muhammadsa with a brief introduction to the Ahmadiyya Muslim Jamaat, and then further elaborated by presenting the details of the Jamaat's efforts in various countries in terms of education, well-being and healthcare. I ended with information detailing the Community's services in Australia. I also briefly mentioned the Ahmadiyya Muslim Doctors and Engineers Associations and how they volunteer their time and effort to serve humanity. I also introduced Humanity First and then explained how this was set up solely for the service of mankind.
This was the first event organised by the Casey Multi-Faith Network after their new committee was formed this year, where the secretary for external affairs of our Jamaat is also a committee member of the network and we look forward to organising more events with the Casey Multi-Faith Network throughout the year.