Rabeeb Mirza, Missionary, UK
The great bounty of Khilafat is truly the lifeline of Jamaat-e-Ahmadiyya. Allah the Almighty states within the Holy Quran:
وَ اِنۡ تَعُدُّوۡا نِعۡمَۃَ اللّٰہِ لَا تُحۡصُوۡہَا
"And if you [try] to count the favours of Allah, you will not be able to number them." (Surah al-Nahl, Ch.16: V.19)
The best manner in which the favours and bounties of Allah can be increased is through his remembrance and expressing gratitude to Him. Within the Holy Quran, Allah the Almighty states:
لَئِنۡ شَکَرۡتُمۡ لَاَزِیۡدَنَّکُمۡ
"If you are grateful, I will, surely, bestow more favours on you." (Surah Ibrahim, Ch.14: V.8)
In accordance with this divine injunction, this year, Allah the Almighty enabled Jamaat-e-Ahmadiyya UK to hold Khilafat Day jalsas on days near to 27 May, Khilafat Day. This year, throughout the UK, it was the very first time that jamaats had commemorated this blessed day in a unique way.
Due to the current coronavirus, wherein the government has stipulated guidelines that no public gatherings can be held, jamaats throughout the UK have truly benefited from the God-gift ed resources and instead of congregating in one place, they virtually met with the aid of YouTube and Zoom.
By the grace of Allah the Almighty, with the comfort of modern day technology, a lot more members of the Jamaat benefited from the online jalsas than the usual way.
In this manner, they were able to derive full benefit from the blessings of Khilafat-e-Ahmadiyya and rejuvenate their faith once again.
In accordance to the reports received from missionaries serving in the UK, a concise summary of the jalsas is presented below for the benefit of Al Hakam readers:
In London, a Khilafat Day was held on a central basis, which was chaired by Rafiq Ahmad Hayat Sahib, Amir Jamaat-e-Ahmadiyya UK, wherein two missionaries, Imraan Khalid Sahib and Raza Ahmad Sahib delivered speeches. The event was concluded by Amir Sahib, who shed light on the blessings of Khilafat.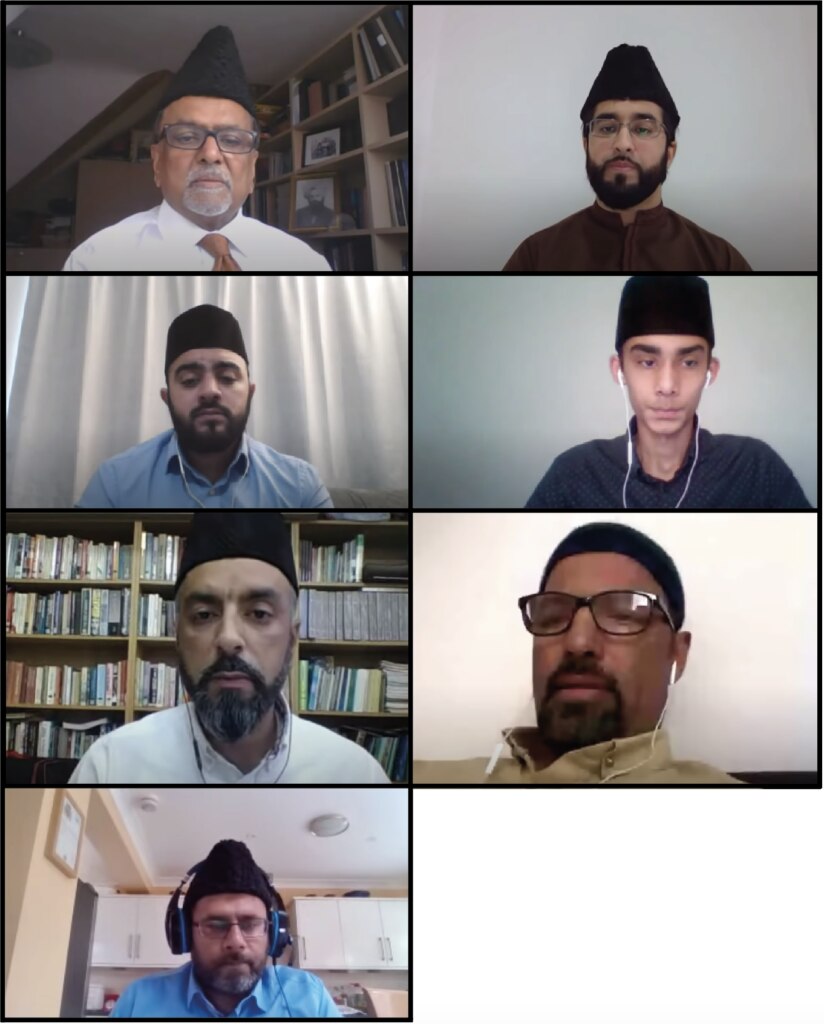 According to a rough estimate, more than 10,000 members benefited from this event.
On 27 May, a Khilafat Day was also celebrated in Cardiff . The proceedings were listened to in 150 Ahmadi homes.
Qurashi Dawood Sahib, Missionary of Scotland Region reports that in Scotland, 65 households of the Glasgow and Edinburgh branches benefitted from their local Khilafat Day.
In Baitun Noor Region, there were two places where Khilafat Day was celebrated; Sharjeel Ahmad Sahib, Missionary Baitun Noor Region delivered speeches in both Burntwood and Battersea jamaats.
Rabeeb Ahmad Mirza Sahib, Missionary Middlesex Region reports that the four jamaats which he serves all held their local Khilafat Day jalsas.
In Hounslow South and Hounslow North, Ayyaz Qurashi Sahib and Abid Khan Sahib, Press Secretary AMJ, delivered speeches on this occasion that drew the attention of 300 members.
In High Wycombe Jamaat, Rabeeb Ahmad Mirza Sahib delivered a speech that was attended by 20 members.
Furthermore, Slough Jamaat organised an event wherein Sir Dr Iftikhar Ahmad Ayyaz Sahib addressed the audience, which was attended by over 90 members.
From Bradford, Mubarak Ahmad Basra Sahib, Regional Missionary reports that there were three events held within his Region.
In Bradford South, Waqas Anwar Sahib and Mubarak Ahmad Basra Sahib delivered speeches that gathered 150 attendees.
In Leeds Jamaat, both Raja Armughan Sahib and Mubarak Ahmad Basra Sahib delivered speeches and the event was attended by 90 members.
Apart from this, a further 155 members from Bradford North had the opportunity to listen to Shakeel Amini Sahib and Ahmad Basra Sahib during their event.
Ghulam Ahmad Khadim Sahib, Regional Missionary, who is posted in North Wales writes that all the Ahmadi families throughout Wales individually benefited from the Khilafat Day programmes on MTA.
Faiz Ahmad Zahid Sahib, Regional Missionary reports that four jamaats of his region, Thornton Heath, South West, Bexley and Marbury held programmes on the topic of Khilafat. 359 families benefi ted from these various programmes.
Shakeel Ahmad Sahib, Abid Anwar Sahib, Navid Ahmad Mughal Sahib, Tassawur Ahmad Khalid Sahib and many other Atfal and Khuddam delivered various speeches alongside the Regional Missionary.
On 27 May, a live event was streamed on YouTube by North West Region, that was conducted by Regional Missionary Muhammad Ahmad Khurshid Sahib.
In this event, Missionary-in-Charge UK Ataul Mujeeb Rashed Sahib spoke on "Faith inspiring memories of Khulafa-e-Ahmadiyyat", wherein he related many accounts of the Khulafa that were truly a source of uplifting and rejuvenating the faith of many listeners.
According to a rough estimate, around 5,000 people viewed this event. The duration of the speech was for one and a half hour.
In Manchester, another online Khilafat Day Jalsa was organised, which was viewed by 832 members of the area.
Rawahuddin Arif Sahib, Missionary East Region, writes that North London organised a Khilafat Day event, which 80 members benefi ted from whilst Redbridge North held a Jalsa that was attended by 45 people.
The Regional Missionary of West Midlands, Humayon Jahangheer Sahib reports that a Khilafat Day event was organised by Wolverhampton Jamaat, which 20 families derived benefit from.
Tahir Selby Sahib, Regional Missionary, answered some questions of members of the Jamaat on this blessed occasion. Wolverhampton, Walsall and members of other surrounding jamaats actively participated in this event.
According to the Missionary of Huddersfield, Sabahat Kareem Sahib, both Huddersfield South and Huddersfield North held their own separate Khilafat Day events.
In the event held by the Huddersfield South, Nisar Orchard Sahib, National Secretary Tarbiyyat UK, delivered a speech on Zoom.
Aqeel Ahmed Sahib, Missionary Midlands Region reports that an event was organised in relation to Khilafat. The English speech was delivered by Aqeel Ahmed Sahib and the Urdu speech was delivered by Syed Mashood Ahmad Sahib.
According to a report received from Tahir Selby Sahib, Missionary North West Region, a presentation on Khilafat was given, which was greatly enjoyed by members of Hartlepool and Newcastle jamaats.
In Birmingham, an event on Khilafat was held wherein the first speech was delivered by the Regional Amir Sahib. Thereafter Shuaib Ahmad Sahib delivered a speech on the blessings of Khilafat, whilst Mazhar-ul-Islam Sahib delivered a speech in Urdu. Abdul Ghaffar Sahib, Regional Missionary concluded the event with a silent prayer.
The programme was attended by 200 members. The national tabligh department UK organised a special event on Zoom on the reality of Khilafat for external guests.
Apart from the participation of various political leaders of the country, Ibrahim Ikhlaf Sahib, National Secretary Tabligh and Dr Umar Sahib delivered speeches. This was followed by a question and answer session. A video regarding the introduction of the Jamaat-e-Ahmadiyya was also presented.
It is our prayer that may Allah the Almighty accept our humble efforts regarding this small token of gratitude that we have expressed throughout the country through these programmes and bless them immensely.
May Allah the Almighty illuminate the world through this blessed institution of Khilafat-e-Ahmadiyya. Amin