Waseem Ahmad Fazal
Lecturer, Jamia Ahmadiyya UK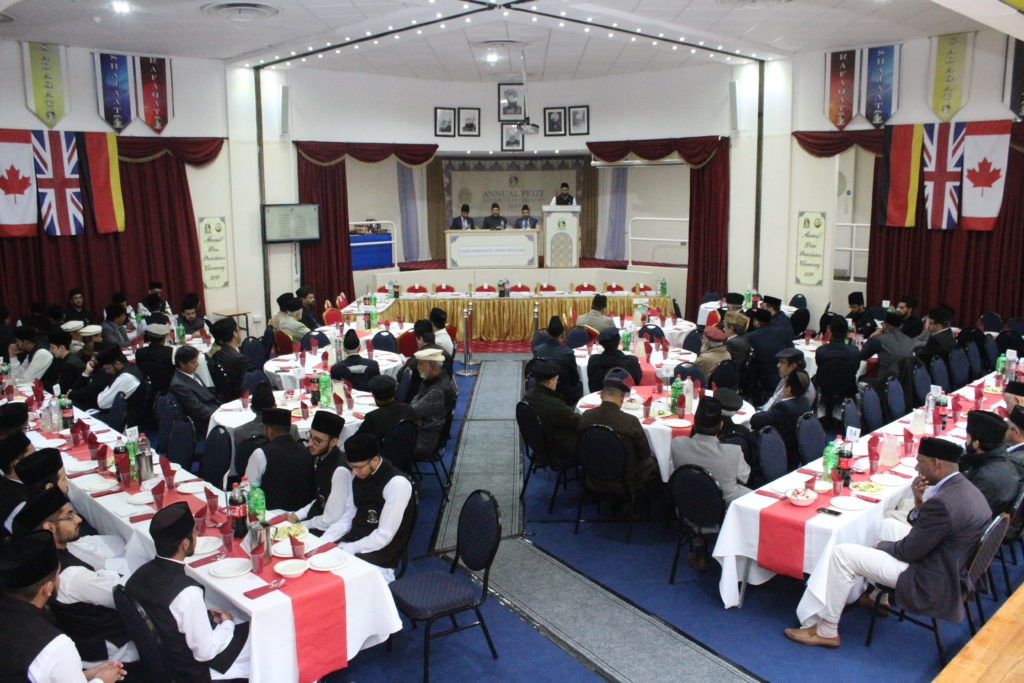 On 12 June 2019, Jamia Ahmadiyya UK was once again given the blessed opportunity to host its Annual Prize Distribution event for the academic year 2018-2019 in Haslemere, Surrey.
This event highlights the remarkable achievements made by students in academic competitions throughout the year.
Competition judges, office bearers and other respected members of the Jamaat around the country, as well as parents of students obtaining first positions in competitions were cordially invited to attend this event. Jamia Ahmadiyya UK follows a traditional house-like system consisting of 5 groups, namely Sadaqat, Shaja'at, Rafaqat, Amanat and Dianat.
The history behind the selection of the above house names derives from Jamia Ahmadiyya in Rabwah and Qadian, as they were the pioneering international Jamias to put this structure into action, thus inspiring Jamia UK to put this house-system into practice, too.
Parents, guests, judges and dignitaries made their way to this long-awaited event at around 6pm, allowing the Annual Prize Distribution to promptly start at 6:20pm.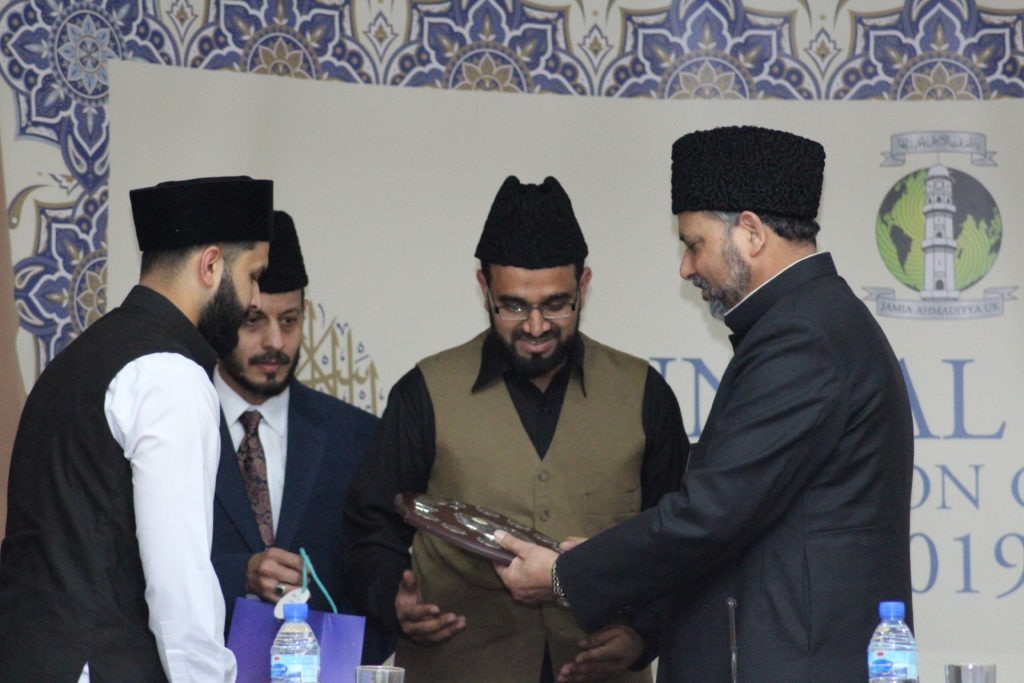 As per custom and tradition, the programme commenced with tilawat, followed by an Urdu nazm, upon which the Chairman of Majlis-e-Ilmi (organising body of this event) Waseem Ahmad Fazl Sahib gave an introductory address to the audience, providing fine details of the academic year.
Towards the end of the report, Waseem Sahib paid gratitude to each and every judge and touched upon the significance of being desirous to achieve higher.
By the grace of Allah, from a total of just over 130 students, more than half of the students participated in various competitions throughout the year, ranging from conventional competitions such as tilawat, nazm and Azan, to competitions like the general knowledge quiz and presentation competition. Positions were to be acquired by both, individuals and groups, subject to the style of competition.
After the opening address, Ataul Momin Zahid Sahib announced the prize winners of this year's Annual Prize Distribution, whereupon students made their way to the stage and were presented with their respective awards by the chief guest, Abdul Majid Tahir Sahib, Additional Wakil-ut-Tabshir.
Towards the end of the prize distribution, outstanding awards were presented to joint best speakers, Musab Rashid Dogar and Nasar Arshad, as well as best student, which was awarded to Mashood Adeeb. These results were decided according to results collated from various competitions.
Subsequently, the last award of the day to conclude this session was presented to Amanat group for securing themselves a firm position as the best group in overall competitions. In order to receive this prize, group secretary, Sohaib Ahmad and group leader, Mansoor Zia Sahib were ultimately presented with the annual shield.
To conclude the event, Abdul Majid Tahir Sahib delivered a speech on a very thought-provoking address which Hazrat Amirul Momineen, Khalifatul Masih Vaa delivered to missionaries in the United States. Majid Sahib referred to many crucial pieces of advice our beloved Huzooraa alluded to, which a missionary must act upon in order to become a successful representative of the Jamaat.
This event was brought to a close with dua led by the guest speaker, Abdul Majid Tahir Sahib, followed by dinner at 7:10pm.