Shahzad Malik, Ireland Correspondent
On 29 May 2021, Jamaat-e-Ahmadiyya Ireland organised a national Jalsa to celebrate Khilafat Day. The programme was held at Maryam Mosque in Galway. This was the first programme of its kind where, due to the easing of Covid-19 restrictions in the Republic of Ireland, all the speakers and some Jamaat members were able to come together at Maryam Mosque, while all other members were able to stream the event live via Zoom. It made for a more enhanced experience for those streaming the Jalsa from home, alhamdulillah.
The programme started at 4:15 pm with a recitation from the Holy Quran and its English and Urdu translations, followed by a poem with its translation.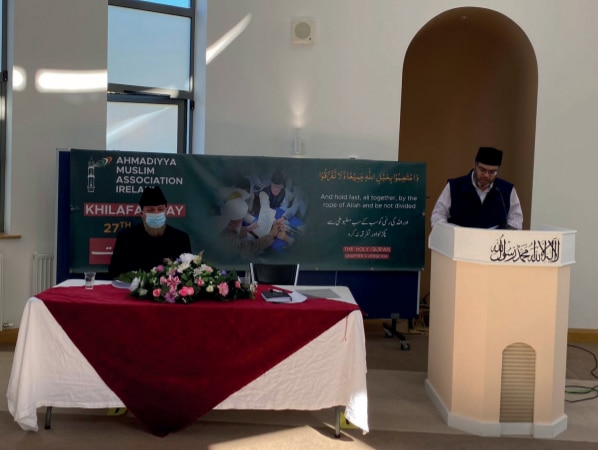 National Secretary Jaidad, Dr Mamoon Rashid Sahib delivered a speech in Urdu on the subject "Khilafat a divine system".
An address both English and Urdu by National President Jamaat-e-Ahmadiyya Ireland, Dr Mohammad Anwar Malik Sahib was given on the conditions of bai'at.
Thereafter, Missionary-in-Charge Ireland, Ibrahim Noonan Sahib delivered an address on the subject "The divine essence of Khilafat'.
The programme concluded with a silent prayer.