Last Updated on 31st May 2019
The overwhelming response to Al Hakam's Khilafat Day Special
Qaasid Muin Ahmad
Editor Al Hakam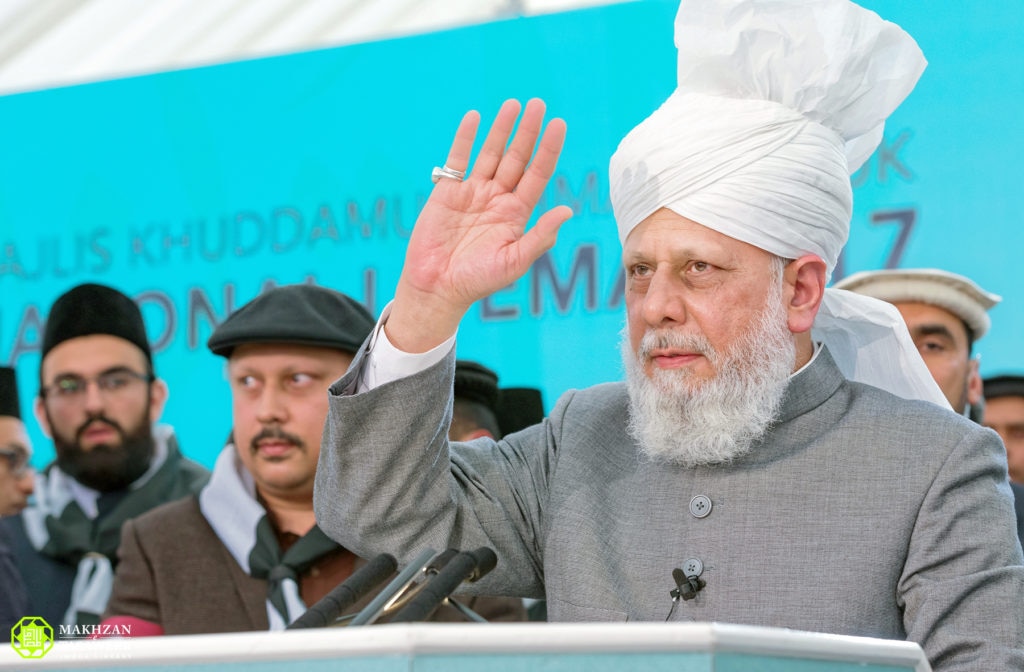 Al Hakam's Khilafat Day special issue last week was received with great passion by our worldwide readership. Comments have flooded in and the team has been busy in reading and going through the observations and prayers written by all Ahmadis who were deeply moved to learn of new aspects of the life of our beloved Imam, Hazrat Khalifatul Masih V, may Allah continue to strengthen his hand.
Where Al Hakam, in its first phase, played a great role in the life of the Promised Messiahas as a medium of bringing the Jamaat closer to their Imam, today Al Hakam desires to continue this role as an extension of the link between Hazrat Amirul Momineenaa and his dear Jamaat.
The team at Al Hakam has been overwhelmed with the response and feedback of the many Ahmadis who took the time out to send their messages that were full of prayers for Huzooraa and the Jamaat.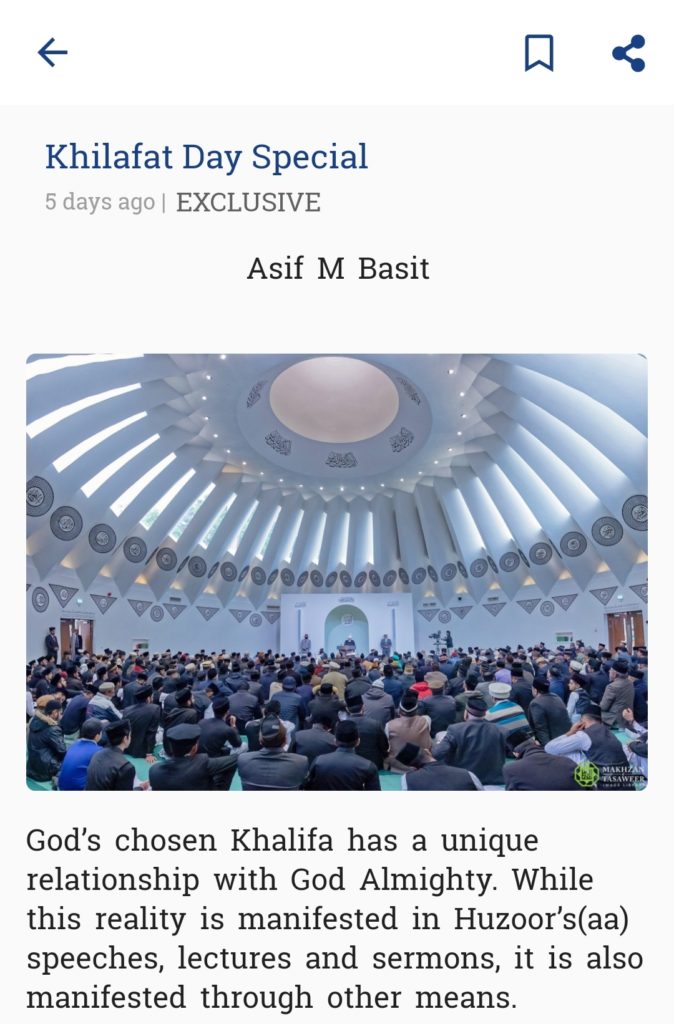 Readers should be aware that while these messages are met with eagerness by the Al Hakam team, it is our constant desire and effort to convey these sentiments to Hazrat Khalifatul Masihaa as it is, after all, in his love that members of the Jamaat read such articles and pour their hearts out.
As all comments received are full of prayers for Hazrat Amirul Momineenaa, we share some of them so every reader's heart can echo the prayers for Huzooraa in these final blessed days of Ramadan.
The article written by Respected Mirza Waqas Ahmad Sahib prompted some to reminisce their memories of Hazrat Mirza Masroor Ahmadaa prior to Khilafat.
Mahmud Mujib Asghar Sahib wrote:
"My elder brother MA Latif Shahid MA and my sister-in-law, Zakiya Latif were fortunate to have spent 14 years in Ghana under the Nusrat Jehan Scheme as teachers. They had the privilege of becoming well-acquainted with Huzoor's family whilst they were there. They narrated many incidents related to his time in Africa prior to Khilafat. They said that once, they went to visit Huzooraa whilst it was raining. The ceiling of the house in which Huzooraa resided would leak from multiple places and Huzoor had placed various pots and pans directly beneath those places where there were leakages. In spite of such circumstances, Huzooraa continued to live cheerfully.
"They said that they had the good fortune of shopping with Huzooraa on various occasions and they noted that while other families would make purchases somewhat beyond their needs, it was Huzoor'saa practice that he would only buy what he needed … Huzooraa would be extremely careful in spending in those difficult days.
"My sister-in-law said that they were fortunate enough to ride in the same car at times and she noted that Huzooraa would drive very carefully."
Mahmud Mujib Sahib goes on to share his own, personal recollections:
"When working on a project in Muzaffargarh, I served the Jamaat in the capacity of amir of the district. During that time, along with Syed Qamar Suleiman Sahib, Huzooraa one day stopped for Jumuah prayer on his way to Dera Ghazi Khan. I tried my utmost to persuade Huzoor to lead the Jumuah prayer, but Huzooraa insisted that I lead the prayer. After Jumuah, Huzoor quietly departed for the remainder of his journey.
"When the election took place on 22 April 2003, I was also present as the amir of Attock District. I had seen very vivid dreams about Huzooraa being the next Khalifa. It was one night before the election when, as I lay down to sleep, whenever I would change sides, I would see Huzooraa before my eyes with a string of flowers around his neck…
"Prior to the public announcement, the members of the Khilafat committee had the opportunity to individually meet Huzooraa. Huzooraa displayed the same humility and simplicity. Huzoor embraced me and after I said a prayer, 'May Allah help you with Ruh-ul-Qudus [the Spirit of Purity]', with great emotion in his tone, Huzooraa said three times, 'Please pray a lot for me.'"
Shaista Sahiba writes, "I wanted to thank you all for putting together such a beautiful newspaper that you publish regularly each Friday. I have benefited hugely from this initiative as I am able to expand my knowledge and learn new things each day. I look forward to new articles being published and spend my time on my commute to read through these thoroughly."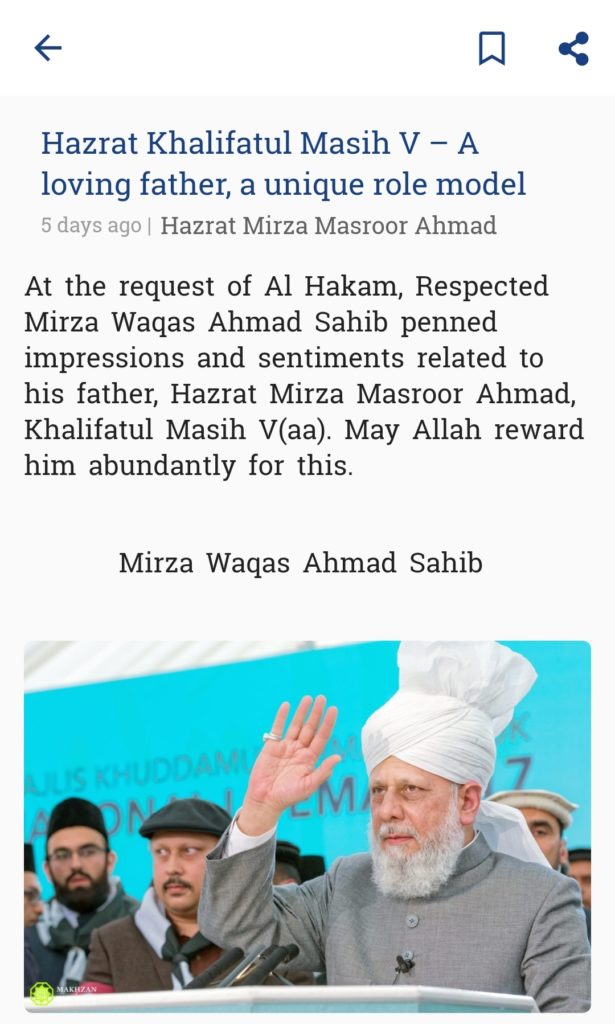 Humayun Butt Sahib from Copenhagen, Denmark writes, "Jazakallah for all your wonderful articles; may Allah bless you all with abundance. The article with Sahibzada Mirza Waqas Ahmad Sahib is completely astonishing. The insight we are blessed with is of such immense value, Alhamdolillah. Jazakallah for all your work and may Allah the Almighty continue to grant the entire team with more success."
Nemat Ali Sahib from Sydney, Australia said, "Jazakallah for sharing such precious and beautiful memories through which we have been introduced to such aspects of Hazrat Khalifatul Masih's personal life that are an example for us all to follow. May Allah reward you and may we be the ones to adopt these aspects in our lives."
Taofeek Ajibade Sahib says, "A truly inspiring story of parental love, care and exemplary training of children. It is also a great lesson in humility and faith in Allah's decree. May Allah keep Huzooraa in sound health and continue to guide him as he leads this divine community. Thank you, Mirza Waqas Ahmad Sahib, for sharing this. Jazakallah Khairan."
Nasirudin Sahib of Lahore, Pakistan says, "I just read the articles related to beloved Huzoor. I have never quite enjoyed like this before in reading on any person's life. After reading about Huzoor's life, I have become much more confident and now I understand how we all must spend our lives. I pray to God that He enables me to always offer prayers and remain patient for His sake. May Allah make me helpful to the Jamaat, honest to God and spend my life in the footsteps of Huzoor. Allah always be the helper of Huzoor and the entire Jamaat. I can't describe in words how grateful I am to have read about Huzoor's life. May Allah enable every Ahmadi to live a life like Huzoor's."
Majid Iqbal Sahib wrote, "Many new aspects of Huzoor's life were brought to our attention through this article, which inspired and increased our faith further as well as introducing us to new ways of improving our personal lives. May Allah grant health and long lives to Huzooraa and his entire family and keep them in His protection. May Allah also enable us to live our lives according to Huzoor's pious example."
Awais Ahmad Sahib from Layyah District said, "What a great article! I thoroughly enjoyed it. Many new aspects about our beloved Imam were brought to light, especially the importance of Salat … This is a great gift Masha-Allah. Jazakumullah from the depths of my heart!"
Khawaja Muhammad Aslam Sahib from Maryland, USA said, "Alhamdolillah, this article has beautifully and eloquently reflected the life of a dear one of Allah. May Allah guide us and give us the ability to practically live according to this."
Naseerah Syed Sahiba wrote, "Jazakumullah for this beautiful, great and highly inspiring article, which I shall call none other than gold dust. You have indeed done a great service by carefully acquiring this and publishing it. May Allah reward you and bless you all abundantly and may Allah bless Mirza Waqas Ahmad Sahib and his family and Huzoor's family with uncountable happiness and grant our Huzoor a highly successful, happy, healthy and long life and also allow us and our children to follow in his footsteps."
Saadat Sahib says, "We also thought that the calligraphy was only for the beautification of the mosque. Through Huzoor's words, we got to know the wisdom behind it."
Nadeem Sahib of Canada writes, "The sajda-e-shukr at the opening of Mubarak Mosque shows that Allah alone guides Khalifatul Masih to what is appropriate at what time."
Isfandyar Munib Sahib writes, "Reading Hazrat Khalifatul Masih's words in your article enabled us sitting thousands of miles away to feel close to Huzoor; we washed our hearts with tears that came to our eyes in the love of Huzoor."
Imran Ahmad Qaisrani Sahib writes, "I was extremely delighted to read these words on Huzoor. One is awestricken after learning about Huzoor's pace in his work. To manage all these responsibilities is indeed a sign of Huzooraa being a man of God. May Allah shower his countless blessings on Huzooraa and may He increase our love and the love of our future generations for Khilafat."
Tariq Ahmed Sahi, Naib Amir Faisalabad District, says, "May Allah reward Mirza Waqas Ahmad Sahib for opening this treasure for us through Al Hakam. May Allah bless Huzoor's life and always keep Huzoor and his family healthy. May Allah enable each and every member of the Jamaat to become the delight of Huzoor's eyes."
Freeha Butt Sahiba says, "May Allah bless Huzooraa with a long and healthy life and lead the Jamaat towards countless victories and blessings."
Musharaf Tariq Sahib, a missionary in Gujranwala District, said, "I really enjoyed reading Mirza Waqas Ahmad Sahib's article and I immediately prayed that Allah grants Huzooraa a long and healthy life and this shade continues to protect us and future generations. May we always remain obedient to Khilafat and may we become the recipients of Huzoor's prayers … Please extend my heartfelt Assalamo Alaikum to Huzoor [this has been conveyed]. May Allah make us punctual in Salat just like Huzoor and the ones to carry out good deeds solely for His pleasure."
Mateen Bhatti Sahiba writes, "A must read and an extremely inspirational insight from a close family member regarding beloved Khalifatul Masih. Loved every word of this article. Jazakallah Ahsanal Jazaa to respected Mirza Waqas Ahmad Sahib for sharing such an in-depth life of Huzoor, may Allah be his Helper. May Allah also enable us to rely solely on Allah in all circumstances."
Ahsan M Khan MD Sahib from the USA says, "A beautiful window into Huzoor's life as a father, from the perspective of his son."
Faraz Ahmed Kamran Sahib of Germany said, "Jazakallah for sharing your special moments with Huzoor, Basit Sahib. Jazakallah for this precious interview." He added, with respect to the article Hazrat Khalifatul Masih V – A loving father, a unique role model, "How fortunate when the chosen one of God himself reminds you of Salat every day for 16 years!"
Shafeeq Ahmad Sahib writes, "The personal qualities of Huzooraa explained here are something to be constantly kept in mind. We are very fortunate to live under the shade of Khilafat and witness Huzoor's exceptional qualities. Jazakallah."
Ahmad Zafar Sahib writes, "Through Asif Basit Sahib's mulaqats with Huzoor, we get to learn of many aspects of Huzoor's life which we were not otherwise familiar with … My thanks to Al Hakam for preserving such articles."
Saud Rafaqat Sahib of Pakistan said, "A most beautiful and profound piece of writing. Thank you, thank you Mirza Waqas Ahmad Sahib for sharing your impressions."
Farzana Akbar Sahiba writes "A wonderful article! It gives a wonderful insight into Huzoor's character and duties at home. Thank you for writing this amazing article."
Nadimur Rahman Sahib of London said, "What a great article! Just shows how Hazrat Khalifatul Masihaa is full of wisdom and love for all."
Q Ahmed Sahiba writes, "A very sincerely written emphatic journal of Huzoor's day-to-day life. An eye-opener to Huzoor's engagements and responsibilities of being the supreme head of the worldwide Jamaat-e-Ahmadiyya. May Allah strengthen His Holiness' hand and enable us to follow him."
Bushra Nasir Ahmed Sahiba said, "A beautiful and worth reading article about the life of Huzooraa as a 'loving father' and 'role model' by his son, Mirza Waqas Ahmad Sahib."
S Huma Sahiba says, "Jazakallah Ahsanal Jazaa. Loved reading every single letter of this article. May Allah make us as Huzooraa wants to see us."
Waseem Ahmad Sahib writes, "This is very faith-inspiring. It is worth reading again and again."
Faran Rabbani, a missionary based in the USA, said, "An extremely captivating account. Very moving. The significance of Salat in beloved Huzoor's life before and after khilafat is extremely moving and truly thought provoking for every Ahmadi Muslim. May we also understand the importance of Salat and establish it in our homes."
Zaida Baig Sahiba writes, "Jazakallah, Al Hakam! A priceless piece! I wanted to read more! May Allah Almighty enable me and all Ahmadis to emulate the example of our beloved Khalifa and grant him a long and healthy life."
Masood Ahmad Ansari Sahib says, "May Allah help us to understand how our Khalifa is leading us and always keep us in his prayer … May Allah help us follow Huzoor's example and may Allah accept prayers offered by Sahibzada Mirza Waqas Ahmad Sahib. Jazakallah."
WA Malik said, "May Allah reward Sahibzada Mirza Waqas Ahmad Sahib for sharing these amazing sentiments for his beloved father, beloved Huzooraa. I came to know about a lot of things of the blessed life of Huzooraa which I didn't know before. My love for Huzoor has increased. And Jazakumullah to the Al Hakam team as well. May Allah reward all of you."
Farhan Iqbal Sahib, a missionary based in Canada, said, "What a moving article! I'm shaken to my core! May Allah bless Mirza Waqas Ahmad Sahib for sharing such personal details about Huzooraa as a father."
Ambareen Manzoor Sahiba says, "Truly inspirational! Beloved Huzoor'saa love for Salat dominates everything! May we learn, self-reform and inculcate this example of Huzoor-e-Anwaraa in our daily lives."
Ahmad Adewusi Sahib writes, "May Allah help us to follow and emulate these noble examples of Hazrat Khalifatul Masihaa. May Allah continue to strengthen his hand and continue to protect him."
Amina Sahiba says, "Masha-Allah. A loving man, kind father, our beloved Amirul Momineen (may Allah strengthen his hand). May Allah bless him abundantly."
Nidaa-e-Sehar Sahiba said, "Jazakallah for sharing such a beautiful side of beloved Huzoor with us (may Allah be his Helper)! There is so much to learn from this personal account. I pray that we are able to develop the same strong love for and belief in Allah just like our beloved Huzooraa."
Saad Waraich Sahib of Canada said, "Masha-Allah, an amazing read. May Allah strengthen Huzoor's hand and always be his helper."
Nayyab Khan Sahiba of Germany wrote, "Jazakumullah Khairan to the team of Al Hakam and obviously to Mirza Waqas Ahmad Sahib for this wonderful article."
Youssef Sahib says, "Very emotional to read the beautiful article and the comments. As a convert, I bear witness that Ahmadiyyat is the truth and that our beloved Khalifa is truly a man of God. Long live Islam Ahmadiyyat! Long live Khilafat! May Allah continue to bless our dear Khalifa and our Jamaat."
Raja Ata-Ul Mannan of the UK writes, "The article written by Sahibzada Mirza Waqas Ahmad Sahib describes personal memories and various aspects of Huzooraa as a father. Very uplifting, enlightening and inspiring."
Ghadeer Ahmad from the UK writes, "A truly inspiring and moving article written by Respected Mirza Waqas Ahmad Sahib about his impressions and sentiments relating to his father, Hazrat Mirza Masroor Ahmad, Khalifatul Masih Vaa."
Comments continue to pour in, yet these reflect just some of the emotions and sentiments of the Jamaat for our beloved Imam.
May Allah enable us all to understand the importance of this divine blessing, Khilafat-e-Ahmadiyya, and may we always remain attached, loyal and obedient to it so that we and our future generations may always be prosperous in the sight of Allah.