Atiq Ahmad Bhatti, President, Jamaat Slough
Jamaat-e-Ahmadiyya Slough was blessed to hold a virtual event, "Muhammadsa – The Champion of Peace", on 27 March 2021.
The event was streamed live on YouTube. Promotion of the event took place via a number of social media platforms including Twitter, and invitations were sent out to hundreds of guests and contacts.
Exemplary support for the event was provided by the Ahmadiyya Muslim Elders Association (Majlis Ansarullah) of Nasir Region, who promoted the event through their networks. This served to further strengthen the promotion campaign.
The event started with the recitation from the Holy Quran, followed by the English translation.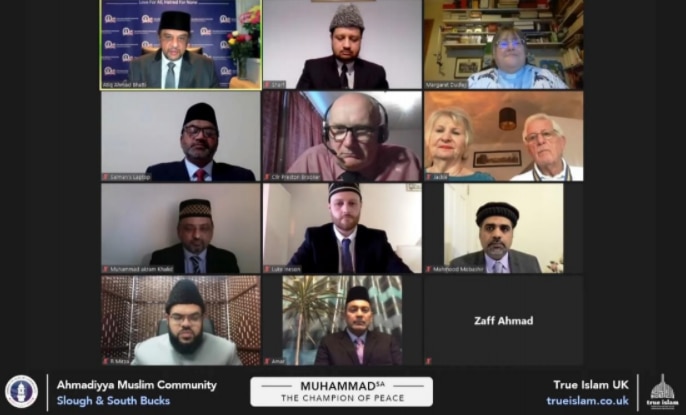 The formal welcome address was delivered by Atiq Ahmad Bhatti Sahib, President Jamaat-e-Ahmadiyya Slough, who provided the objective of the virtual event, namely, to provide a glimpse into how the Prophetsa of Islam championed peace during his prophethood and the peace that was established between all people and faiths during his time.
Two guest speakers then spoke on the need for peace in our time.
Cllr Preston Brooker, Mayor for Slough Borough Council, spoke about the Holy Prophetsa being the champion of peace and how he represented peace. He also spoke about Jamaat-e-Ahmadiyya's motto of "love for all, hatred for none".
Rev Margaret Dudley, Methodist Minister of the Thames Valley Circuit, spoke about the need for peace in our time and the commonality between faiths. She also spoke about Jamaat-e-Ahmadiyya's motto.
The keynote address was delivered by Rabeeb Mirza Sahib, a missionary. He spoke of how the Holy Prophetsa of Islam championed the rights of others and worked tirelessly to promote peace and harmony amongst not only his people, but the people of his time, from all faiths and denominations.
The virtual event concluded with silent prayer. Over 350 participants joined via YouTube, from as far away as the US, Germany and Belgium, alhamdulillah.
After the event, Rev Margaret Dudley, Methodist Minister of the Thames Valley Circuit, sent the following message:
"I have told you before I love your peace symposiums and think you do tremendous work. I was really thrilled to hear so many tuned in and listened. Before I became a minister, I taught religious education and have read the Quran (in English obviously) a few times. But your keynote speaker opened my eyes. I knew Muhammad, peace be upon him, faced opposition during his lifetime and Muslims continued to suffer after his death, but I had no idea it continued for so long. So, I found his talk very enlightening but also very sad.
"Please pass on my thanks to your whole community for all that they do and the way they work so well together. As usual, I felt truly honoured that you asked me to speak and I hope what I said was of benefit to those who 'tuned in'."