Ataul Mujeeb Rashed, Naib Amir and Missionary-in-Charge, UK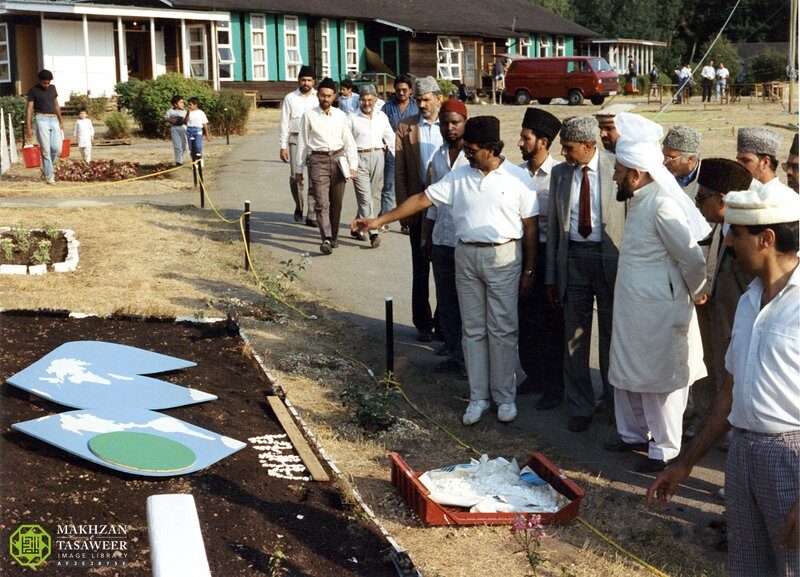 Divine devotion: The essence of Hazrat Khalifatul Masih IV'srh character
Love for God, which is the splendour of a believer's entire life, was prominently manifested in Hazrat Khalifatul Masih IV'srh being. His life's essence was love for God. The fact is that all those who ever saw him or were close to him are witnesses to the reality that he had an inexpressibly strong connection and a deep love for God! Each of his words and actions made this truth most evident!
Professor Gualteri meets with Huzoorrh
An Ahmadi friend from Canada brought a non-Muslim, Professor Gualteri, to London for a meeting with Huzoorrh. Prior to the meeting, he brought the professor to my office and introduced him to me, explaining the reason for his visit to London. After introductions and some preliminary conversation, I thought it would be better to inform him about Huzoor'srh personality since it would be his first meeting with him, and he might not be aware of his exalted status and office. Therefore, I mentioned a few aspects of Huzoorrrh to him. Indeed, every Ahmadi's heart is filled with love for the Khalifa, and this love emanates whenever they talk about him. I expressed similar sentiments about Huzoorrh to the guest, but I do not fully recall what I had said to him. However, he had a good impression of whatever was said to him.
Later, when he went to meet Huzoorrh, he engaged in a lengthy conversation with him. I don't know the details of the subjects discussed in that meeting; however, I am aware that the academic prepared a beautiful summary of the meeting. The Ahmadi friend told me that when the professor emerged from his meeting with Huzoorrh, he expressed that after hearing the imam of the London Mosque, he had the impression that Ahmadis had great love for their spiritual leader. Later, after talking with their spiritual leader, he concluded that although there was no doubt that Ahmadis loved their leader deeply, the truth was that their spiritual leader's love for them was even greater. How accurate and true an analysis the learned man had reached!
Huzoor'srh exemplary humility: An encounter with Hazrat Maulvi Muhammad Hussainra
Huzoor'srh life was a model of modesty and humbleness. The following incident exemplifies this feature.
In 1989, the year of the Centenary Jubilee, Huzoorrh asked Hazrat Maulvi Muhammad Hussainra (also known as Sabz Pagri Waale – one with the green turban), who was one of the last living companions of the Promised Messiahas, to attend the UK Jalsa Salana. Hazrat Maulvi Sahibra was not feeling well, and embarking on a long journey was not easy for him. However, in compliance with Huzoor'srh directive, he came to London. I had the honour of receiving him at Heathrow Airport. I vividly remember that when Hazrat Maulvi Sahibra reached the London Mosque, he arrived at Huzoor'srh office, walking very slowly with some assistance, and sat down on a chair.
I informed Huzoorrh through the intercom that Maulvi Sahibra had arrived safely and was sitting in the office. Upon hearing this, Huzoorrh said, "All right," and then hung up. I would have imagined that upon learning that Hazrat Maulvi Sahibra had arrived, Huzoorrh would instruct us to show him in immediately since Huzoorrh had been waiting for his arrival. I was very surprised when Huzoorrh did not say so and hung up the phone. I thought Huzoorrh might have been very busy at that time. As I was still contemplating these thoughts, suddenly the door of Huzoor'srh office opened, and Huzoorrh emerged. He hugged Hazrat Maulvi Sahibra with great affection and said: "It is my duty that I should present myself to you, rather than you coming to me!"
Huzoorrh sat beside Hazrat Maulvi Sahibra for a short while, enquired about his well-being, and then took him into his office with great honour and respect, engaging in a conversation with him for a very long time!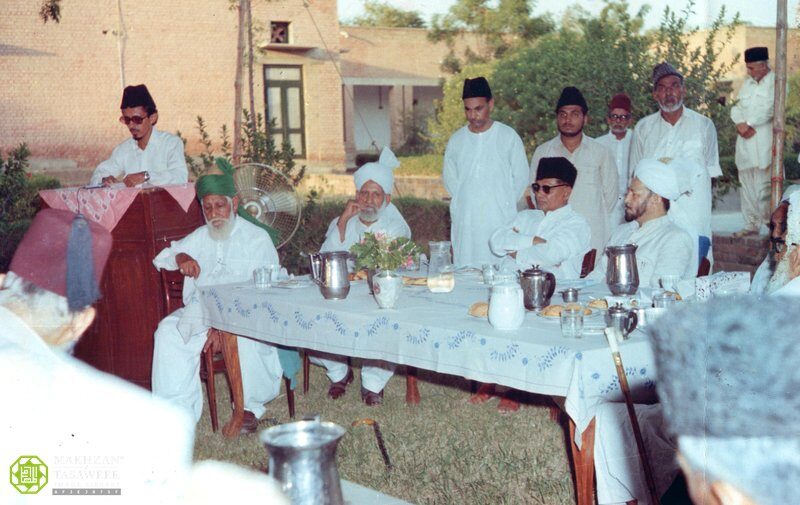 Memorable moments from the Ahmadiyya centenary celebration of 1989
The Ahmadiyya centenary was joyously commemorated in 1989. I would like to narrate a few memorable incidents from that occasion. In addition to the 23 March celebrations, some other events took place on 24 March in Islamabad, UK. On that day, Huzoorrh stood on a small platform as different groups of atfal and nasirat, all beautifully dressed and holding flags, paraded in front of Huzoorrh. On this occasion, beautiful flower garlands were placed around Huzoorrh.
The late Muhammad Asghar Sahib, who was an elder of the East London Jamaat, had sought prior permission from Huzoorrh to put a flower garland around Huzoorrh on the occasion of the Centenary Jubilee. He was blessed to have this honour. I had humbly proposed that to commemorate this momentous occasion, a tree might be planted in Islamabad. Huzoorrh liked the proposal, and he planted a tree with his own hands at a site between the Islamabad Mosque and the pond. That tree still stands there, verdant and strong!
Similarly, another suggestion I made was to take a group photograph of Huzoorrh on that memorable day with all the "white birds" (British Ahmadis) present in Islamabad. Huzoorrh was kind enough to accept the proposal, and a memorable photograph was taken in front of the Islamabad Mosque with all the indigenous British Ahmadis. There were approximately 20 British Ahmadis, and the late Aftab Ahmad Khan Sahib and I were also included in that group photograph, alhamdulillah!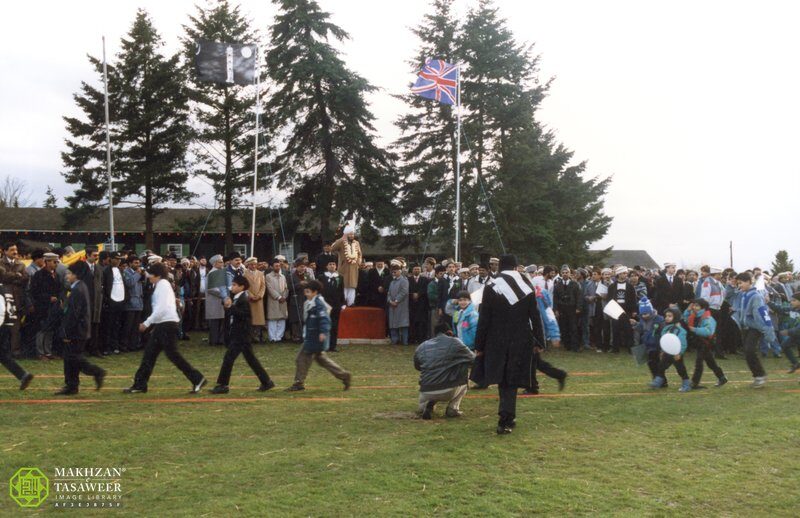 Simple elegance: An anecdote of Huzoor'srh humility
Huzoor'srh personality was very simple and devoid of all formalities. A friend of mine narrated the story that once, during a journey, Huzoor'srh convoy of cars stopped to have some food on the roadside near a town. The khuddam immediately started looking for an appropriate place for Huzoorrh to sit and eat the food comfortably. Meanwhile, Huzoorrh opened the boot of his car, found some slices of bread and some leftover rice pudding, and made rice pudding sandwiches. He told his companions that this much food was enough for him and that they should eat whatever they desired to eat at a place of their liking.