Muhammad Jamal, Niger Correspondent
The recent outbreak of the Covid-19 pandemic has affected the whole world in one way or another and has caused some serious and catastrophic damage.
In order to tackle this situation Jamaat-e-Ahmadiyya Niger has abided by the issued instructions of Hazrat Khalifatul Masih V, may Allah be his Helper, pertaining to the outbreak of the coronavirus and has acted upon the precautionary measures and directions of the Government of Niger.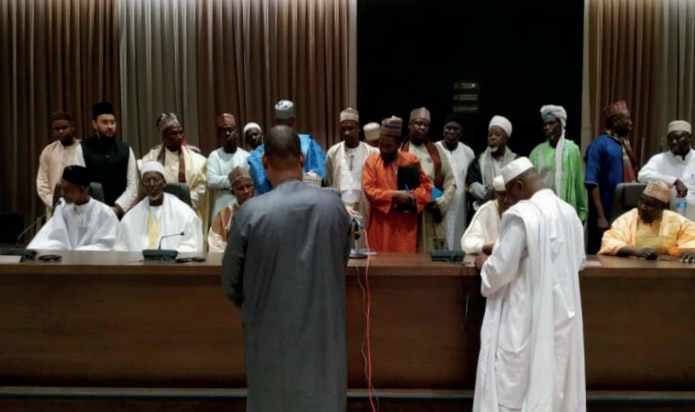 The Government of Niger summoned a meeting of all the religious and spiritual organisations of Niger where a timely strategy was formed in order to combat Covid-19 and to prevent it from causing any havoc in Republic of Niger. Amir Jamaat-e-Ahmadiyya Niger, Asad Majeeb Sahib also participated in this gathering.
A letter consisting of all the instructions given by Huzooraa and the Government of Niger, was circulated to every member of Jamaat-e-Ahmadiyya Niger and they were told to implement all these directions at once till further notice.
As instructed by the government, all the Mosques of Jamaat-e-Ahmadiyya Niger were closed till further notice and all Ahmadis were instructed to pray at homes. All religious and personal gatherings were cancelled and Ahmadis were told to be in self-isolation.
As per the instructions of Huzooraa, lifesaving foodstuff s and edibles were stored in the Centre and all the members were advised to store some provisions locally at their homes in case of an emergency. Some essential and crucial medical supplies were also stored at the Centre to face any dilemma. Homeopathic preventive medicines against Covid-19 were arranged from Burkina Faso as homeopathic medicine is not available in Niger.
Being an underdeveloped country unfortunately we cannot take benefits from internet and other digital platforms for the continuity of Jamaat's programmes.
Now, every member of the Jamaat-e-Ahmadiyya Niger is praying to Allah for the safety and well-being of everyone in the world.