Abbas O Iromini, General Secretary Jamaat-e-Ahmadiyya Nigeria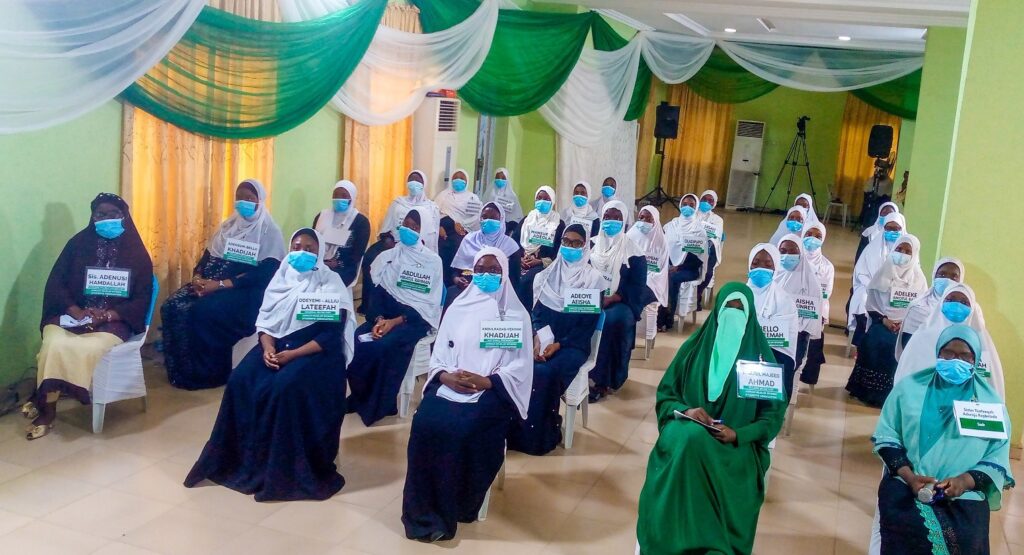 Lajna Imaillah Nigeria had a virtual mulaqat with Hazrat Amirul Momineenaa on 21 February 2021. After the mulaqat, members of Nasirat-ul-Ahmadiyya, and AMWSA also indicated their interest in having such a session with Huzooraa.
A letter of request for mulaqat was thereafter written to Huzooraa through Sadr Sahiba Lajna Imaillah Nigeria on 15 June 2021. Alhamdulillah, the request was graciously approved by Huzooraa. The dates of 25 and 26 September 2021 were approved for the mulaqat with Nasirat and AMWSA, respectively.
Immediately after the approval, a planning committee was formed, which comprised of members of the MTA crew, sadr Lajna Imaillah, secretary Nasirat, president AMWSA, secretary umur-e-talibat and members of the Lajna Imaillah planning committee.
The MTA crew handled the technical aspect of the preparation, while the Lajna Imaillah planning committee and the others handled the content of the programme.
Representatives of AMWSA were drawn from higher institutions of learning across the country.
28 AMWSA members had the opportunity to attend the mulaqat.
Following the virtual meeting with Hazrat Khalifatul Masih Vaa, we share some of the sentiments of the Lajna students who had the blessed opportunity to meet Huzooraa.
Abdul Razaq Yekinni Khadijah, President Ahmadiyya Muslim Women Students Association Nigeria, expressed:
"Alhamdulillah, having the mulaqat with Huzooraa was such a great opportunity for members of the association. Huzooraa shared with us great words of wisdom that will help us navigate our activities on campus".
Odeyemi-Aliu Lateefat, General Secretary, said:
"The mulaqat was great and a smooth one. May Allah continue to strengthen the hand of beloved Huzooraa."
Amatul Mujeeb Ahmad, Secretary Talim, said:
"I feel so elated. It is like I got an upgrade in my level of spirituality. Having a one-on-one talk with Huzooraa felt so unreal".
Adeniran Hibatul-Muizz, Secretary Tarbiyat, expressed:
"Alhamdulillah, having beloved Huzooraa speak to us is a blessing to be forever remembered. His smiles illuminated my heart".
Aisha Akinreti, Project Secretary, said:
"Alhamdulillah, I am so happy and delighted with this mulaqat with our beloved Huzooraa. It also strengthened my faith and belief in the Imam of the Age as he shares with us words, encouragement and advice on all our matters. I feel so blessed to be part of this wonderful programme. I look forward to attending more of this."
Ajijola Zainab B, Public Relations Officer, said:
"Before the session, I had lots of worries and my heart was really troubled. Though my question was not asked, all the answers Huzooraa gave to other questions was as if he was reading through my mind and responding to my worries. The joy and contentment I feel in my heart and soul, after the session, is indescribable".
Sanni Bushrah, Secretary Welfare, said:
"I feel so blessed and honoured to have witnessed the mulaqatwith Huzooraa".
Adeosun-Bello Khadeejah Adenike, Secretary Finance, said:
"The mulaqat was a successful one. It was spiritual as I saw Huzoor's face, and that gave me an assurance that my prayers have been accepted."
Abdullah Raqeebah Anuoluwa said:
"It was a great opportunity to be part of the mulaqat. It was very inspiring".
Abdul Hameed Nimotallah, Assistant Ogun State President, said:
"I feel so blessed seeing my beloved Huzooraa, alhamdulillah."
Bello Fatimah A, Secretary Talim and Tarbiyat Ogun State, expressed:
"Alhamdulillah, it was really a beautiful and a memorable session with Huzooraa. The feeling I had having set my eyes on him cannot be defined".
Balogun Rodiyah Abike, Lagos Polytechnic Sister Coordinator, said:
"It was a very special, calm and cool moment. I was very happy seeing Huzooraa answering our questions. I will greatly appreciate if we can be given the opportunity again to witness a virtual mulaqat with Huzooraa."
Adeola Monsurah, Coordinator Lagos State, said:
"I am impressed as my aim for coming was to hear His Holiness speak directly to us, one-on-one, without a barrier, and I hope we have more sessions like this."
Abdullah Hibbat-ur-Rahman, General Secretary Oyo State, said:
"I feel so elated having this virtual session with Huzooraa. He granted us many valuable advices such as continuous istighfar for protection and shielding against any harmful thoughts. He also stressed that we have to be good and proud ambassadors of Islam Ahmadiyyat."
Adegbola Naimah Modupe, General Secretary III, said:
"Alhamdulillah upon the success of the mulaqat. I am also grateful to Huzooraa for the knowledge imparted".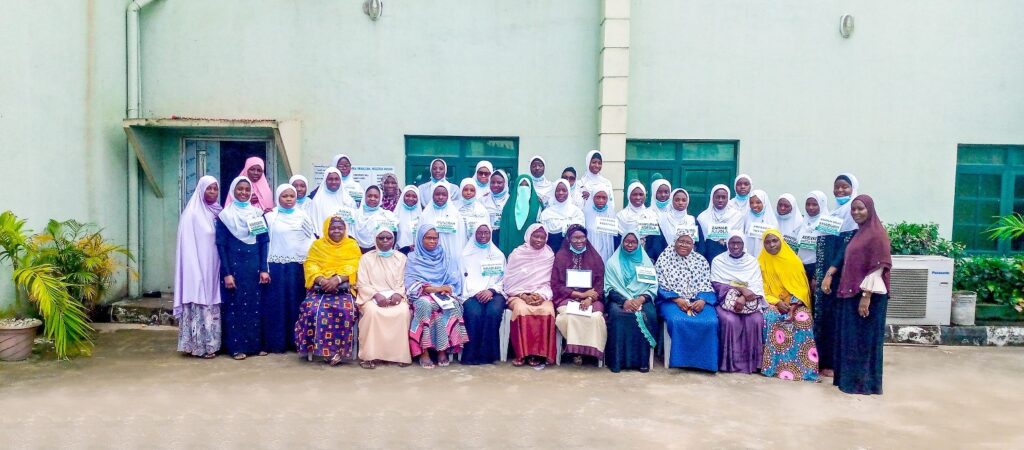 Abdul Razaq Aminah Abisola said:
"Alhamdulillah for the success of the mulaqat. It was indeed insightful and educational".
Adeoye Aa'ishah Adeola said:
"Speaking to Huzooraa is one of the greatest opportunities I have ever had in my life. Having spoken to him felt like all my unspoken prayers were answered".
Hazat Munzirat A said:
"The programme was an impressive one. Huzooraa answered our questions to our satisfaction. He also gave a lot of words of advice which will really help us."
Abdul Azeez Haleemah Fadeke said:
"Alhamdulillah, I felt so blessed seeing my dearest, spiritual father".
Oladipupo Aminat said:
"Alhamdulillah, the session with Huzooraa was a successful one. It was a special and memorable one. I was enlightened about some things I have no knowledge about. I look forward to more sessions like this with our beloved Huzooraa."
Hamidah Akinpelu-Adeyemi said:
"I really appreciate the organisers of this programme. I never had the opportunity to speak with a highly spiritual person before, but with this, I am delighted and which I am sure that all my prayers have been answered."
Adebanjo Toyyibah said:
"Alhamdulillah, it was really a nice moment with His Holiness. I felt so blessed to be among those who attended this mulaqat. I learnt a lot from beloved Huzooraa and I pray Allah may make it easy for me to put the lessons into practice. Amin."
Ligali Basirat Adesewa said:
"I felt so happy because God gave us a wonderful day and I really enjoyed the replies of Huzooraa."
Balogun Sumayah Morenikeji said:
"I felt blessed to be part of the mulaqat because I gained a lot from Huzooraa, and learnt something that will be beneficial to me, alhamdulillah."