Abdul Hadi Qurashi, Sierra Leone Correspondent
Jamaat-e-Ahmadiyya Sierra Leone inaugurated a new mosque in Daru Region's Mombama, Pejeh Bongre Jamaat on 2 January 2021.
This is an old jamaat and was established in 1945. Originally this Jamaat used to have a mosque but during the rebel war, the building got damaged and was in a very poor condition.
When Hafiz Salahuddin Sahib was appointed as regional missionary here in 2017, with the permission of Amir Jamaat Sierra Leone, he wrote a letter to Hazrat Khalifatul Masih Vaa to build a new mosque here. Huzooraa graciously approved the request.
The local jamaat provided 30% of the expenses for the construction and the rest was paid by the headquarters. Members of the local jamaat did a lot of waqar-e-amal and helped in saving a lot of expenses. May Allah bless them.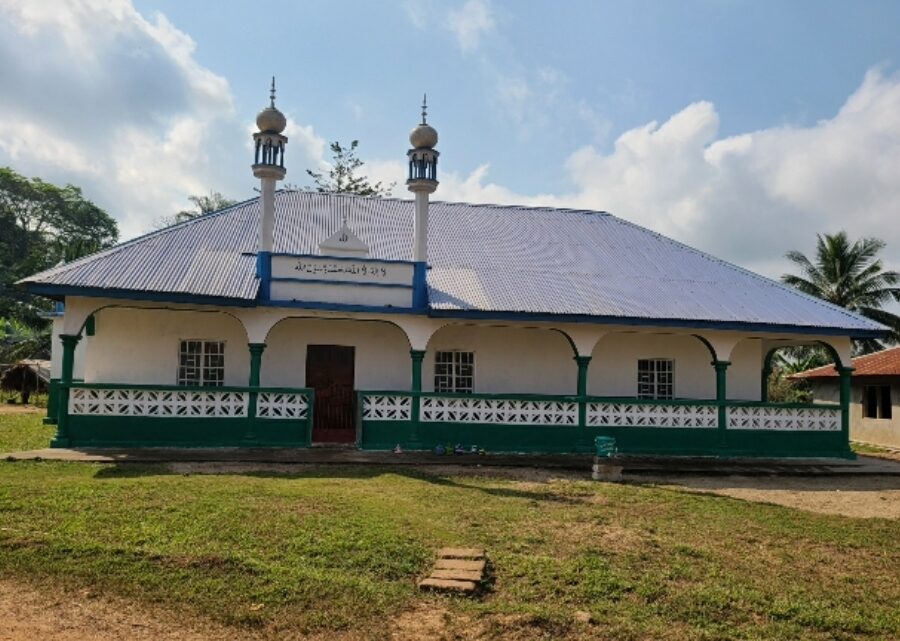 Approximately 400 people can offer prayers in this mosque.
Prior, some organisations and other sects of Muslims constantly asked the people of the area to construct a mosque here, but the Jamaat members refused all offers and remained firmly attached to Jamaat-e-Ahmadiyya.
The foundation of this mosque was laid on 7 December 2017 by the regional Imam of Kenema region, Munir Hussain Sahib. Both Imam Munir Hussain Sahib and Imam Hafiz Salahuddin Sahib looked after the construction of the mosque.
The inauguration programme was chaired by Saeedur Rahman Sahib, Amir and Missionary-in-charge Sierra Leone. The programme started with the recitation of the Holy Quran and its translation.
In the first part of the programme, Amir Sahib addressed the audience and introduced Jamaat-e-Ahmadiyya, spoke about the need and coming of the Promised Messiahas.
Afterwards, he cut the ribbon and officially opened the mosque. Zuhr and Asr prayers were offered in the mosque.
After the prayers, the guests were presented with some lunch.
A total of 846 Ahmadi and non-Ahmadi guests were present in this event, including 4 paramount chiefs, 2 chief imams, Permanent Secretary of Education, Regional Chief Imam, Chairman United Council of Imams, local Imams, school principals and teachers.
We pray that may Allah the Almighty always keep this mosque inhabited with true worshipers. Amin