Reem Shraiky, Life Devotee, International Arabic-English Translation & Research Office, UK
When I meet non-Ahmadi Muslims, especially Pakistanis, and they find out that I am an Ahmadi Muslim from the Arab world, immediately, the signs of surprise and shock appear on their faces and sometimes they express their astonishment in words.
I recall especially a Pakistani woman I met at an event organised by Lajna Imaillah UK a couple of years ago. Upon learning that I am an Arab Ahmadi, she was utterly dismayed and started raising all types of outdated allegations against the Promised Messiahas.
My responses were calm, but when she started using abusive language, I firmly told her, "I will not tolerate hearing such offensive language against my beloved one; either speak with respect, or there is no need to discuss anything with me."
Upon hearing this, she remarked, "He [i.e. the Promised Messiahas] was a Punjabi Indian, therefore he is not for you, the Arabs."
I questioned her: "The Messengersa of Allah is an Arab, so according to your logic, he is not for you; why do you believe in him?"
She was dumbfounded and withdrew herself by saying "I will continue the discussion with you after the end of the programme", but she never returned.
Allah the Almighty says in the Holy Quran: "Allah knows best where to place His Message." (Surah al-An'am, Ch.6: V.125)
Allah the Exalted has responded in these few words to this ridiculous objection that "the Promised Messiah and Imam Mahdi cannot be from the non-Arabs"; Allah says to the proponents of such ideas that He knows best to whom He gives His message and sends as a prophet.
Likewise, Allah the Almighty says, "Verily, the most honourable among you, in the sight of Allah, is he who is the most righteous among you. Surely, Allah is All-Knowing, All-Aware." (Surah al-Hujurat, Ch.49: V.14)
Moreover, in a well-known hadith, the Holy Prophet Muhammadsa said, "An Arab possesses no superiority over a non-Arab except in righteousness."
Without a doubt, piety is the criterion of superiority in the eyes of God Almighty.
Moreover, Allah has warned us that if we turn away from religion and go astray, then He will bring other people in our place: "And if you turn your backs, He will bring in your stead a people other than you, then they will not be like you." (Surah Muhammad, Ch.47: V.39)
Thus, religion is not assigned to a specific class or nationality; no one can remain guardians of it until the Day of Judgment; rather, if they move away from the teachings of the religion and indulge themselves in the pleasures and sins of this world, Allah states that He will replace them and give the banner of His religion to other people who will preserve it and strive to uphold its status.
I say with full conviction and certainty that I carefully studied the claims of the Promised Messiahas, for a period not even exceeding 10 days, before I announced my desire to pledge allegiance to him.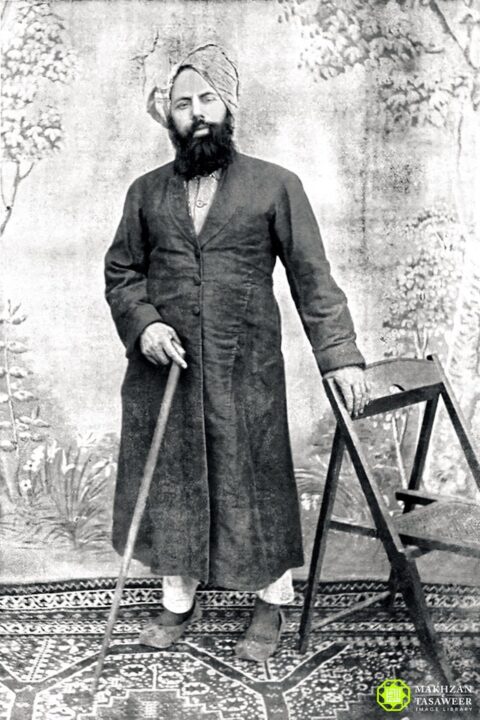 An idea that crossed my mind during that time was, "If he was an Arab and made the same claim and came with the same evidence, I might have taken more time to pledge allegiance to him as the idea that the Mahdi must come from Mecca has always disturbed my mind."
I often thought to myself, "Are the Arabs and the people of Mecca the only ones to know the religion of Islam that the Mahdi will be from among them!" And "If this is the case, then why does the Holy Quran declare that Islam is a universal religion?"
To be honest, I always felt that if the Mahdi came from among the Arabs and spoke Arabic, this would mean that only the Arabs could understand Islam. But I knew that this could never happen as it was completely contrary to the claim of universality made by Islam.
I had, for many years, learned, worked with and observed the Arabs around me, and due to the nature of my profession, I have spent time and interacted with Arabs of all nationalities. When I worked and lived among them, we regularly discussed matters of religion. For many years, I studied the writings of Arab scholars and great thinkers; I listened to many of their speeches. Indeed, none of them could have even a trace of such a profound impact upon my heart as was left by the one who was a man of God, a prophet of Allah, a perfect servant of the Holy Prophetsa, blessed with the Holy Spirit and guided by Allah – Hazrat Mirza Ghulam Ahmadas.
Since childhood, I had been waiting for the Imam Mahdi and Allah had placed in my heart that he would be a prophet. I often asked myself, "How will he not be a prophet, if God Almighty would reveal to him his mission and send him to reform the ummah?
My dear Muslim brothers and sisters, take off this cloak of arrogance and remember that the infidels of Mecca rejected the Holy Prophetsa for the very same reason and said, "Why has this Quran not been sent to some great man of the two towns?" (Surah al-Zukhruf, Ch.43: V.32)
They desired for the Quran to be revealed to a great man "in their eyes" from Mecca or Ta'if, but our beloved Prophet Muhammadsa was the greatest in the eyes of God Almighty.
Think and reflect over the hadith which Bukhari narrated about the verse of Surat al-Jumuah: "And among others from among them who have not yet joined them", where the Holy Prophetsa was asked about these "others" thrice, then he placed his blessed hand on Salman al-Farisira and said, "If faith were to go up to the Pleiades, a man from among these would surely find it."
Thus, the Messengersa of Allah, who "does not speak out of his own desire – it is nothing, but pure revelation revealed by God" (Surah al-Najm, Ch.53: V.4-5) has affirmed that the one who will restore faith to the earth will be a non-Arab man.
So, ponder over what I wrote and think if you are among the thinkers and if you are wondering why India has been made the land of the coming of the Promised Messiah and Imam Mahdias?
I tell you what the Promised Messiahas himself said in one of his Arabic poems:
جُعلت‭ ‬ديار‭ ‬الهند‭ ‬أرضَ‭ ‬نزولها
نصرًا‭ ‬بما‭ ‬صارت‭ ‬محلَّ‭ ‬تنصُّرِ
"India has been chosen as the landing place of this message so that [Islam] will gain triumph in the country that has become the land of evangelising Muslims." (Hazrat Mirza Ghulam Ahmad, Nur-ul-Haq)