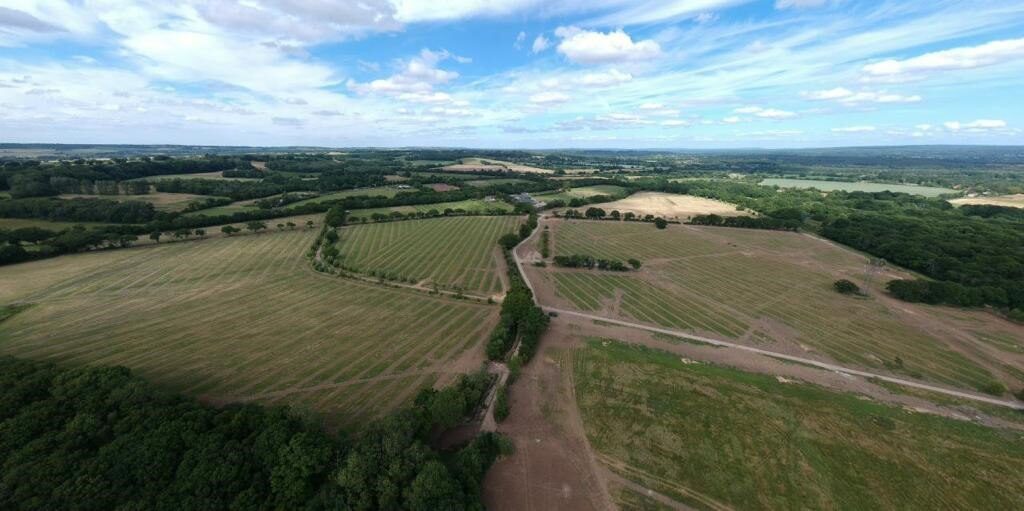 Under the continuous guidance and instructions of Hazrat Khalifatul Masih Vaa, the Jalsa Salana Committee has been working on this year's Jalsa since January 2022. All naib afsaran Jalsa Salana and nazimeen of departments closely reviewed red book points of the previous Jalsa Salana and drew up plans for this year's event.
Who can attend?
Due to the Covid-19 pandemic, there was a limitation set by Hazrat Khalifatul Masih Vaa during last year's Jalsa Salana for only 6,000 UK-based guests who were permitted to attend one day of Jalsa Salana. According to Huzoor's instructions, this limitation was planned for Jalsa Salana 2022 as well, but by Allah's grace, as the conditions for the pandemic have drastically improved, Huzooraa has now permitted all the UK Jamaat to attend Jalsa Salana UK on all three days.
However, those wanting to attend from abroad must seek permission from Hazrat Amirul Momineenaa.
Covid-19 precautions and what to bring
The safety of all guests of Jalsa Salana is paramount and therefore Covid-19 precautions will continue. All attendees must wear masks on site and show proof of a negative lateral flow test (LFT) (that was recorded within 24 hours) before entering the Jalsa site. Proof of two vaccinations will also be required. Your AIMS ID card will, like always, be checked.
According to Hazrat Amirul Momineen'saa latest instructions, social distancing during salat has now been set to one foot (as opposed to 1.5 metres from last year).
New land drainage system following instructions of Hazrat Khalifatul Masih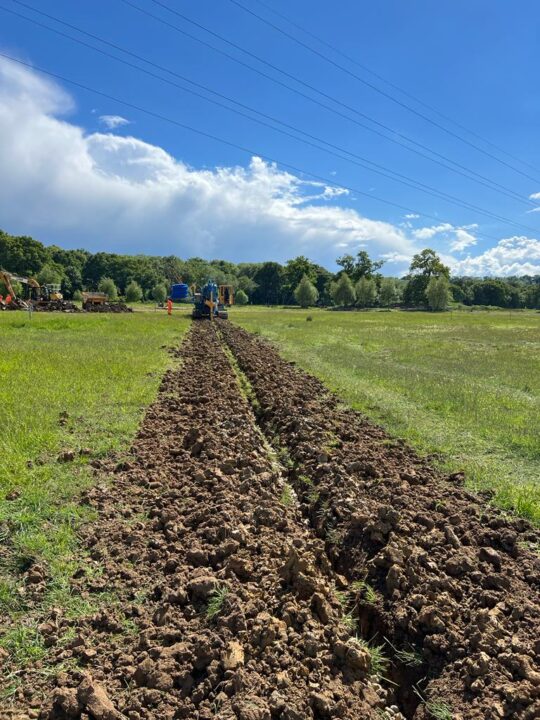 Last year, the torrential rain that fell on Hadeeqatul Mahdi caused a lot of disruption on site – the wet mud particularly caused obstacles for cars and vehicles that were getting stuck.
After last year's final address of Jalsa Salana, Hazrat Khalifatul Masih Vaa instructed Amir UK, Rafiq Ahmad Hayat Sahib and Afsar Jalsa Salana, Mohammad Nasser Khan Sahib to explore and introduce a water drainage system in the land of Hadeeqatul Mahdi so that the water could be readily removed from the soil and not cause disruption if rain was to fall.
This instruction of Huzooraa was immediately followed and consultations with various companies began. The drainage system project was led by Adrees Ahmad Sahib, an engineer, oversaw the project full-time on the instructions of Huzooraa.
By Allah's grace, though it was expected that only the area where the Jalsa Salana main marquee is situated would see the new drainage system, the company that was hired worked hard for a year and not only covered the main area of the Jalsa site but also the whole of the car park.
Now Hadeeqatul Mahdi has a fully functional water drainage system that will draw excess water out of the soil (which consists of a lot of clay) into the stream that flows through Hadeeqatul Mahdi. In this way, guests will not be faced with so many difficulties related to the mud conditions that follow after rain, at the Jalsa site.
The drainage system work was carried out after seeking permission from the local council and following its installation, it was inspected and approved.
The new system has the following components that enable it to draw excess water out of the ground at Hadeeqatul Mahdi:
To date, 825 linear metres of land drainage have been installed which include drainage runs
19 manholes
4.5 km of water pipes
5.3 km of ducts that cater for telecommunication services (fibre optic, etc.)
Wonderfully, when the drainage system was finally complete, for several days, Hadeeqatul Mahdi saw its streams flowing with water that had been drawn out of the land from the newly installed drainage system.
In reality, Huzooraa had been drawing the attention of the Jalsa administration to such a feature for several years. Now, upon following Huzoor's instructions and guidance every step of the way, the Jalsa team is pleased to say that this system has been installed and the conditions will be much better if rain is to fall.
Along with the drainage system, other services that require groundwork were also installed afresh and further improved. These services include electricity, water supply, sewage system and telecommunications. All of these services and their components stay at a minimum of 1.5 metres in the ground so as not to be damaged by the construction of marquees, etc.
If there is any disruption in the groundwork, there are ways to isolate those areas and can reactivate and even modify those services.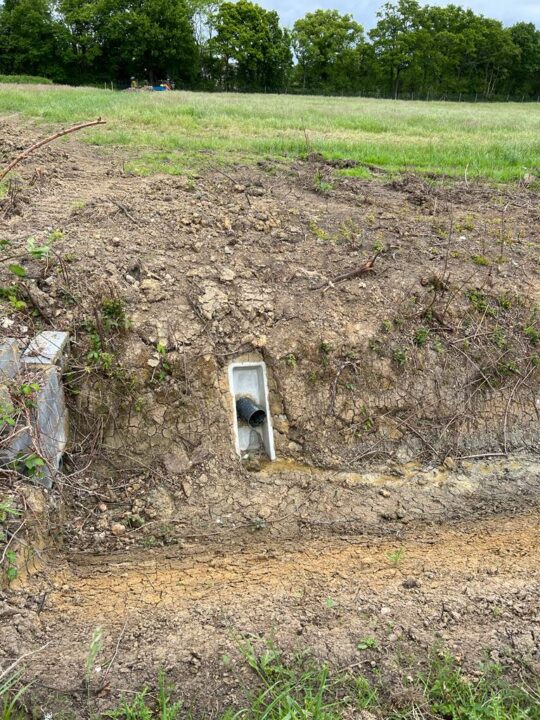 Brexit, Ukraine and the pandemic
Due to Brexit, the war in Ukraine and the pandemic, there have been direct repercussions on businesses, especially for those companies that are in Europe and deliver to the UK. The company that usually installs the main Jalsa marquee has faced shortages and supply issues and significantly raised its prices. Therefore, acquiring the magnanimous marquee required for Jalsa Salana was a new challenge. Again, through Huzoor's constant prayers and guidance, the Jalsa Salana team was able to secure a company that not only will erect the large marquee as required, but will also install versatile flooring. The main marquees (both on the Lajna side and men's) will have five canopies attached to their sides and a ventilation system will be installed.
The men's marquee will be 135 m x 50 m, while the Lajna marquee will be 100 m x 50 m.
The metal tracks used on the Jalsa site were difficult to acquire as companies (including those in Europe) have been fully stretched due to a high number of events taking place in summer. These companies also have lower labour forces now. Alhamdulillah, despite shortages, the site team has acquired 12 km of metal tracks that are required for Jalsa Salana UK and this has been overlooked by Adrees Ahmad Sahib.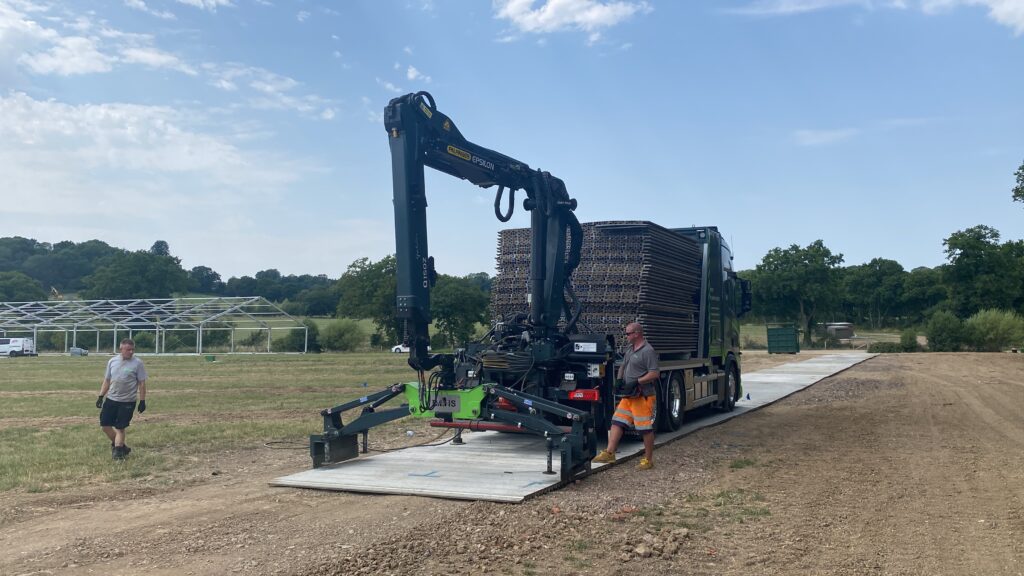 Departments in full flow
Following meetings of the Jalsa Salana Management Committee (participants include afsar Jalsa Salana, afsar Jalsa Gah, afsar Khidmat-e-Khalq and naib afsaran Jalsa Salana, naib afsaran Jalsa Gah, Sadr Lajna Imaillah UK and Sadr Ansarullah UK and MTA International representatives), departments have been in full flow.
Pir Basharat Sahib, Naib Afsar Jalsa Salana has been working very hard with his team in installing electrical systems and cables for Jalsa. Dr Zahid Khan Sahib – who has been newly appointed by Hazrat Amirul Momineenaa as Afsar Jalsa Gah – is managing the Jalsa Gah. Zaheer Jatoi Sahib, Naib Afsar Jalsa Salana has been working tirelessly with his team in installing, maintaining and improving all the sewage systems and water supply for the Jalsa. He has also been getting the kitchen prepared and all the gas burners installed and equipped so the langar khana (kitchen) is fully operational. Imran Chughtai Sahib, Naib Afsar Jalsa Salana, with his site team, marked the areas where marquees and other amenities would be situated and now he is receiving and directing the companies who are arriving at Hadeeqatul Mahdi to install the marquees, portable toilets and cabins etc.
Exhibitions
Hazrat Khalifatul Masihaa has instructed that all the exhibitions that will be held by various departments of the Jamaat will be situated in one area and not scattered around the Jalsa site. This will ensure safety and ease of viewing for all the guests.
Accommodation
Jalsa Salana UK guests are encouraged to stay in accommodation off the premises of Hadeeqatul Mahdi apart from exceptional cases and workers.
Some guests and representatives whom Huzooraa has granted permission have started to arrive from abroad already. Apart from guest houses, those arriving will also be accommodated in Baitul Futuh, Jamia Ahmadiyya UK and Baitul Ehsan.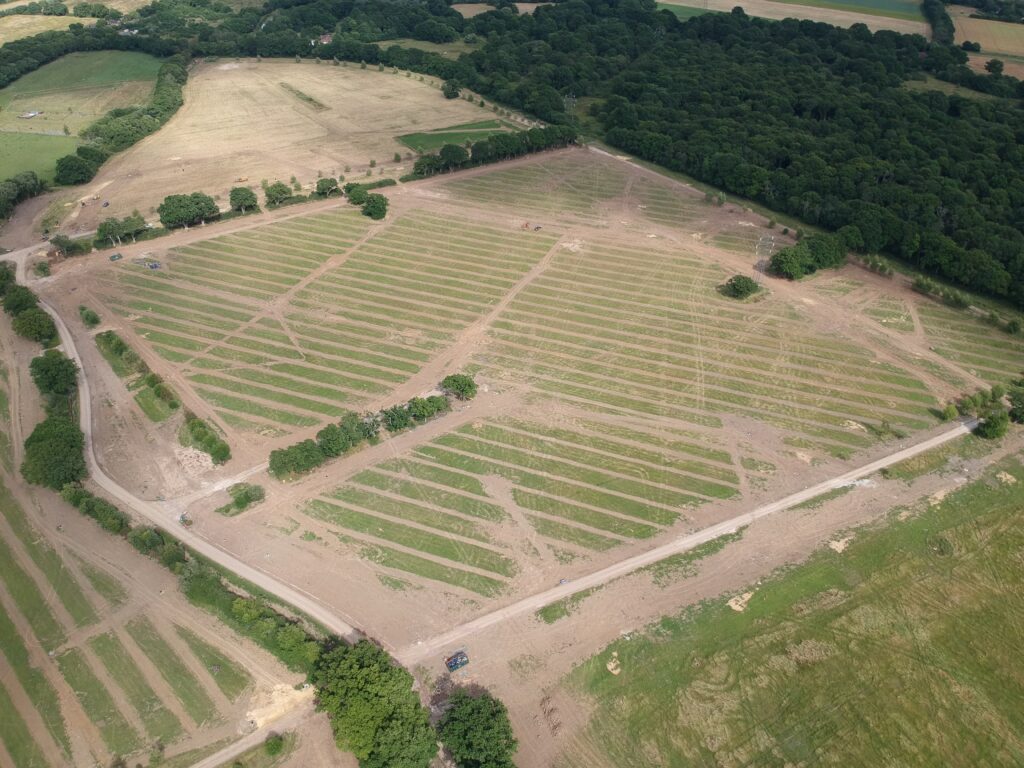 Other developments
Majlis Khuddam-ul-Ahmadiyya is providing 24-hour security at the Jalsa site and khuddam teams are assisting in waqar-e-amal and other preparations for Jalsa.
Car passes and badges are being issued by the Jalsa Salana office. The store department has begun to receive deliveries of food, hygiene products, water, bedding etc. and will have enough supply to cater for the 30,000 people intending, insha-Allah.
As the car park in Hadeeqatul Mahdi has been equipped with the new drainage system, there are plans to have the main car park at Hadeeqatul Mahdi. Overflow will be at the Country Market. Those arriving by train to Alton Station will also benefit from the shuttle service that will be provided.
The 28-day period given to the Jamaat by the council for us to set up, hold and dismantle the Jalsa Salana started on 18 July 2022. Through Huzoor's prayers and continuous guidance every step of the way, the Jalsa Salana site is slowly being built up and we look forward to welcoming all the guests of the Promised Messiah, insha–Allah.
All readers are requested to pray for the success of Jalsa Salana UK.
(More to follow…)
Zaheer Ahmad Khan Sahib, who told us the above, is a missionary of the Ahmadiyya Muslim Jamaat and also serving as Naib Afsar Jalsa Salana UK, who supervises the Jalsa Salana UK office and Reporting Department.