Laiq Ahmad Mushtaq, Missionary-in-charge, Suriname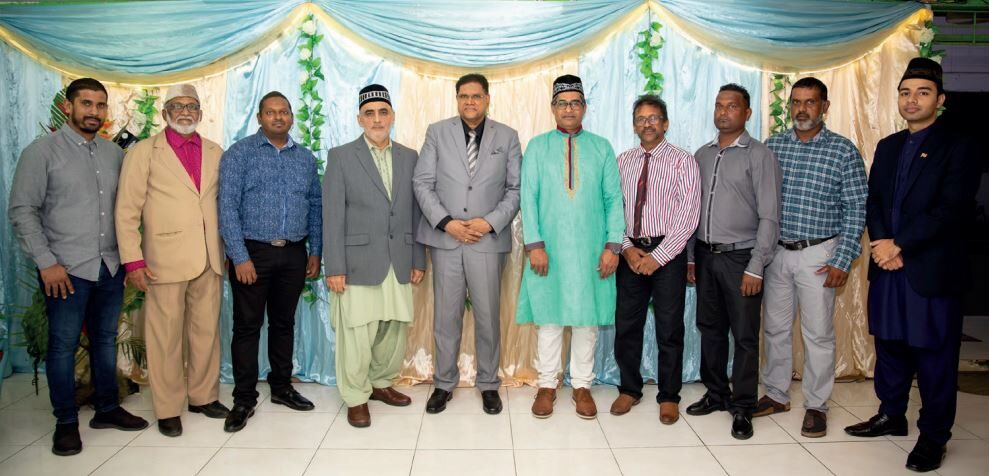 Earlier this year, in 2023, Jamaat-e-Ahmadiyya Suriname invited the President of the Republic of Suriname, His Excellency Mr Chandrikapersad Santokhi, for a dinner meeting with the national amila. For this occasion, a request was also made to Hazrat Khalifatul Masih Vaa to send a message for the President. In his letter dated 26 February 2023, Huzooraa prayed:
"May Allah make your meeting with the President successful in every respect and may you be able to convey to him the peaceful message of Islam Ahmadiyyat.
"May Allah enable the uncertain situation of the country to stabilise soon. May Allah bless all your activities with success and may He be your Guardian, and Helper at all times. May the Jamaat in Suriname advance and progress in all fields. Allah be with you."
On 2 March 2023, President Santokhi visited the Nasir Mosque, the headquarters of the Jamaat in Suriname. Sadr Jamaat Samseerali Sheikh-Alibaks and my humble self received Mr Santokhi.
After a brief introduction of the amila members, the national sadr delivered a short speech in which he highlighted the teachings of Islam regarding the duties of leaders, and the rights and duties of the countrymen. He also spoke about hospitality in Islam and the special bond the President has with our Jamaat.
Thereafter, the President was invited for a short speech in which he mentioned that many wise lessons are anchored in the objectives of Islam. Prophet Muhammadsa brought a message of peace, love, respect and justice to the world. He also stated that religious organisations make an indispensable contribution to the well-being and development of society. Mr Santokhi thanked the Jamaat for its continuous support and asked for prayers for the betterment of the country. He also mentioned that he felt honoured and delighted to be at the mosque.
After the formal session, the attendees enjoyed dinner with the President. Before his departure, the President was presented with some gifts on behalf of the Jamaat. This concluded a successful second visit of Mr Santokhi, as the head of state, to our mosque. The event was covered by the media team of the President's cabinet. Through an article and video report shared on social media, the message of the Jamaat also reached the public.