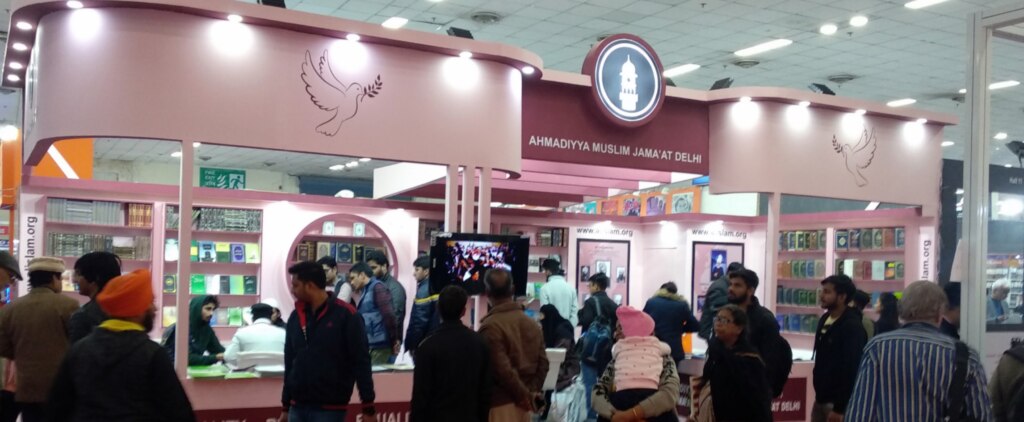 Wakalat-e-Tamil-o-Tanfidh for India, Nepal and Bhutan
The New Delhi International Book Fair, organised by the National Book Trust of India, was held between 5 and 13 January 2019. Out of the hundreds of exhibitions, the Ahmadiyya Muslim Community of New Delhi also had the opportunity to partake.
Banners comprising of quotes of Hazrat Khalifatul Masih Vaa in relation to world peace were part of the exhibition as well as the various translations of the Holy Quran undertaken by the Ahmadiyya Muslim Jamaat. A separate area had been set up for discussions with the public on the works of the community.
Free literature was also given out to those individuals that expressed an inclination towards further research. Such literature comprised of the Holy Quran, World Crisis and the Pathway to Peace, Life of Muhammad, The Economic System of Islam and Homeopathy – Like Cures Like etc.
Leaflets were also distributed at the fair on the peaceful teachings of Islam and Hazrat Amirul Momineen'saa efforts towards establishing world peace.
It is estimated that around 20,000 people visited the stall over the course of the Book Fair and thus, thousands were able to benefit from the message of the Ahmadiyya Muslim Jamaat.