Ata Ul Hayee Sohail, Mohtamim Ishaat, MKA Bulgaria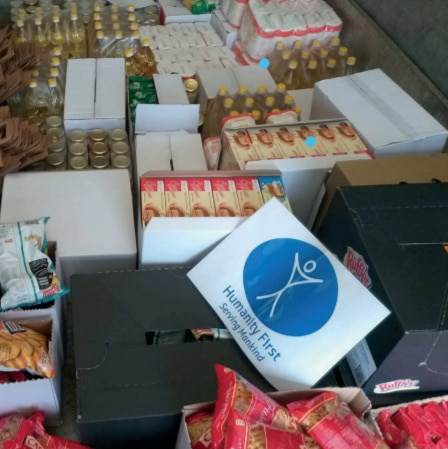 Anton Mihaylov Abdullah Sahib, a missionary of Jamaat Bulgaria reports that during the month of December, amidst rising prices and unemployment in Bulgaria due to the pandemic, Jamaat-e-Ahmadiyya Bulgaria donated aid packages to some of the most affected areas, mainly located in the North-West.
A list of necessary needs and products was provided to the Jamaat and all funds for the purchase of the packages were provided by Humanity First Germany.
The aid packages were provided mainly to children deprived of parental care, as well as to the people accommodated in social centres and families with low social status who are cared for by social services of the municipalities of Berkovitsa, Montana, Lom, Vidin, Plovdiv and Blagoevgrad.
After receiving donations, the municipalities appreciated this support and expressed their gratitude.
The director of the complex for health and social services "St. Mina" in the municipality of Montana, Mrs Ilieva said:
"In today's material world, you have proved to us that humanity still exists. […] Thank you for the support you have given us in overcoming daily difficulties and providing better care for the needs of children with severe disabilities. And we, the mothers raising their children in the 'Mother and Baby Unit' at the complex for health and social services St. Mina, thank you for the help with which you honoured us. With this gesture, you support us in the difficult moments of our lives when we are struggling to raise our children alone. I sincerely hope that in the future we will receive your support and assistance because we are united by the desire to provide a better environment and conditions for the development of the most precious thing – children. Thank you from the bottom of my heart!"
The Mayor of Vidin Municipality, Dr Tsvetan Tsenkov expressed his gratitude as follows:
"Please accept my warmest thanks for your donation. The food packages you provided for the most-needy users of social services in the municipality of Vidin are a great gift. I appreciate this noble gesture, which makes many people from the most vulnerable groups happy. Thank you for the good deed done and may it be rewarded. I wish you and your supporters health, prosperity, many successes."
The team of the Center for Public Support – Blagoevgrad Municipality said:
"Gratitude upon gratitude to you for the empathy and support provided to children, disadvantaged families and users of social services".