Abbas O Iromini, General Secretary, Jamaat Nigeria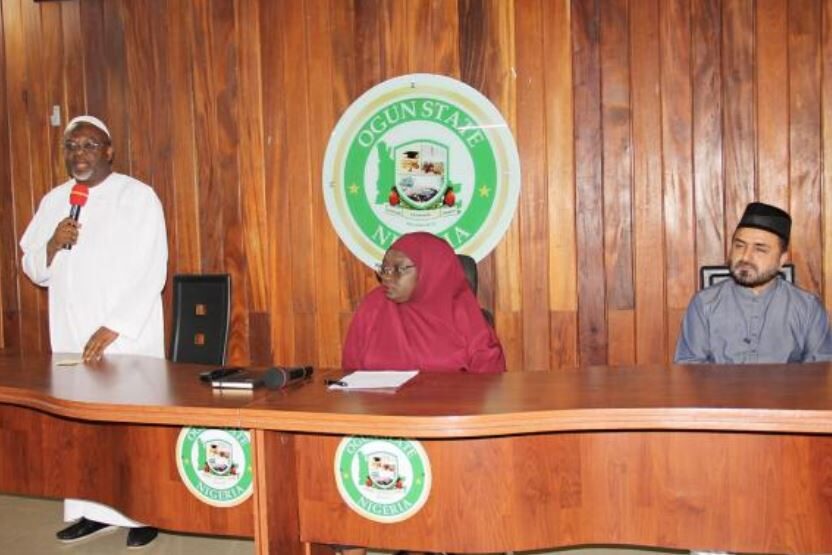 Mrs Noimot Salako-Oyedele, Deputy Governor of Ogun State, Nigeria, was at her office on Tuesday, 15 October 2019 to receive a delegation of Jamaat-e-Ahmadiyya Nigeria.
The delegation consisted of Amir Sahib, along with members of the national Amila, missionaries and members of auxiliary organisations, such as Lajna Imaillah and Khuddam-ul-Ahmadiyya.
An introduction was given about Jamaat-e-Ahmadiyya as a peaceful Jamaat that had existed in Nigeria for over a century. The efforts of Hazrat Khalifatul Masih V, may Allah be his Helper, were mentioned, who has been going around the world, preaching peace to all governments and their presidents.
The Jamaat's efforts in the field of education, medical care, disaster recovery, gift of life etc. were also mentioned.
The governor and the deputy governor were also invited to the forthcoming Jalsa Salana at Ilaro. An invitation was extended to Her Excellency for the seminar being organised by the Ahmadi Muslim Students Women Association on 2 November 2019 at the Federal Polytechnic, Ilaro.
Deputy governor's response
The Ogun State Deputy Governor, Hajia Noimot Salako-Oyedele thanked the Jamaat for deeming it necessary to pay her a courtesy call. She said the Ahmadiyya Jamaat was not new to her as she had enjoyed a good relationship with the family of one of our former amirs, Alhaj Hussein Sunmonu.
She said that she had visited our bookshop at Idumagbo Avenue in Lagos and purchased a Muslim Prayer book back in 1976, which she is still using. She mentioned having participated in Jalsa Salana United Kingdom 1990.
She congratulated the Jamaat for the Jalsa Salana coming up in Ilaro and promised to convey our request of invitation to the governor and that she would also attend the Jalsa Salana if she was able to.
Her Excellency requested for prayers from the Jamaat so that the government may have a successful tenure.