Awwab Saad Hayat, Jalees Ahmad, Al Hakam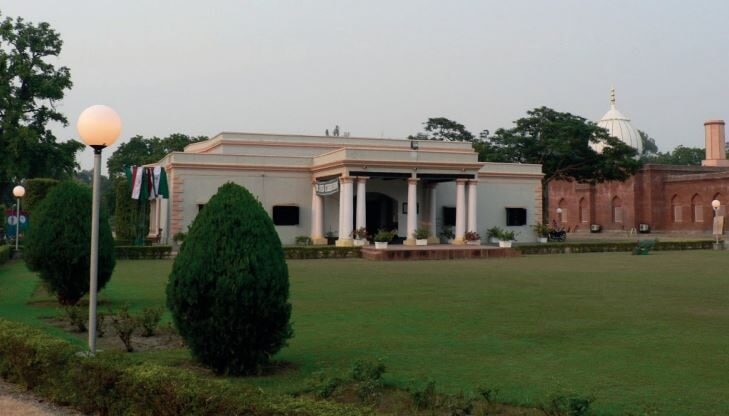 Hazrat Ahmadas, in his book, Haqiqatul Wahi —The Philosophy of Divine Revelation, in which he documents some of his prophecies, signs, and revelations spanning over 25 years, writes:
"89. Eighty-Ninth Sign — I had prophesied about Sayyed Ahmad Khan that in the latter part of his life he would experience some hardships and that his days were numbered. The subject matter was published in handbills. After this, Sayyed Ahmad Khan had to suffer great sorrow and grief because of the embezzlement of funds by a mischievous Hindu. Thereafter, he lived only for a few days and died of the same sorrow and grief." (Haqiqatul Wahi —The Philosophy of Divine Revelation, p. 304)
Sir Sayyed Ahmad Khan, who was made a Knight Commander of the Star of India by the British crown, was a Muslim leader, philosopher, and educationist from the subcontinent. He became well-known after the events of the major uprising in India, known as the Sepoy Mutiny of 1857. He died on 27 March 1898, when he was more than 80 years of age.
He endured severe shocks in the latter part of his life when the treasurer of his educational institution, established in Aligarh, embezzled 1,50,000 Rs. Further, Sir Sayyed's son, Sayyed Mahmud's, excessive drinking caused further grief and aggravation. Upon his demise, funds had to be raised for his funeral arrangements.
Sir Sayyed Ahmad Khan was a politically astute personality and an important and well-known name of his time. With regards to the latter part of his life and last days, information is found in the book Mushahidaat wa Ta'suraat, based on the memoirs of Dr Sheikh Muhammad Abdullah, known as Papa Mian. This book has been arranged and edited by Athar Siddiqui, of Aligarh.
To establish the importance of the traditions and statements of this eyewitness and close companion, Dr Sheikh Muhammad Abdullah, it is deemed essential to mention his relationship with Sir Syed Ahmad Khan. Professor Athar Siddiqui, who compiled the above-mentioned book, writes:
"Two prominent personalities rose from the state of Kashmir who shone like bright stars and gained fame throughout India. Both were named Sheikh Muhammad Abdullah, but one was an expert activist for women's education and was commonly known as Papa Mian. The other was the heart and spirit of Kashmir politics. With the passage of time, people are forgetting about people of the past and often confuse one with the other due to the similarity of names […] Whatever Sir Syed accomplished concerning the education of boys is a never-to-be-forgotten fact; however, concerning the education of girls and women, as of that time, the feat Sheikh Muhammad Abdullah (1874-1965) accomplished alone, as the founder of women's education, is no less than the feat accomplished by Sir Syed. Another important aspect we find in the book under discussion, "Mushahidaat wa Ta'suraat", is that Sheikh Sahib came to Aligarh at the age of 17. Sir Syed Ahmad Khan was alive at that time and [Sheikh Sahib] spent the next 10 years in the shadow of Sir Syed. He was probably the last person of his time to have seen Sir Syed and has detailed his meetings and relations with him in this book." (Mushahidaat wa Ta'suraat, preface)
On page 30 of the above-mentioned book, under the title "Sir Syed Ka Ma'mool-e-Zindagi" Sheikh Abdullah writes:
"Sir Syed used to wake up at 4 am […] he would read books […] and start his literary work. During this time, when his mail would arrive, he would leave all his work and turn his attention to the mail, and he would instruct an employee, educated in the English language, to respond to the letters received from the government or the officers of the government. The letters that were sent to the government in English were shown to an English professor at the college and especially Mr Beck (Theodore Beck), the principal of the college. The very important correspondence was drafted by Mr Beck.
"The funds collected for the college would be sent through the finance secretary, Babu Shyam Bihari Lal, to the Bank of Bengal, Agra branch, for deposit. The Bank of Bengal was then no more and the Imperial Bank of India was replaced by the State Bank of India.
"Sir Syed had employed one person who knew the English language and two Kayasthas [a cast of Hinduism] who had little knowledge of English. The management of collecting boarding house fees was not organised. […] The boarding house fees were collected by Saeed Ahmad resident of Kandhala district Muzaffarnagar. […] My personal experience is that he was neither competent nor reliable. In his time [of employment], there was a lot of confusion in the calculations. He did not have any regular accounting register or account system. A register containing plain pieces of paper was bound in book form. When a student came to pay his fees, he [Saeed Ahmed] would make a note of it wherever he found a blank space or a blank page, and if he did not remember, he would ask [for the fees to be paid] again. When they would say to him, 'you had taken it and entered it into the register', he would start searching through his book and sometimes, after spending two hours, an entry would be found somewhere. He would not even give a receipt to anyone. Some students used to complain that 'we paid our fees and Secretary Saeed Ahmad did not register it anywhere, nor did he admit that he received the fees.' […]" (Mushahidaat wa Ta'suraat, p. 30)
The incident of Babu Shyam Bihari Lal's embezzlement
On pages 32-34 of the aforementioned book, it is written:
"Sir Syed, apart from Babu Shyam Bihari Lal, who was caught embezzling [the monetary funds of the college], had two Kayasthas who used to work as clerks. Babu Shyam Bihariwithdrew 170,000 Rs from the bank by forging Sir Syed's signature. Shyam Bihari Lal had become so proficient at copying Sir Syed's signature that even Sir Syed was sometimes deceived as to whether it was his original signature or copied by someone else. Babu Shyam Bihari Lal was a resident of Aligarh and was a very extravagant and luxurious man. Sir Syed was under the impression that he belonged to a noble family because some of his relatives had landed estates and houses. Babu Shyam Bihari Lal used to write cheques in English, submit them to the bank after getting them signed by Sir Syed, and receive the money from the bank. Along with this, apart from the usual monthly expenses, he would forge fake cheques and withdraw money. Sir Syed bought government promissory notes with some college funds and deposited them in the bank. The bank would collect interest on them.
"Shyam Bihari Lal withdrew the trust money, which was deposited in the bank in cash and concerning the promissory notes of the college's capital fund, which were deposited in the bank, he forged proceedings of a meeting by the trustees and presented them to the bank, stating the capital fund be used to cater for the needs of the college. In this way, he withdrew a lot of money from the bank on guarantee of the cash promissory notes and spent it all on luxury. Sir Syed was unaware that his trusted secretary was a fraud.
"In 1893 Shyam Bihari Lal suffered a stroke. People suspected that he had embezzled the college's monetary funds before suffering a stroke and said that it should be investigated. When Sir Syed was informed of this, he did not believe it. He made his way to Shyam Bihari Lal's house in his carriage and informed him, 'You will be shocked to hear that people are saying you have embezzled money from the college fund, but I do not believe it and I have come to assure you there will be no investigation until you regain your health. I still have the same faith in you as before.'
"Shyam Bihari Lal, weeping and crying, pleaded before Sir Syed, saying he was his servant, 'If you, Sir, have confidence in me, then I hope I will not be found guilty and your confidence [in me] will remain.' Upon Sir Syed's return, people said, 'whether you investigate this matter or not, at least see what is going on'. On that day, when the copies of the official records and chequebook were taken out and examined, Shyam Bihari Lal's dishonesty was completely revealed. After contacting the bank and finding out the situation, it was confirmed that indeed Shyam Lal had embezzled a lot of money. Compelled, Sir Syed went to court, himself, and filed a case against Shyam Behari Lal in the Joint Magistrate's Court. Shyam Bihari Lal was arrested, taken into custody, and brought to court. His health was frail but he was in full possession of his senses.
"A few hearings on the case were conducted. Sir Syed's statements were also recorded. Mr Beck, the Principal of the College, being accustomed to Sir Syed's handwriting, came forward to identify the signatures. He spent a lot of time identifying the forged and genuine signatures as it seemed very difficult to distinguish between the two. However, in the end, a fake remains a fake.
"Mr Beck showed the cheques with forged signatures separately. While the case was still ongoing, Shyam Behari Lal died whilst in custody. Some used to say that he had eaten something. Some opponents of Sir Syed even created a scandal and started saying that Sir Syed was ruining Shyam Bihar Lal's reputation, embezzling money, and framing Shyam Bihar Lal. There were only two or three such people. The rest did not give any value to their statements and considered them untrue. Sir Syed thanked God that the secret of Shyam Behari Lal's embezzlement was revealed in his lifetime, otherwise, his opponents would have accused him of embezzlement. This misappropriation was a huge cause of grief for the late Sir Syed. At that time, people believed that this trauma shortened his lifespan significantly and if it had not happened, he would have lived for a couple more years.
"After the above-mentioned incident with Shyam Beharilal, the accounts of the college were managed separately by Mr Beck and trustees. Mr Beck was appointed as the treasurer. Arrangements were made to keep the accounts via a double-entry system. A Bengali gentleman, who had been employed in the Government Accounts Department, and was now retired, was employed by the college. Syed Abdul Baqi Sahib, who was a teacher of the High School, was made the Bengali gentleman's subordinate to assist him. Since then, thank God, not a single penny of the college and university monetary funds has been misappropriated. This misfortune that befell the trustees put the matter of accounts on the right track and till now the efforts in safeguarding the accounts and funds is looked after with the same method and arrangement." (Mushahidaat wa Ta'suraat, pp. 32-34)
After mentioning various other issues, the author has recorded the following information on pages 72-73 under the title Sir Sayyed ki Aulad, (The Children of Sir Syed):
"Sir Syed had two sons. One was named Syed Hamid and the other was Syed Mahmud. When Sir Syed was 45 years old, his wife passed away. […] Syed Mahmud was the younger child. Syed Hamid was employed in the police, and at the beginning of my studies in Aligarh, he was alive and served as a superintendent in the police. Syed Mahmud received his education overseas. He returned after passing the bar exam. He was very distinguished among the people of his time in his art and jurisprudence. He worked as a district judge and then became a judge of the Allahabad High Court. He remained a High Court Judge for around 9-10 years and then resigned due to a disagreement with the chief justice of the High Court, Sir John Edge.
"About three years after I came to Aligarh, he also came to Aligarh and started living with Sir Syed and also started assisting him in matters related to Aligarh College and the Muslim Educational Conference. When I first saw him, his physical condition, which affected his mind, was not satisfactory. Gradually, his condition worsened until Sir Syed and he began to have differences. The reason for the disagreement was Sir Syed's honest nature and Syed Mahmud's mental disorder. Syed Mahmud desired the total financial management of the college to be entrusted to him and the responsibility of the income and expenses of the college be left to him. Sir Syed simply did not agree to this. Gradually, Syed Mahmud's disagreement on this matter reached the point of lunacy, and in late 1897 and early 1898, Sir Syed and Syed Mahmud had such a great conflict and disagreement that Syed Mahmud said to Sir Syed, 'The house in which you live belongs to me, hence, you should arrange your stay elsewhere.'
"In 1897, I lived in a bungalow in the MAO [Government Muhammadan Anglo-Oriental College] college premises, which was situated some distance from the Union Club. There was another bungalow very close to the Union Club in which some students from the senior classes lived. One day, when I came to my house after finishing work, I came to know from an employee that Sir Syed had moved to the bungalow, which was located near the Union Club, with some of his belongings. I went out and saw that Sir Syed was sitting on the bungalow's veranda and Syed Ross Masood was playing in the front field.
After drinking tea, I immediately went to Sir Syed. I was surprised to see his chairs and furniture etc. The reason for my surprise was that I saw Nasir Khan, who oversaw the buildings, ordering labourers to clean the bungalow. The labourers were carrying some of Sir Syed's belongings on their heads.
"I understood that today there must've been a dispute between Sir Syed and Syed Mahmud which was beyond the tolerance of Sir Syed and for this reason, he left his home and came here. I did not ask him anything but just stood and watched. Sir Syed smiled and said, 'what is the matter of surprise and worry? You are now ready to vacate the boarding house, as you will leave in the coming months. I deemed it appropriate to come here and settle in boarding rather than occupying a house. In this way, I will become a boarder.' I was extremely hurt, but I did not say anything. I directed Nasir Khan to pick up some rubbish lying on the side of the bungalow. After talking for a while, to learn more about the situation, I left.
"The circumstances that I came to know were that Syed Mahmud, who had been insisting for a long time that the responsibility of the college monetary budget be entrusted to him and that Sir Syed should not interfere in this work, finally reached such a point that he very sternly said to his father, 'leave my house and take up your abode in another place.'
After hearing about the situation, Sir Syed ordered Nasir Khan to 'deliver mine and Ross Masood's essentials, beds, etc., to the bungalow situated near the Union Club.' Then [Sir Syed] took Ross Masood with him, sat in a carriage, and moved towards the college premises.
"Before evening, a few dignitaries from the trustees came to meet Sir Syed, among whom I remember the names of Mirza Abid Ali Baig, Nawab Muhammad Ismail Khan Sherwani, and Syed Muhammad Ahmad, who was Sir Syed's nephew.
"Since their arrival, comments of reconciliation between Syed Mahmud and Sir Syed were shared; however, neither of them deviated from their word. Sir Syed did not want to hand over the financial management of the college to Syed Mahmud, and his son was very adamant that Sir Syed leave the income and expenses of the college to him. Sir Syed remained only a few days in this bungalow and then heard from the trustees that Syed Mahmud had given up his insistence that the monetary funds of the college be entrusted to him. And, on the advice of his friends, Sir Syed deemed it appropriate to return to his residence. Therefore, [Sir Syed,] accompanied by Syed Ross Masood, returned the same way he came." (Mushahidaat wa Ta'suraat, pp. 72-73)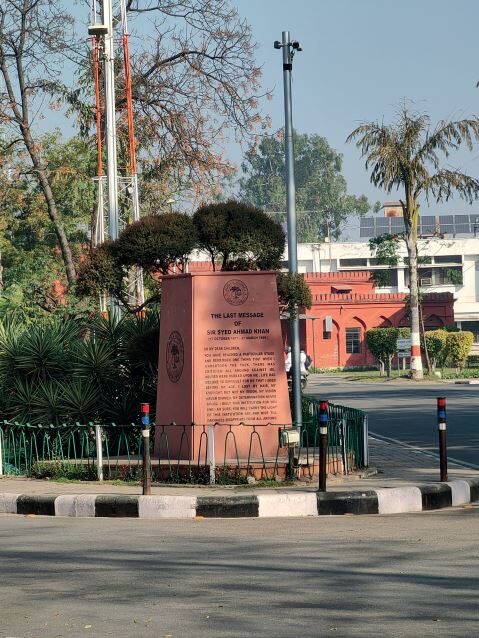 On page 74 of the book, before writing the account of the disagreement between Sir Syed and Maulvi Samiullah Khan, the author narrates:
"The above-mentioned events are not mentioned anywhere else. Maulana Hali [Altaf Hussain Hali] did not mention it in Hayat-e-Javed, nor did he refer to it in his account of the events of Sir Syed's life. The reason for this was that in the lives of Sir Syed, Syed Mahmud, and Syed Ross Masood, he thought it inappropriate to add the details of this incident for later generations. However, I found it very appropriate to record this incident. This incident is very important for those who want to know the circumstances of Sir Syed's life.
"It is known to everyone from the book, Hayat-e-Javed, and other literary works [about Sir Syed] that roughly 12 years before these differences, when Sir Syed established the college trustees' association and appointed himself as the life honorary secretary and Syed Mahmud as the joint secretary, it was stipulated that Syed Mahmud would be the life honorary secretary after him. This rule and such conditions were strongly opposed by one party. The ringleader of the party was Maulvi Samiullah Khan Sahib CMG. He did not see much opposition towards Sir Syed. However, Syed Mahmud and he had had an unpleasant relationship for a long time. For this reason, he did not want Syed Mahmud to be the joint secretary, and after Sir Syed, without any election, become its secretary and take Sir Syed's seat." (Mushahidaat wa Ta'suraat, p. 74)
Further, the author, on pages 76-77, writes:
"On this occasion, it was necessary to mention the reasons for the disagreement between Maulvi Samiullah Khan Sahib and Sir Syed. The differences that arose between Sir Syed and Syed Mahmud were caused by Syed Mahmud's mental disorder, owing to a bad habit of his – which is prohibited in Islam – and those who embrace this habit have to face severe problems and losses in the world. When Sayyed Mahmud served as a judge, he became an alcoholic. As he aged, this habit also became excessive. Thus, by the time I saw him personally, he had become mentally weak. His insistence, 'the responsibility of the college's monetary funds be entrusted to me' was due to his mental feebleness.
"Sir Syed would witness, before his very eyes, the monthly pension of 600 Rs which was fixed for Syed Mahmud would be spent as soon as it came into his possession, and he would always have a need and trouble for money. After witnessing these circumstances, if Sir Syed had been an ordinary person, he would not have had such a strong disagreement with his son on the issue of finance. However, his personality, honesty, and being a man of firm principles were not such that he would yield and show such a weakness that he would entrust the responsibility of college expenses at the request of Syed Mahmud.
"The incident of disagreement between Sir Syed and Syed Mahmud is an essential part of Sir Syed's biography. Because of this, the superiority of his morals and the greatness of his principles have a great effect on one's heart.
"Sir Syed, who at one point harboured bitter differences against his friends for the sake of his son, upon witnessing Mahmud's situation, paid absolutely no attention to his son's desire. Sir Syed's departure from his son's house to the college premises for a few days was proof of the extreme tension between the two. Since Sir Syed's return, it was assumed that the tension was resolved. However, in reality, it was not.
"Now, having shed light upon the circumstances of the middle period of Sir Syed's life, we return to the main topic and present, to the readers, incidents of the last days of Sir Syed's life." (Mushahidaat wa Ta'suraat, pp. 76-77)
On page 94 of the book, under the chapter titled Sir Syed ke Aakhiri Din (Sir Syed's last days), the author writes:
"I have mentioned above that in 1897, Sir Syed and Syed Mahmud had a bitter dispute regarding the college's financial matters. Sir Syed did not want to entrust the management of the college's monetary funds to Syed Mahmud. Syed Mahmud, whose mental condition had deteriorated, desired that the monetary funds of the college be entrusted to him so he might allocate them as he wished. It would be contrary to the event and unfair to say that, despite his condition, Syed Mahmud harboured any intention of taking hold of the monetary funds of the college and spending it on himself as he desired. I completely absolve him of this charge. However, at the same time, I consider it far from Sir Syed's foresightedness, honesty, and selfless life that he would have entrusted the college fund to Syed Mahmud given SyedMahmud's condition at that time.
"Though, due to the recommendation of friends, Sir Syed returned from the boarding house and went to Syed Mahmud's house, as mentioned earlier, the mutual dispute between the two continued and their differences remained.
"The late Maulana Shibli narrated that once Syed Mahmud, fed up, punched the chair where Sir Syed was sitting and said, 'Hey old man! It still remains your greed and desire to rule and hold on to the monetary funds for yourself.' I have not investigated this incident as the late Maulana Shibli did not personally see this incident. However, if this incident is true, Syed Mahmud's behaviour was out of line. However, we cannot illuminate its possibility considering Syed Mahmud's condition at that time, seeing the differences between him and Sir Syed had reached their limit. Despite the unpleasantness of his private life, the pain Sir Syed possessed in his heart for the nation was not lessened in any way." (Mushahidaat wa Ta'suraat, p. 94)
On page 96, the author explains Sir Syed's last service and how his condition deteriorated day by day. Under the title, Sir Syed ki Wafaat (Sir Syed's Demise), he wrote:
"Since January 1898, Sir Syed began to feel some kind of pain, more or less, every day. He was quite old. He had many worries. Syed Mahmud's hostility and day and night troubles had a deep impact on his heart, which was visible on his face. Those who enjoyed the company of Sir Syed often heard things like, 'the sun is nearing its setting point'. Sir Syed often used to say, 'I have reached a ripe age. Now, there is very little hope of life.' In those days, his food intake was very scarce. This was the reality. However, his daily routine of attending to the college letters continued. Restrictions set on official correspondence remained the same as before. People would often come and go and engage in conversation [with Sir Syed Ahmad] and, from time to time, even glimpses of his wit and humour were witnessed.
"The months of January and February came to pass and from March, Sir Syed's face began to show signs of worry. I cannot recall if it was in February or March that Sir Syed was again under severe pressure and compelled to leave Syed Mahmud's house once again. He went to Nawab Haji Muhammad Ismail Khan, chief of Dattawalli's house, which is known as Bibi Wali Kothi. This villais located at a distance of 100 to 125 yards to the southwest of Muzammal Palace. Now, Muhammad Jan Khan Sahib Raees [a person belonging to the aristocracy of noble distinction] has built a big building near it called Bait-ul-Ikram, popularly known as Panwali Kothi.
"In the last week of March, I, the author, went to Delhi for personal needs and spent a few days buying various goods. On 27 March 1898, when I returned from Delhi, I heard the news at the Aligarh railway station that Sir Syed had just passed away […] From the station, I went to my house and from there I went in search of the house whose name I had not heard before. It was a small two- or three-room abode. No need had ever arisen to go there and there was no way to identify it. Eventually, at 11 pm, I arrived at the house. After investigating the situation, I found that Sir Syed had been suffering from chills for three or four days.
"He was under a doctor's treatment where his urine was drained through a catheter as its passage was being repeatedly blocked. In the end, he became severely ill, lost his conscience, and passed away. I did not see Sir Syed's son, Syed Mahmud, his nephew, Syed Muhammad Ahmad, or anyone else dear to him there. I only saw employees and, as far as I can recall, Nawab Muhammad Haji Ismail Khan and Maulvi Wahiduddin Saleem were also there. I came to know that the burial would take place the next morning; however, the whereabouts was yet to be determined.
"I went back home at around 12 and slept. When I woke up in the morning, I made my way back to the place [where Sir Syed's body was]. Upon arrival, strangely, it was said that there was not even a single penny to conduct Sir Syed's burial.
"Shehzada Aftab Ahmad Khan was not in Aligarh that day, but his employee, Wali Muhammad, was. He went to the late Nawab Mohsin-ul-Mulk and returned saying, 'Look, no one has donated a single penny for the burial; however, I have collected 50 Rs from Nawab Sahib,' although, at that time, Syed Muhammad Ahmad, Sir Syed's nephew, were present. I then came to know that Syed Mehmud, accompanied by Munshi Nasir Khan, went to the college mosque at 2 am and instructed labourers to dig a grave on the adjoining land on the northeast side of the mosque.
"Mr Beck went there and said that some Englishmen wanted to attend the funeral, and said that they had fixed four o'clock in the evening for the funeral.
"During this time, the late Khwaja Muhammad Yusuf, Nawab Muhammad Ismail Khan Sahib, and Maulvi Samiullah Khan Sahib arrived. They objected, asking, 'Who is Mr Beck to set the time for the funeral? When his [Sir Syed's] heirs are present, what right do others have to set the time?' This objection merely remained an objection; no further discussion or action was taken on this matter.
"At around 11 o'clock, the deceased, Sir Syed, was bathed. Khwaja Muhammad Yusuf Sahib bathed him himself. Khwaja Sahib wept profusely and also uttered words of complaint towards Sir Syed's heirs. After bathing the deceased, the body was kept in a room in the house. The deceased was bathed in the courtyard. I can still recall in my mind all these places: where he died, where he was bathed, and where his funeral was kept after the ghusl. As far as I know, there is no other living person except me who is familiar with these events.
"Around one o'clock, myself, the late Ziaullah Khan, and another friend whose name I cannot recall went to Syed Mahmud and told him, 'the funeral shall take place at four o'clock. You must also attend it.' Oddly, Syed Mahmud, at the time of Sir Syed's illness or at the time of his death or after his demise, until the time we went to see him, had not come to the house where Sir Syed died.
"Syed Mahmud, seeing us, resting his hands on his head, began to sigh loudly and said, 'Oh, my father has passed away and I don't even have any arrangements in my house that I may seat guests.' As he became quiet, we reminded him, 'Don't forget, your coming is necessary. It is better that you go along with the funeral.' He merely replied, 'Yes, I shall come.' As we returned, the time for the funeral approached. College students, staff members, British and Indian officials, and some chiefs who lived in Aligarh accompanied the funeral procession and the people of the city also joined the procession in large numbers. Upon reaching the mosque, it was decided that the funeral prayer should be offered on the cricket ground. Meanwhile, Syed Mahmud also appeared, wearing an Arab robe.
"The funeral prayer was led by the late Maulvi Abdullah Ansari, the college dean. Syed Mahmud also stood in a row and so too did Mr Beck and Mr Morrison. After the prayer, the body was brought to the grave. Tears were flowing from the eyes of the students as they carried the body to the grave, even Mr Beck and Mr Morrison were weeping.
"After the burial, the late Nawab Mohsin-ul-Mulk sat on a chair in the field and said to Sir Syed's heirs, 'The person who earned them [heirs of Sir Syed] respect and wealth in the world, among them, not even 50 Rs were donated from their pocket to provide for the funeral. I was certainly a friend of Sir Syed but not an heir. The heirs must spend and bring about the means [to aid the funeral]' but they did not.
"This was the history of the latter days of Sir Syed's life, his illness, his grief, his demise, and the story of his burial proceedings, which I recall. Sir Syed was born in 1817 and died in 1898, making him 81 years of age upon his demise." (Mushahidaat wa Ta'suraat, pp. 98-99)
As has previously been mentioned, Maulvi Altaf Hussain Hali's book, Hayat-e-Javed, on the biography of Sir Syed Ahmad Khan is very popular. Although he penned a detailed chapter on the circumstances of the demise of Sir Syed Ahmad Khan and collected a lot of information from various places, however, the above-mentioned important matters with the recollections of Sheikh Muhammad Abdullah, who holds the status of an eyewitness, are completely overlooked.
(For details, see: Hayat-e-Javed, by Altaf Hussain Hali, pp. 265-280)