Abbas Bin Suleman, Swaziland Correspondent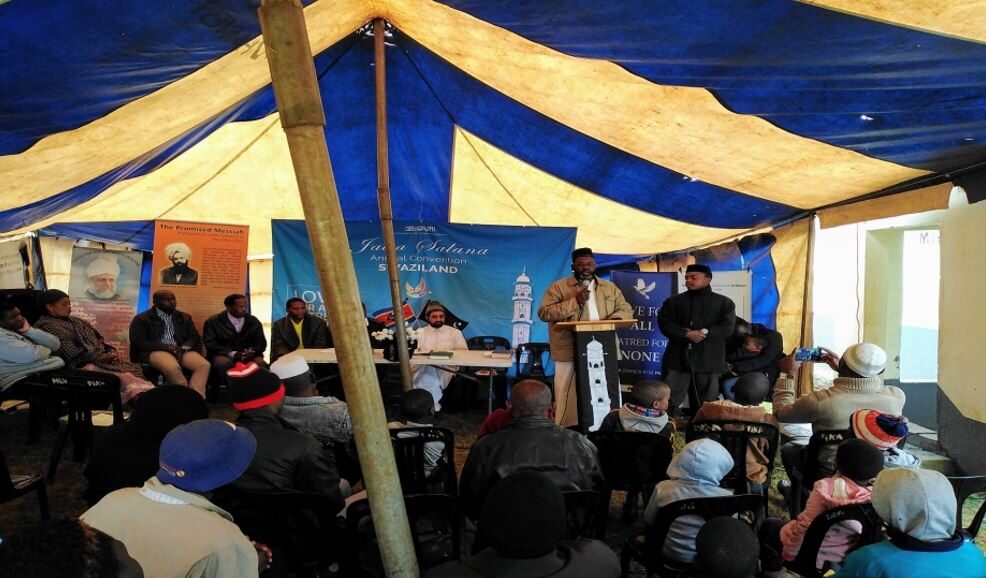 Jamaat-e-Ahmadiyya Eswatini successfully held its 3rd Jalsa Salana on 29 February 2020.
The Jalsa was organised in Hlatikulu, Magele at our Mosque, where 165 participants attended comprising of Ahmadis and non-Ahmadis.
The National President and Missionary-in-Charge, Mansoor Ahmad Zahid Sahib and two others from Cape Town, South Africa and two delegates from Durban were in attendance.
This year, the theme for the Jalsa was "The role of religion in preventing domestic violence". Several guests also attended the event, including the Member of Parliament of the area and representatives of the Regional Police Command, and the inner council of the traditional area.
The missionary-in-charge inaugurated the Jalsa and Huzoor'saa message and prayers were read out before the Jalsa attendees. Based on the theme, the Member of Parliament thanked the Jamaat for inviting him, who also spoke fondly of Jamat-e-Ahmadiyya and urged everyone to pay attention to what the Jamaat had to say, especially with regard to the theme of stopping domestic violence.
The unit committee member of the constituency known in Eswatini politics as 'Bucopho' thanked the planning committee of the Jalsa for once again inviting him. He is also a pastor of the churches and he urged the Jamaat to continue the good work of bringing people together and teaching them positive things. He said that he had personally benefitted a lot. By accepting our invitation and attending, he has cleared his mind of many misunderstandings about Islam.
The police on their part, expressed their gratitude for the Jamaat's effort for ensuring a peaceful and moral society for all. Their representative urged all other religious groups to learn from the activities of Ahmadi Muslims. He expressed his gratitude for the Jalsa theme and said it could not have been more appropriate. He said, the doors of the police are always open and they are ready to work with the Jamaat for the good of their people at any time.
Alhamdolillah the Jalsa was a great success, largely due to the prayers of our beloved Huzoor, may Allah be his Helper. Amin
This year's Jalsa ended by a sod cutting ceremony of our new Mosque project for Manzini. The Member of Parliament and unit committee member for the constituency, where the Jamaat is located, were present for the event. They each laid a brick for the commencement of the mosque building.