A glimpse into the rich history of the Ahmadiyya Muslim Jamaat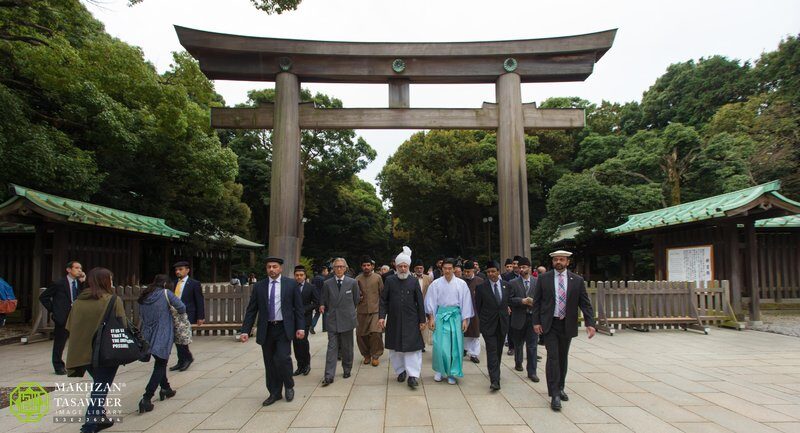 10 November 1905: On this day, the Promised Messiahas started his journey towards Qadian from Batala at 8am and reached his destination at around 12pm. After this more than two-week-long trip, Huzooras came back. During the course of this journey, Huzooras visited and delivered public lectures in Delhi, Ludhiana and Amritsar. After this tour, Huzooras did not travel to Delhi any more. (Tarikh-e-Ahmadiyyat, Vol. 2, pp. 422-431)
11 November 1949: On this day, Hazrat Musleh-e-Maudra visited Sargodha, a city located to the northwest of Rabwah and at a distance of around 50 kilometres, upon the invitation of Malik Sahib Khan Noon, retired deputy commissioner. After delivering the Friday Sermon and leading the Jumuah prayer, Huzoorra proceeded towards the Company Bagh to address a large crowd gathered to listen to him. Huzoor'sra two-hour talk was listened to carefully. (Tarikh-e-Ahmadiyyat, Vol. 12, p. 41)
11 November 1984: On this day, Hazrat Khalifatul Masih IVrh drew the attention of the members of the Community to memorising the Holy Quran. (Silsila Ahmadiyya, Vol. 4, p. 832)
11 November 2005: On this day, Hazrat Khalifatul Masih Vaa inaugurated the Nasir Mosque in Hartlepool, UK and delivered his Friday Sermon in this mosque. (Al Fazl International, London, 6 January 2006)
11 November 2016: On this day, Hazrat Khalifatul Masih Vaa delivered the keynote address at the Calgary Peace Symposium, hosted by Jamaat-e-Ahmadiyya Canada. More than 800 people, including over 650 dignitaries and guests, attended the event, including Canada's former Prime Minister, the Right Honourable Stephen Harper, the Mayor of Calgary, and the Provincial Minister of Human Services. Before the event, Huzooraa held a meeting with Rt. Hon. Stephen Harper.
Following the conclusion of the event, Huzooraa was also welcomed by a delegation from the First Nations community. The indigenous elders gave Huzooraa a traditional welcome according to their customs and thereafter had a private audience with him. ("Storm clouds forewarning of a Third World War are getting heavier by the day" www.pressahmadiyya.com)
12 November 1899: A small but prestigious gathering was arranged in Qadian on this day in connection with the departure of a research delegation. A proposed party of learned companions was to travel to the Middle East to collect newly found evidence and properly record and fortify the already available facts regarding the historic escape journey of Jesusas from his hometown towards Kashmir. This assembly was named "The Farewell Jalsa". Due to certain compelling circumstances, the dispatch of this delegation was postponed. An address was delivered by the Promised Messiahas on this occasion. (Malfuzat [English], Vol. 2, p. 50)
12 November 1936: On this day, the High Court gave its verdict in favour of Ahmadis regarding a dispute over a mosque located in Koocha Chabuk Sawaran in Lahore. The case had been pending in court for the last three to four years (since 1932). In the High Court, a lawyer, Sheikh Bashir Ahmad Sahib, presented very strong arguments in his discussion, and the decision was made in favour of the Jamaat. Hazrat Syed Dilawar Shah Bukharira was appointed the imam of this mosque by the Jamaat. (Tarikh-e-Ahmadiyyat, Vol. 7, p. 333)
12 November 1982: On this day, Hazrat Khalifatul Masih IVrh encouraged the members of the Community to put an end to any mutual disputes. (Silsila Ahmadiya, Vol. 4, p. 819)
12 November 2013: On this day, Hazrat Khalifatul Masih Vaa returned safely to the Fazl Mosque, London, after a historic tour of four countries lasting more than seven weeks. Huzooraa flew directly from Tokyo back to London, having visited Singapore, Australia, New Zealand and Japan. ("Head of Ahmadiyya Muslim Community Returns to UK" www.pressahmadiyya.com)
13 November 1948: On this day, France witnessed a unique gathering convened in a public hall, which was presided over by a professor of Paris University. Ahmadi missionary, Malik Ata-ur-Rahman Sahib spoke at this event and introduced the message of the Jamaat.
1,000 published invitations were sent on this special occasion. Posters were printed, and the meeting was also announced on radio and in the press. (Tarikh-e-Ahmadiyyat, Vol. 11, p. 20)
14 November 1912: On this day, Hazrat Khalifatul Masih Ira issued an appeal to Ahmadis, urging them to allocate a portion of their charitable contributions to the fund created in support of the soldiers injured in the Italo-Turkish War. (Tarikh-e-Ahmadiyyat, Vol. 3, p. 127)
15 November 1901: On this day, Hazrat Nawab Muhammad Ali Khanra reached Qadian with a phonograph. It was the latest technology available at the time to record sound. The Promised Messiahas spared his time after the Asr prayer to examine this device. Hazrat Maulvi Abdul Karim Sialkotira recorded two cylinders in his melodious voice. (Tarikh-e-Ahmadiyyat, Vol. 2, p. 193)
15 November 1939: Ahmedabad Kathiawar consisted of a small Ahmadi jamaat. A member of this group was given two choices by non-Ahmadis: either to be part of a religious debate or to repent of being an Ahmadi. Upon receiving the news of this dire situation, the Markaz in Qadian appointed Qureshi Muhammad Nazir Sahib Fazil to travel to this place. He arrived there on 12 November and on this date (15 November), he was brutally stabbed with a dagger in his abdomen in front of a crowd, even before the proceedings of the debate. (Tarikh-e-Ahmadiyyat, Vol. 7, p. 568)
16 November 1942: Hazrat Maulvi Muhammaduddinra was sent to Africa to perform tabligh and propagate the message of Islam Ahmadiyyat. Under Hazrat Musleh-e-Maud'sra direction, upon arrival, he was to take charge from Hakim Fazlur Rahman Sahib, the missionary in Nigeria.
On this day, he departed Qadian for this distant land. It is known that he boarded a ship from Mumbai, but this ship was unfortunately destroyed, most likely by a torpedo. The entire crew and all those on board drowned, earning this devout missionary the status of a martyr in a unique manner while travelling to perform his duties. (Tarikh-e-Ahmadiyyat, Vol. 8, p. 358)