16 July 1919: Hazrat Hafiz Muinuddinra passed away. This fortunate companion had joined the company of the Promised Messiahas at a very young age.
The Promised Messiahas brought with him, to his home, a blind boy aged 15 or 16 years who used to wander in the streets of Qadian. Hazrat Ahmadas said to him, "Hafiz, you should now live with me." He respectfully replied, "Mirza Ji, I am incapable of doing any work."
Hazrat Ahmadas replied, "Hafiz, you would not need to do anything, we will offer prayers together and you should memorise the Holy Quran."
Through this incident, we see the love and passion Hazrat Ahmadas had for praying in congregation. This young boy was later mentioned in Aina-e-Kamalat-e-Islam among the 313 companions. He was Hazrat Hafiz Muinuddin Sahibra. Hazrat Hafiz Muinuddin Sahibra did bai'at on 18 November 1889.
17 July 1952: Owing to the ongoing disturbing law and order situation for Ahmadis in the country, a delegation of the Ahmadiyya Jamaat had a detailed meeting with the Prime Minister of Pakistan, Khawaja Nazimuddin in Karachi (then capital city of the country) to brief him about the Ahmadiyya concerns. The members of this delegation were Maulana Abdur Rahim Dard Sahibra, Maulana Jalaluddin Shams Sahibra, Maulana Abul Ata Jalandhari Sahib, Malik Abdur Rahman Sahib and Sheikh Bashir Ahmad Sahib.
Before leaving for Karachi, this same delegation also met with the Amir of Jamaat-e-Islami in Lahore, Maulvi Abul A'la Maududi. Addressing this delegation, Maududi said, "You should go and tell your Imam that there is a fierce insurgency against the Ahmadiyya Jamaat at this time and there is a danger of severe bloodshed, so it is better for you to recognise yourself as a non-Muslim minority or adopt any beliefs that we can tolerate, otherwise there is a grave danger."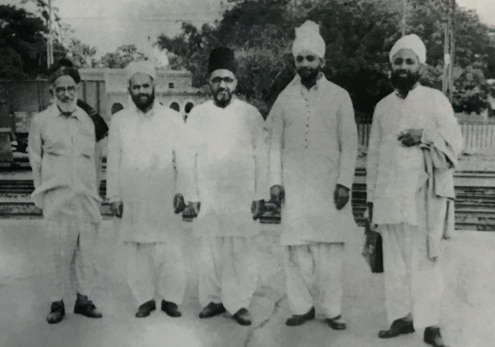 18 July 1908: Hazrat Khalifatul Masih Ira instructed to compile a new list of Jamaat members so that published literature of the Jamaat could be distributed in a better manner. In July 1908, Hazrat Hakim Maulvi Nuruddin, Khalifatul Masih Ira launched a scheme to prepare the tajnid (census) of Jamaat-e-Ahmadiyya. Its purpose was to make the Jamaat a united community and to make the members aware of any instruction from Khalifatul Masih. Huzoorra instructed to make a list of all members of the Jamaat, including their full addresses. The announcement about this scheme was published in Al Hakam of 18 July 1908, p. 8.
19 July 1980: Hazrat Khalifatul Masih IIIrh reached Hamburg from Frankfurt during his tour. He met with Ahmadis from Hamburg on 20 July. The Ahmadis in Hamburg had the opportunity to spend time in Huzoor'srh company. Huzoorrh remained with them for two hours where he spoke about various important issues.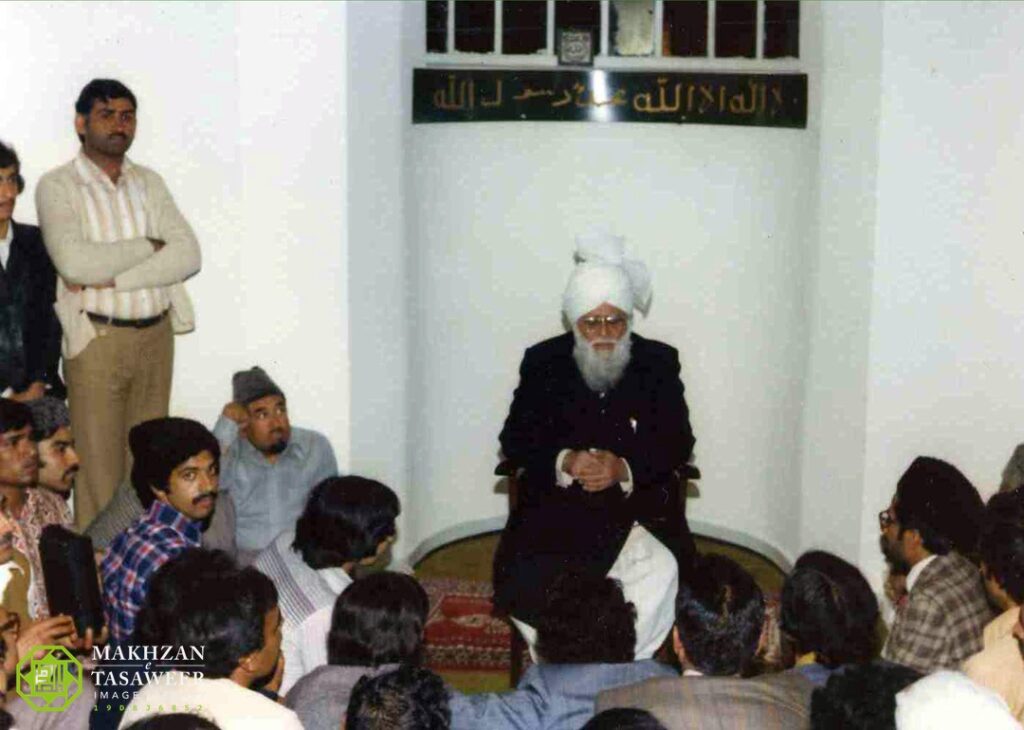 20 July 1950: On this day, Hazrat Baba Hassan Muhammadra passed away.
Hazrat Baba Hassan Muhammadra was born on 11 July 1870 in Aujla, district of Gurdaspur. He did bai'at in 1895. In 1902, he migrated to Qadian. On 5 March 1906, he was honoured as the first musi. After the establishment of Pakistan, he went to Chiniot where he remained till his demise. His burial took place in the local cemetery of Rabwah – later, he was moved to Bahishti Maqbarah, Rabwah.
Hazrat Baba Hassan Muhammadra used to say that Allah the Almighty had arranged for him to migrate to Qadian. After he migrated, he rendered his service for the Jamaat's magazine, The Review of Religions (Urdu).
He narrates that one day, the Promised Messiahas started writing a book at midnight and ordered the copywriters in the press to leave all other work and compose the article he had written so that it could be published on that day. This book was Al-Wasiyyat (The Will). Hazrat Baba Hassan Muhammadra said read it that very night. Then, early in the morning, he officially signed up for the scheme. He said that his land, his house and his life were dedicated to Allah. He sent his request to the Promised Messiahas. He stated that it was his common practice that whenever he wrote a letter, he would also send some money for the service of Islam. As soon as his letter reached the Promised Messiahas, Huzooras called for a new register and wrote Hazrat Baba Hassan Muhammad'sra name at the top of the register.
Hazrat Baba Hassan Muhammadra narrated that the Promised Messiahas held a meeting on that day, where he notified others about Hazrat Baba Hassan Muhammad'sra wasiyyat. Huzooras said that the one who did a good deed first took a rank over everyone.
20 July 1976: On this date, Hazrat Khalifatul Masih IIIrh left for his tour of Europe and America. On this tour, Hazrat Khalifatul Masih IIIrh had 11 press conferences, addressed 11 receptions and delivered 13 Friday Sermons. Al Fazl published a report about the start of the tour in which they stated that before his departure, Huzoorrh led everyone in silent prayer. Huzoorrh appointed Sahibzada Mirza Mansoor Ahmad Sahib as the amir-e-muqami.
21 July 1938: While studying in England, Hazrat Sahibzada Mirza Nasir Ahmadrh departed for Egypt. He reached his destination on 28 July. Members of the Jamaat in England saw him off on 21 July 1938 at Victoria Station London. Hazrat Mirza Nasir Ahmadrh reached Cairo on 28 July 1938. There, members of the Jamaat in Egypt welcomed him and Sahibzada Mirza Mubarak Ahmad Sahib at Cairo Station. During the stay, they met with dignitaries of Egypt and conveyed the message of Islam Ahmadiyya to various people. Hazrat Sahibzada Mirza Nasir Ahmadrh met with Sheikh-ul-Azhar Mustafa Al-Maraghi and told him about the advent of the Promised Messiah and invited him to accept the Promised Messiahas. He also presented arguments from the Holy Quran in favour of the truthfulness of Hazrat Ahmadas. Sheikh-ul-Azhar Mustafa Al-Maraghi replied that he (Hazrat Sahibzada Mirza Nasir Ahmadrh) was ajami (non-Arab) and said about himself that he belonged to the people that spoke the language of the Holy Quran and so he understood its meanings better.
Hazrat Sahibzada Mirza Nasir Ahmad Sahibrh and Sahibzada Mirza Mubarak Ahmad Sahib both stayed for about three months in Egypt.
21 July 1967: Hazrat Khalifatul Masih IIIrh inaugurated Masjid Nusrat Jahan in Copenhagen, Denmark which was the first mosque of Denmark. The inaugural ceremony was not only aired on Danish television, but also other European countries and some Islamic countries showed great interest in this ceremony; especially Saudi Arabia, where the visuals of this ceremony were shown on television twice. They showed the building of the mosque, the inaugural address and the first Friday Sermon. The ceremony was also shown on television channels of West Germany, which was viewed by hundreds of thousands of people. Moreover, Morocco's Radio broadcast the news of this event in its news bulletins three times.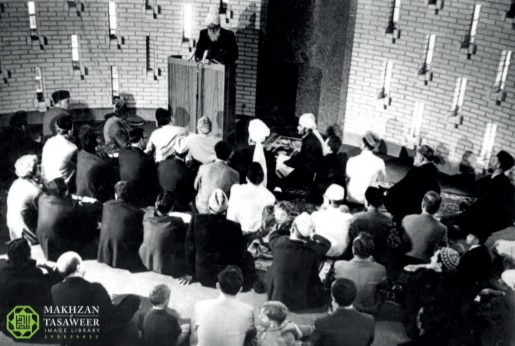 22 July 1924: As the ship, which Hazrat Musleh-e-Maudra had boarded en route to Europe, approached the port of Aden, on this date, Huzoorra composed a heartfelt message addressing Jamaat members. In the letter, Huzoorra conveyed his deep love, saying, "Correspondence is equal to half a meeting."