19 November 1937: 48 years had passed since the establishment of Jamaat-e-Ahmadiyya, and 29 years since the demise of the Promised Messiahas. During this period, a large number of companions of Hazrat Ahmadas had also passed away. Hazrat Musleh-e-Maudra called the attention of Jamaat members to record narrations and memories of the companions of the Promised Messiahas. (Al Fazl, 26 November 1937)
Hazrat Mirza Sharif Ahmadra, who was nazir tasnif-o-talif at the time, started working on this. Hence, under this project, a handsome number of traditions were recorded in writing in large registers. (Al Fazl, 26 November 1937)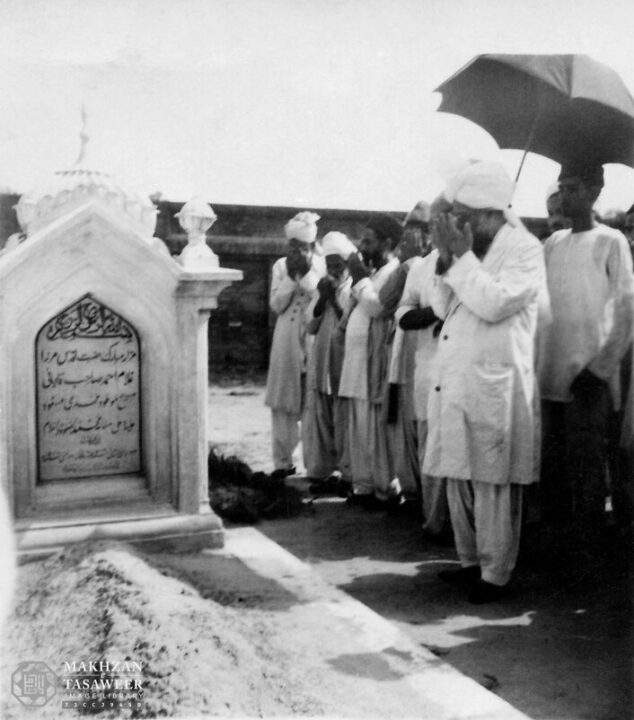 19 November 1968: Hazrat Maulvi Qudratullah Sanaurira, companion of the Promised Messiahas, passed away. Hazrat Qudratullah Sahibra was born in 1882 to Hazrat Muhammad Musara and pledged allegiance in 1898. After his studies, he was employed as a draughtsman and remained employed in Patiala. In 1935, Hazrat Musleh-e-Maudra appointed Hazrat Maulvi Qudratullah Sanaurira as the first manager of the Nasir Estate in Sindh (an agricultural farm set up on land purchased by the Ahmadiyya Jamaat in Sindh. This land was owned by Hazrat Musleh-e-Maudra) where he resided till 1947. He also mentioned the extraordinary blessings of the harvest from his prayers on the occasion of Majlis-e-Shura 1956 as he used to offer nawafil and pray on the edge of the fields for every new crop. Huzoorra led his funeral prayer and he was buried in Bahishti Maqbarah, Rabwah. (Tarikh-e-Ahmadiyyat, Vol. 24, p. 690)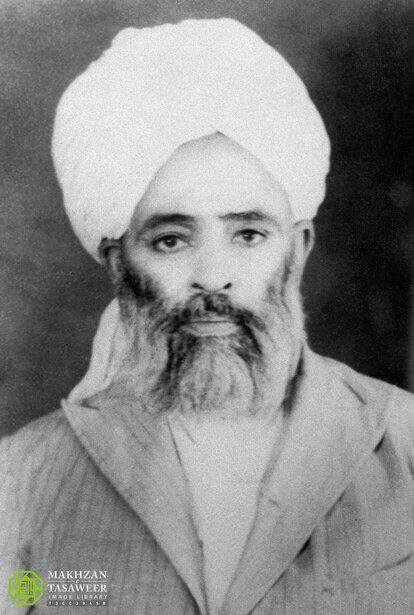 20 November 1924: While returning from his Europe tour and making his way back to Qadian, Hazrat Musleh-e-Maudra departed Mumbai for Agra via train, boarding BB&CI (Bombay, Baroda and Central India Railway). (Tarikh-e-Ahmadiyyat, Vol. 4, p. 462)
20 November 1979: In Saudi Arabia, armed men attacked the holy shrine of Mecca and took pilgrims hostage. Eventually, Saudi forces overpowered the extremists. Hazrat Khalifatul Masih IIIrh, in his Friday Sermon of 23 November at Masjid Aqsa, Rabwah, expressed his deep concern over the desecration of the Ka'bah and said, "You [Jamaat members] all know that the last few days have been extremely disturbing and difficult for me, as it has been for you. An unexpected incident has occurred. Miscreants entered Masjid al-Haram and created the conditions for disorder". (Khutbat-e-Nasir, Vol. 8, p. 449)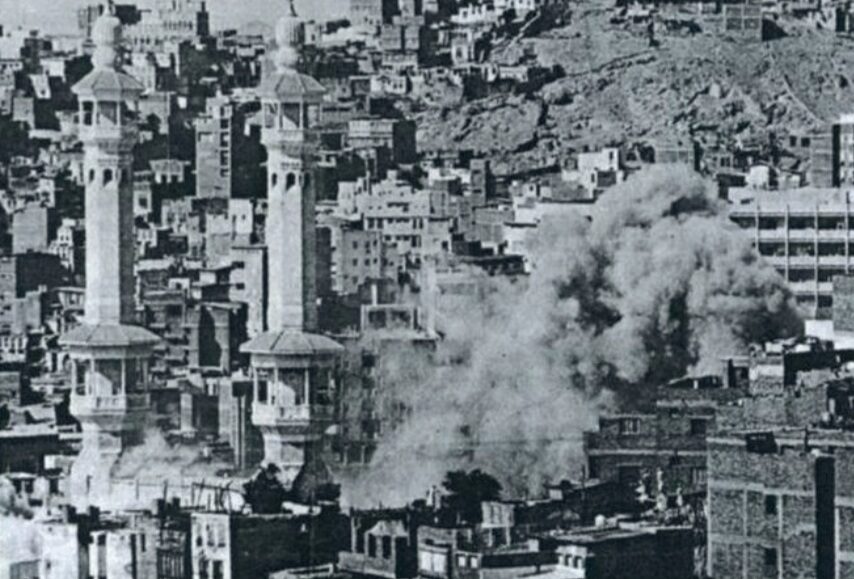 21 November 1940: Hazrat Mian Maula Bakhshra of Banga, a companion of the Promised Messiahas, passed away due to a fever. (Al Fazl, 28 November 1940, p. 2)
21 November 1924: While returning from his tour of Europe, Hazrat Musleh-e-Maudra reached Agra Fort Railway station at 8 o'clock in the morning and was received by a hundred local representatives and dozens of other non-Ahmadi friends. Before reaching this city, Huzoorra showed an interest in the areas where members of the Jamaat served selflessly during the days of the Shuddhi Movement (a movement dedicated to reverting Muslims and Christians to Hinduism), and while looking from the window of the train carriage, Huzoorra enquired about the details of various villages and sites. (Tarikh-e-Ahmadiyyat, Vol.4 p. 462)
21 November 1968: Hazrat Sheikh Muhammad Dinra, a companion of the Promised Messiahas, passed away. He pledged allegiance in 1907 through a letter and migrated to Qadian in 1918, serving in various Jamaat offices. His two sons became servants of the Jamaat: Sheikh Mubarak Ahmad Sahib propagated the message of Islam to East Africa and Sheikh Noor Ahmad Sahib preached in Arabia. (Tarikh-e-Ahmadiyyat, Vol. 24, p. 740)
22 November 1924: Hazrat Musleh-e-Maudra was on his return to Qadian after a successful tour of Europe when he reached Delhi on this date. Prior to his arrival in the capital, Hazrat Musleh-e-Maudra also made a short stop at a place called Sandhan and inspected the headquarters of tabligh activities set out by the Jamaat in the midst of the Shuddhi Movement.
22 November 1931: Hazrat Musleh-e-Maudra was in Delhi to attend an important session of the Kashmir Committee. (Tarikh-e-Ahmadiyyat, Vol 4, p. 462)
23 November 1924: Travelling back to Qadian from England, Hazrat Musleh-e-Maudra reached Batala at night by train.
During the course of this journey, at almost all railway stations, local members of the Jamaat would gather to see a glimpse of their beloved Imam. Where possible, some receptions were also held, for example in Ludhiana and Amritsar. (Tarikh-e-Ahmadiyyat, Vol. 4, p. 463)
23 November 1932: Hazrat Syeda Begum Sahibara, more commonly known as "nani jan", passed away. She was the revered mother of Hazrat Amma Jan, Syeda Nusrat Jehan Begum Sahibara. She migrated from Delhi to Qadian in 1894 and remained there. (Tarikh-e-Ahmadiyyat, Vol. 6, p. 85)
24 November 1924: Hazrat Musleh-e-Maudra reached Qadian after his tour of Europe. On this date, he initially arrived in Batala via train and then travelled by car to complete the final phase of this long journey to Qadian. After meeting with Hazrat Maulvi Sher Alira, Hazrat Mir Muhammad Ishaqra and others, Huzoorra embraced Hazrat Mirza Bashir Ahmadra and close relatives. 
Thereafter, Huzoorra performed ablution, headed towards Bahishti Maqbarah, and prayed at the grave of the Promised Messiahas. 
Before entering his residence, Huzoorra offered two rak'aat of voluntary prayer in Masjid Mubarak. Then, after Asr prayer, Huzoorra presided over a reception held in connection to the successful tour of Europe. (Tarikh-e-Ahmadiyyat, Vol.4, p. 463)
24 November 1974: Hazrat Bhai Sher Muhammadra Darwesh (i.e. among the Darweshan-e-Qadian – the 313 Ahmadis who remained in Qadian to protect it after the partition of India) passed away. He was a companion of the Promised Messiahas. In 1906, he swore allegiance to the Promised Messiahas and migrated permanently to Qadian where he opened a stationery shop. After the partition of the country in 1947, he migrated to Pakistan; however, on the instruction of Hazrat Musleh-e-Maudra, in 1948, he returned to Qadian. He was a very righteous and noble person. He was a musi and did Wasiyyat of 1/3 of his wealth and property.
25 November 1921: Hazrat Musleh-e-Maudra, whilst advising members of the Jamaat, said in his Friday Sermon:
"[…] I strongly advise you to develop such intellect and understanding in yourselves that your mind is not drawn towards irrationality and ignorance, but to direct your mind and intellect towards good things. People of a nation that [desire to] develop are not such that every little thing should be explained to them, and only then will they understand; rather, there is a substance inside them that they automatically understand such things and act accordingly". (Khutbat-e-Mahmud, Vol. 7, p. 147)