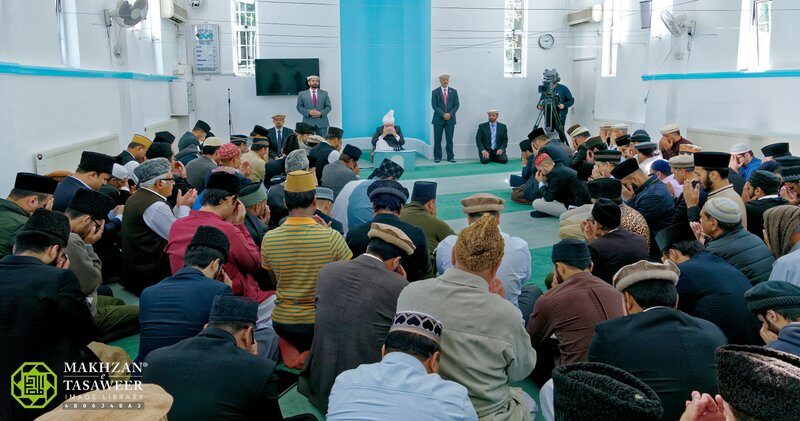 29 July 2014: Hazrat Khalifatul Masih Vaa delivered the concluding dars of Ramadan 2014 at the Fazl Mosque, London. During this dars, Huzooraa delivered a commentary of the final four chapters of the Holy Quran.
Huzooraa advised all Ahmadis to strive to continue studying the Holy Quran throughout the year. While commenting on the martyrdom of three Ahmadis in Gujranwala, Pakistan, Huzooraa said that the Jamaat bore each and every trial with patience knowing that such sacrifices would be rewarded by God Almighty.
Before leading everyone in silent prayer, Huzooraa asked for everyone to pray for peace in the world and also for the Muslim ummah to follow the peaceful teachings of Islam and create unity amongst them.
29 July 2016: During his Friday Sermon, Hazrat Khalifatul Masih Vaa condemned the terror attacks in Europe and called for peace. Huzooraaalso addressed the disintegration of Muslim countries and also praised Pope Francis for saying the atrocities did not equate to a religious war.
Huzooraa said:
"With each day that passes, the power and strength of the Muslim nations is continuing to decrease. The fundamental cause is that Muslim leaders and their so-called religious scholars are blinded to Islam's true teachings and are leading their nations on a destructive and ruinous path. […] We see chaos and disorder in every Muslim country because the leaders are prioritising their self-interest over and above the rights of their people and the progress of their nation." ("Head of Ahmadiyya Muslim Community condemns terror attacks in Europe and calls for peace in the world", www.pressahmadiyya.com)
30 July 2014: Hazrat Khalifatul Masih Vaa delivered the Eid-ul-Fitr Sermon at the Baitul Futuh Mosque, London.
During his sermon, Huzooraa spoke about the true purpose and meaning of Eid and how spirituality and attaining God's love was a never-ending process. Huzooraa again spoke about the martyrdoms of three Ahmadi Muslims in Gujranwala.
30 July 2017: Hazrat Khalifatul Masih Vaa delivered the concluding address at the 51st Jalsa Salana UK, at Hadeeqatul Mahdi in Hampshire, UK, where more than 37,000 people attended the Jalsa Salana.
Huzooraa spoke of the consequences of the negative publicity Islam received in much of the world and how Jamaat-e-Ahmadiyya sought to counter the false narrative being perpetuated.
Huzooraa said:
"When we, Ahmadi Muslims around the world, stand up and tell people about Islam's true message of peace, the response invariably is one of surprise. People are shocked to see what Islam truly represents having previously only known what they had been fed by the media. Sadly, the majority of media outlets focus solely on the actions of a tiny minority of extremists and have perpetuated the myth that Islam, God forbid, is a religion of violence". ("More than 600,000 people join the Ahmadiyya Muslim Community", www.pressahmadiyya.com)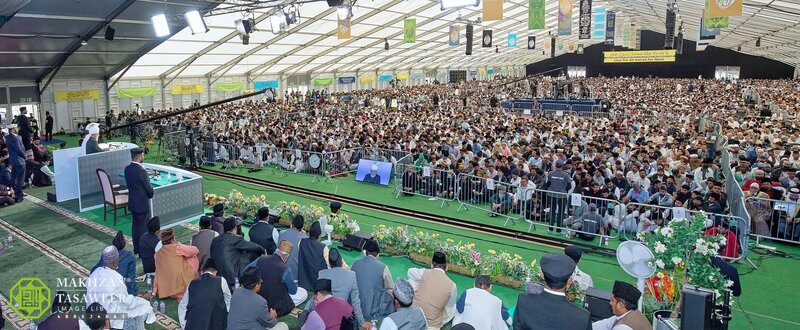 31 July 2015: During his Friday Sermon, Hazrat Khalifatul Masih Vaa mentioned a darvesh of Qadian, Maulvi Khurshid Ahmad Sahib Prabhakar, who had passed away on 28 July 2015 at the age of 94. He was an Ahmadi by birth and visited Qadian for the first time in 1936 at the age of 16. Since he had not enough fare for a return journey, he travelled from Qadian to Lahore – around 95 kilometres – by foot. He joined the Wasiyyat scheme at the age of 19.
He had the opportunity to offer services towards the Jamaat's agricultural lands in Sindh. In 1947, he devoted his life and moved to Qadian, and then after the partition of India, had the opportunity to protect Qadian as a darvesh.
He pursued education of the Hindi language and attained various degrees. He had a vast knowledge of the Vedas, Bible, Gita and Guru Granth. He wrote many articles on Hinduism, Sikhism and Christianity, and had the opportunity to translate the Holy Quran into Hindi. His articles were published in the weekly Badr of Qadian from 1952 to 2013.
1 August 2016: Hazrat Khalifatul Masih Vaa launched MTA Africa, a new television channel established specifically to cater for the needs of the African people.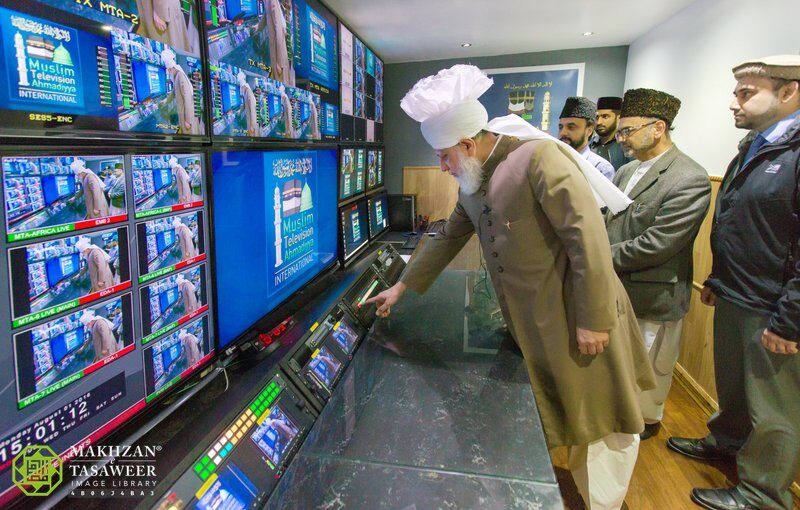 2 August 2013: During his Friday Sermon on this day, Hazrat Khalifatul Masih Vaa advised members of the Jamaat to save themselves from all kinds of evils. While speaking in detail about the vices and evils of this age, Huzooraa instructed that an Ahmadi ought not to tread close to such evils, as once a person gets closer to them, they are controlled by Satan and are hugely influenced.
3 August 2007: During his Friday Sermon, Hazrat Khalifatul Masih Vaa narrated some impressions regarding Jalsa Salana UK 2007. Huzooraa said that he had come to know about the impatience of some attendees, which did not put a good impression on some new converts and external guests. Huzooraa said that members of the Jamaat should always remember that they belonged to such a Jamaat which was akin to a white cloth; even a small blemish or coloured stain would be very prominent. Thus, Huzooraa advised, every Ahmadi should present their best selves. Patience and courage were distinctive features of an Ahmadi Muslim.
4 August 2017: During his Friday Sermon, Hazrat Khalifatul Masih Vaa mentioned Shakil Ahmad Munir Sahib, former Missionary-in-Charge Australia, who had passed away on 31 July 2017 at the age of 85. He obtained his early education from Talim-ul-Islam College Qadian and in Lahore. He passed MSc physics from Dhaka. He joined the field of teaching and was employed for a long time in West Africa. He worked in Nigeria's Federal Ministry of Education as the chief education officer. He wrote various books on Islam and Christianity, such as Islam in Spain, Shroud and other discoveries about Jesus, The reform Taleem-el-Islam Course Book, etc.
He sponsored the construction of a mission house in Nigeria, and as a result of a dream, he presented himself as a life-devotee. Hazrat Khalifatul Masih IVrh accepted his request and appointed him as the first amir and missionary-in-charge of Jamaat Australia. He moved to Australia on 5 July 1985. He played a huge role in the construction of the Baitul Huda Mosque in Australia.
He was later posted to Nigeria where he served as the principal of Jamia Ahmadiyya in Ilaro.
In relation to the centenary celebrations of 1989, Hazrat Khalifatul Masih IVrh had instructed the Jamaat to translate selected verses of the Holy Quran into 100 different languages, and Australia Jamaat was assigned the Maori language. Despite old age, Shakil Ahmad Munir Sahib learned the Maori language and completed translating the Holy Quran into the Maori language. When Hazrat Khalifatul Masih Vaa visited New Zealand in 2013, the complete Maori translation of the Holy Quran was presented to the Maori King there.