Last Updated on 31st October 2021
29 October 1938: Hazrat Maulvi Muhammad Abul-Hasan Buzdarra passed away. He was among the pioneering Ahmadis of Dera Ghazi Khan. He also established jamaats in many villages through his tabligh.
His real name was Abdur Rauf; however, he was well-known as Abul-Hasan. His father's name was Maulvi Abdul Qadir.
He had the opportunity to study books such as Izala-e-Auham and Aina-e-Kamalat-e-Islam, which dispelled all his doubts and thereby helped in swearing allegiance to Hazrat Ahmadas through a letter. In 1900, he had the opportunity to meet Hazrat Ahmadas and do bai'at. He faced strong opposition after accepting Ahmadiyyat.
29 October 1963: Al Fazl published a special issue paying tribute to Hazrat Mirza Bashir Ahmad MAra. This valuable issue of about 50 pages contains a lot of historical material and pictures.
The issue is available at this link: www.alislam.org/alfazl/rabwah/A19631029.pdf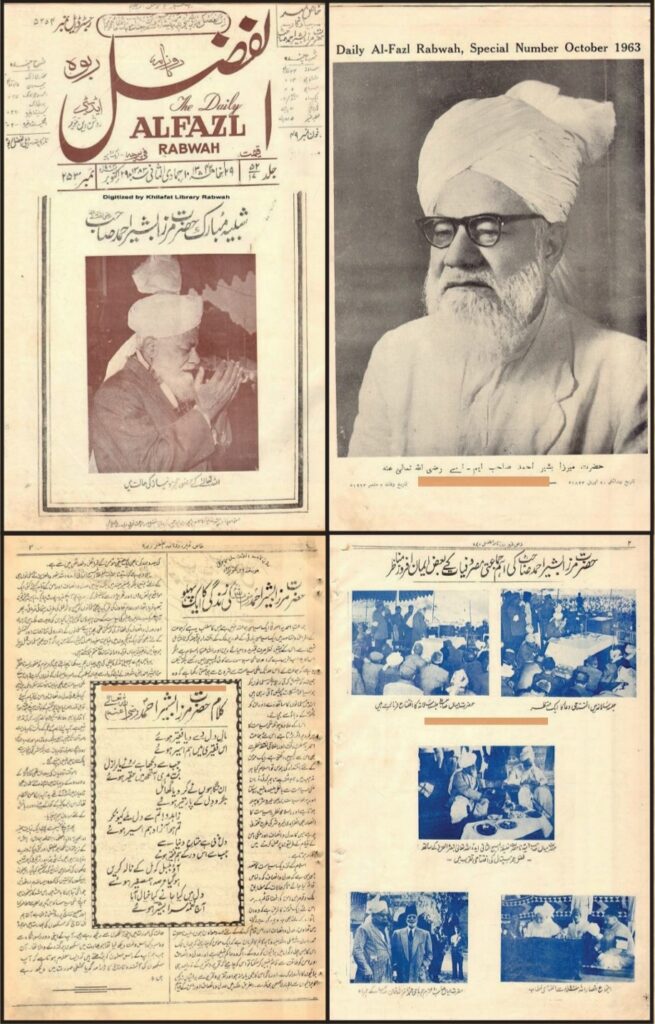 30 October 1913: Hazrat Khalifatul Masih Ira graciously laid the foundation stone of Hazrat Maulvi Sher Ali'sra house.
Hazrat Khalifatul Masih Ira laid two bricks with his own hand and then the third brick was placed by Hazrat Sahibzada Mirza Bashiruddin Mahmud Ahmadra. (Tarikh-e-Ahmadiyyat, Vol. 3, p. 468)
30 October 1978: A missionary and scholar, Hazrat Sufi Abdul Qadir Niazra passed away. He was ill for five months. Hazrat Khalifatul Masih IIIrh led the funeral prayer. Hazrat Sufi Sahibra was the son of Hazrat Maulvi Abdullah Sanaurira, a sincere companion.
Hazrat Sufi Abdul Qadir Niazra was born in 1899. The Promised Messiahas arranged for his aqeeqah [Islamic tradition of sacrifice on the occasion of a child's birth]. In addition to serving as an Ahmadi missionary in Japan and London, as well as being part of the Kashmir Committee, he served as private secretary to Hazrat Musleh-e-Maudra and the editor of The Review of Religions. (Al Fazl, 1 November 1978, p. 6)
31 October 1980: The annual Ijtema of Majlis Ansarullah was inaugurated which continued until 2 November. The live English translation of the speeches of Hazrat Khalifatul Masih IIIrh was available to listen to via headphones for the first time. (Tarikh Ansarullah, Vol. 2, p. 119)
1 November 1926: Hazrat Master Muhammad Ali Azharra, son of Hazrat Maulvi Ghulam Qadirra, passed away. He was born in 1886 and was a resident of Jalandhar. In April 1906, he visited Qadian and was able to do bai'at with his brother, Hazrat Muhammad Ismailra.
1 November 1951: Hazrat Mian Muhammaduddin Balanira passed away in Qadian, while serving as a Darvesh. He entered the fold of the Jamaat in 1894. He was among the 313 Companionsra of the Promised Messiahas.
2 November 1924: Hazrat Musleh-e-Maudra started the next phase of his journey back to Qadian as he boarded his ship from Venice, in the northeast of Italy. Hazrat Maulana Abdur Rahim Dardra had sent this news to Hazrat Maulvi Sher Alira who was in Qadian serving as amir-e-muqami. (Al Fazl, 6 November 1924, p. 1)
2 November 1931: Hazrat Syed Iradat Hussain Orenvira passed away. He was born in 1880 and in 1903, he was blessed with the opportunity to do bai'at. Within his family, fortunate souls such as Hazrat Syed Wazarat Hussain Shahra and others had already joined the Jamaat.
Hazrat Syed Iradat Hussain Orenvira was a highly intellectual individual. He was the author of many books.
3 November 1963: Usman Ghani Sahib and Abdur Rahim Sahib were martyred in East Pakistan (now Bangladesh). Opponents of the Jamaat pelted stones at Ahmadi Muslims who were attending a meeting. Many Ahmadis were severely injured, and both of the aforementioned Ahmadis succumbed to their injuries in the hospital the next morning.
Usman Ghani Shaheed was 35 years old, unmarried and the first Ahmadi of his family, while Abdur Rahim Shaheed had five children. (Tarikh-e-Ahmadiyyat, Vol. 22, p. 189)
4 November 1927: On this date, in his Friday Sermon, Hazrat Musleh-e-Maudra explained to the Jamaat that members should avoid undue love for anyone and should also avoid undue enmity for anyone.
The sermon is available at this link: www.alislam.org/urdu/khm/KM11-30.pdf