Last Updated on 3rd December 2021
3 December 1943: Hazrat Musleh-e-Maudra set up the "Ifta Committee" to look into various issues of fiqh (Islamic jurisprudence). He appointed the following three members for it:
• Hazrat Maulana Syed Sarwar Shahra, who served as the mufti (chief adjudicator) of the Jamaat
• Hazrat Mir Muhammad Ishaqra
• Hazrat Maulana Abul Ata
(Tarikh-e-Ahmadiyyat, Vol. 8, p. 454)
3 December 1955: Hazrat Musleh-e-Maudra attended a tea party arranged in honour of overseas missionaries and devout Ahmadis who had travelled from Mauritius. This was arranged by wakalat-e-tabshir (secretariat for foreign missions) and was held after Asr prayer on this date.
The following are the names of the missionaries who attended the event: Hazrat Syed Zain-ul-Abideen Wali Ullah Shahra, Sheikh Naseeruddin Ahmad Sahib and Maulvi Abdul Wahid Sahib Samatri.
After the Maghrib prayer, in honour of the above-mentioned missionaries, a dinner was also held in Jamia al-Mubashirin. This was presided over by Hazrat Maulana Abdur Rahim Dardra. The address he delivered on this occasion was the last address of his life as he passed away four days later, on 7 December 1955.
Hazrat Maulana Abdur Rahim Dardra was an ardent servant of the Jamaat and nation alike. He was a missionary of the Jamaat, a skilled writer and a political activist for the Pakistan Movement.
After completing his master's degree, Dard Sahibra offered himself for the service of religion. In 1920-21, after Hazrat Musleh-e-Maudra established nazarats (secretariats of Sadr Anjuman Ahmadiyya), Huzoorra appointed Dard Sahibra as a nazir. Later, from 1924 to 1928, and then from 1933 to 1938, he served as the imam of the Fazl Mosque, London.
In 1944, at the Jalsa Musleh-e-Maud (the jalsa in which Hazrat Khalifatul Masih IIra announced, after receiving divine guidance, that he was the Promised Son whose glad tidings were given to Hazrat Mirza Ghulam Ahmadas) held in Hoshiarpur, and in some subsequent gatherings, he was selected to recite the prophecy of the Promised Messiahas pertaining to the Promised Son, as his uncle, Hazrat Munshi Abdullah Sanaurira, was with the Promised Messiahas in Hoshiarpur during the chillah (the 40-day retreat where Hazrat Ahmadas prayed to God in seclusion and thereafter received the prophecy of Musleh-e-Maud).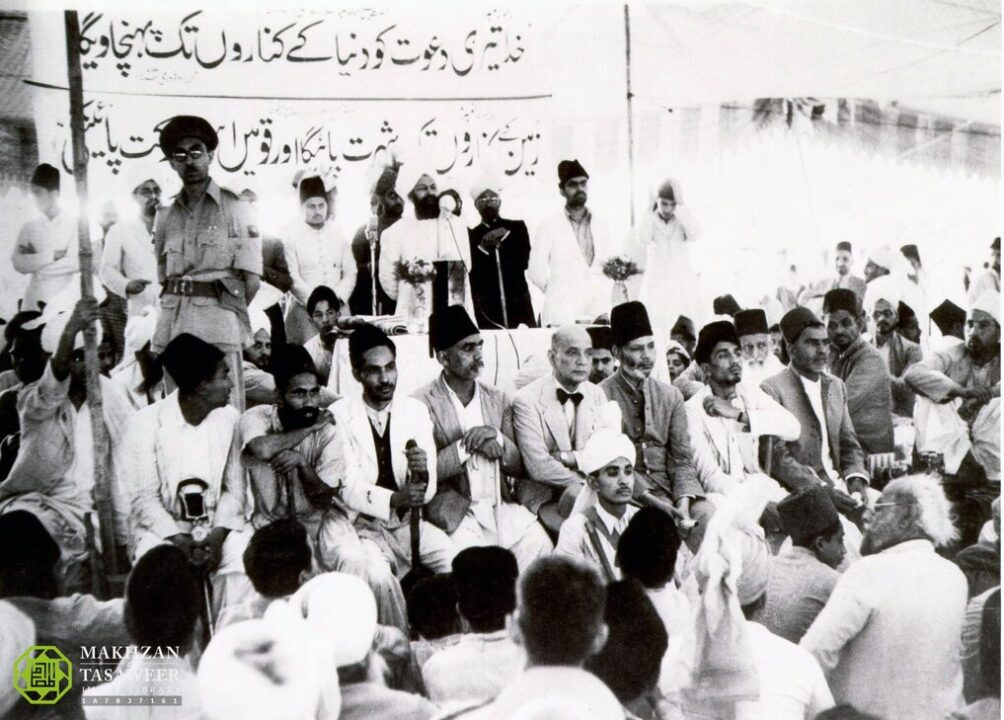 4 December 1951: Hazrat Master Muhammad Akbar of Dera Ghazi Khanra passed away. He was a companion of the Promised Messiahas who performed bai'at in 1904 after studying some books of the Promised Messiahas and issues of The Review of Religions.
After entering the Jamaat, he remained active in tabligh and other Jamaat activities till his demise. When he was residing in Multan, Hazrat Amma Janra blessed his house by visiting many times during her journeys. After receiving his pension from his job, he migrated and settled in Qadian in 1938, and then moved to Rabwah after the partition in 1947. (Tarikh-e-Ahmadiyyat, Vol. 14, p, 25)
4 December 1960: Hazrat Baba Sadaruddin Darweshra, a companion of the Promised Messiahas, passed away. He entered the fold of Ahmadiyyat in 1894 and was amongst the first of the local population of Qadian to accept the message of the Promised Messiahas. He was a potter by profession and worked tirelessly during the spadework before the foundation of Minaratul-Masih in 1900. Hazrat Baba Sadaruddinra was a tall man who served as a darvesh (a person who stayed behind in Qadian for its protection) after the partition of India. He passed away on this date at the age of 91 and was buried in Bahishti Maqbarah, Qadian in the special section designated for the Companionsra of the Promised Messiahas.
5 December 1957: Hazrat Musleh-e-Maudra announced the nikah of his son, Hazrat Sahibzada Mirza Tahir Ahmadrh, with Hazrat Syeda Asifa Begum Sahiba. The wedding was celebrated on 9 December, and on 11 December, the walima was held.
Hazrat Syeda Asifa Begum Sahiba was born in January 1935 to Sahibzada Mirza Rashid Ahmad Sahib and Sahibzadi Amatus Salam Sahiba (daughter of Hazrat Mirza Bashir Ahmadra). Hazrat Syeda Asifa Begum Sahiba passed away on 3 April 1992, in London, after a long illness.
Hazrat Khalifatul Masih IVrh, whilst mentioning Hazrat Syeda Asifa Begum Sahiba in a Friday Sermon, said:
"When I was still to make a decision with regard to this marriage proposal, I performed istikhara [a prayer in which one seeks the best outcome] and in a state of vision – that is, not in a state of wakefulness, but in the state of vision – I received a revelation, the words of which were:
تیرے‭ ‬كام‭ ‬كے‭ ‬ساتھ‭ ‬اس‭ ‬كا‭ ‬نام‭ ‬ہمیشہ‭ ‬زندہ‭ ‬رہے‭ ‬گا
"'Along with your work, her name shall live on forever.'
"At that time, I was wondering 'What is my work?' I could not even imagine what tasks God would assign me in the future; however, there was a sublime message in it, that in practice, she would not be able to participate in the work [God wanted from me], but because of her relationship with me, God Almighty would give her share in my work and she will continue to receive its reward." (Khutbat-e-Tahir, Vol. 11, p. 234; Friday Sermon, 3 April 1992)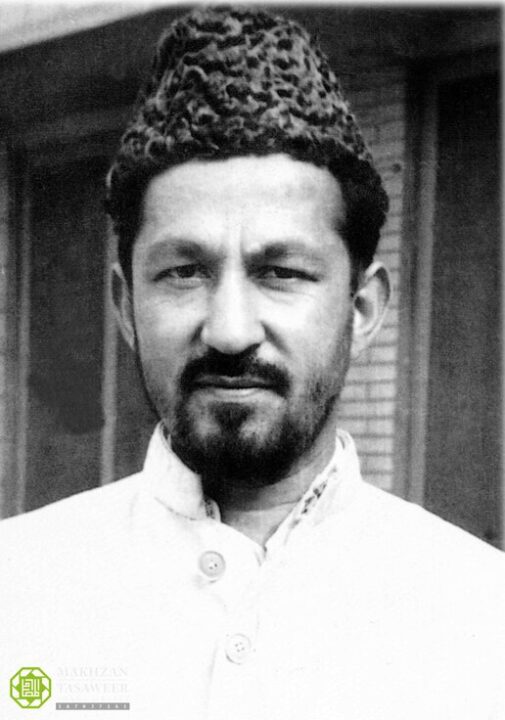 5 December 1957: Hazrat Sheikh Yaqub Ali Irfanira, Editor and Founder of Al Hakam, passed away in India. He did bai'at in 1889. Throughout his lifetime, he was engaged in the jihad of the pen and wrote about 60 books, alongside his responsibilities as editor of Al Hakam.
Hazrat Sheikh Yaqub Ali Irfani'sra father's name was Sheikh Muhammad Ali Sahib and his grandfather's name was Sheikh Sultan Ali Sahib. Hazrat Sheikh Yaqub Alira was born on 29 November 1875 in Jadla, a village of Jalandhar, India. He started his education in his village and would come first in all his classes. He passed the primary examination with honours and received a scholarship.
In 1889, he had the privilege of meeting the Promised Messiahas for the first time in Ludhiana. Earlier, he had studied Barahin-e-Ahmadiyya, although he did not have the ability to fully comprehend it yet.
In his first meeting with Huzooras, the Promised Messiahas was very happy to hear that he was learning Sanskrit and promised to help in any way he could.
In 1897, Hazrat Sheikh Sahibra expressed his desire to the Promised Messiahas in a letter that there should be a newspaper of the Jamaat. Hazrat Sheikh Yaqub Ali Irfanira requested permission to start a newspaper on behalf of the Jamaat. He was residing in Amritsar at the time. He was a successful journalist working for prominent newspapers and was known as an exceptional writer. The Promised Messiahas replied:
"We have no experience in this field. There is a need for a newspaper, but our Jamaat comprises of poor people and is unable to bear financial strains. If you can do this through your experience, then you may do so. May Allah bless this effort."
Hazrat Yaqub Ali Irfanira was completely alone at that time. On the other hand, some of his friends were adamant in bringing him into government service; however, Allah Almighty helped him and he succeeded in launching the Jamaat's first-ever newspaper, Al Hakam.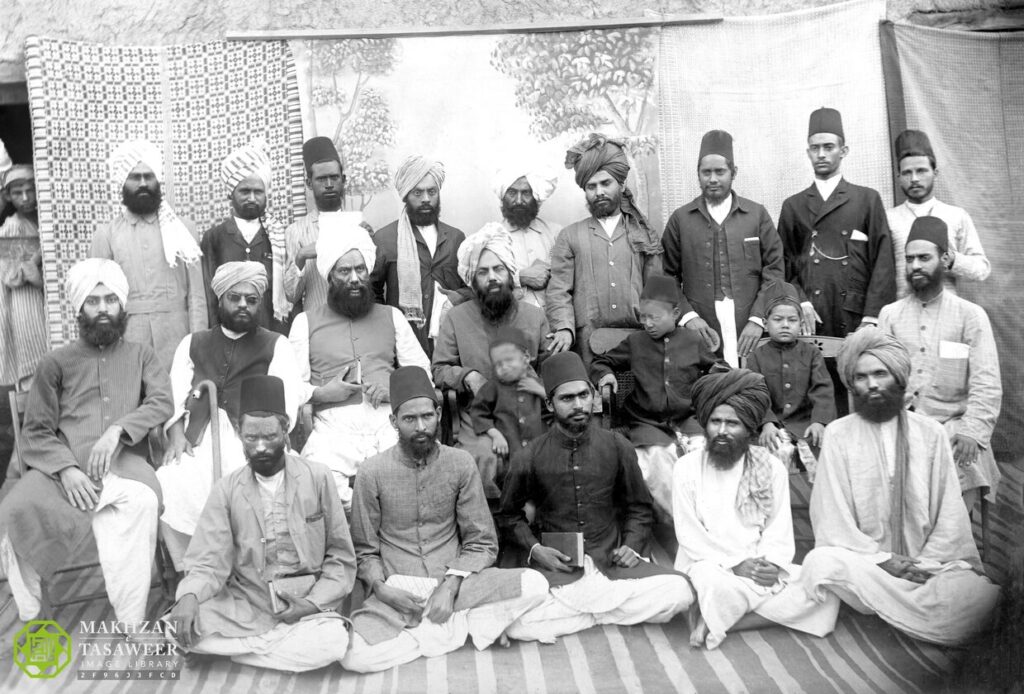 6 December 1939: Mr Manko V Astro passed away at the age of 70. He established the Jamaat in Eastern Java. This devout follower of the Promised Messiahas donated his land to the Jamaat, where a local mosque was constructed. (Tarikh-e-Ahmadiyyat, Vol. 8, p. 210)
6 December 1963: Hazrat Syeda Aziza Begum passed away. She was the noble wife of Hazrat Musleh-e-Maudra and commonly known as Umm-e-Waseem (mother of Waseem). She was the daughter of Hazrat Seith Abu Bakr Yusuf Jamalra, a devout and affluent merchant from Jeddah.
Hazrat Syeda Aziza Begum's marriage with Hazrat Musleh-e-Maudra took place on 1 February 1926. She regularly attended Lajna meetings. For a while, she was also responsible for organising darses and meetings for Lajna Imaillah. Despite being born into a wealthy family, she led a very simple and humble life. She showed great love to the less privileged and treated them with immense compassion. She would visit them in spite of her own illness and share both their sorrows and joys.
She was ill for a long time due to diabetes and high blood pressure, and she passed away on the night between 5 and 6 December 1963 after being married to Huzoorra for 37 years.
7 December 1931: Hazrat Mullah Muhammad Meerura, a companion of the Promised Messiahas, passed away. According to one narration, his real name was Mullah Mehrooz Khan.
At the time of his demise, he was not a musi; however, under the instruction of Hazrat Musleh-e-Maudra, he was buried in Bahishti Maqbarah, Qadian due to the great services he rendered for Islam. He was a sincere friend of Hazrat Sahibzada Abdul Latif Shaheedra. One of the most significant services of Hazrat Mullah Muhammad Meerura was that after the painful martyrdom of Hazrat Sahibzada Abdul Latif Shaheedra in Kabul, he provided immense help to the late martyr's family.
Hazrat Sahibzada Abdul Latif Shaheed'sra family was exiled and deported to Turkistan (a city in Kazakhstan) and the government of Afghanistan confiscated all their property. Even mentioning the name of the family of Hazrat Sahibzada Abdul Latif Shaheedra was considered a crime. For 15 years, Hazrat Mullah Muhammad Meerura collected and gave the proceeds of Hazrat Sahibzada Sahib'sra land and property in Bannu to the late martyr's wife and children in Turkistan.
Hazrat Mullah Muhammad Meerura had migrated to Qadian in his final years. By then, the family of Hazrat Sahibzada Abdul Latif Shaheedra had been allowed to return to Afghanistan. (Tarikh-e-Ahmadiyyat, Vol. 5, p.309)
7 December 1948: Manzoor Ahmad Ojalvi Sahib was martyred in Kashmir while serving as a volunteer in the Furqan Force. (Khutbat-e-Tahir, Babat Shuhada, p. 80)
7 December 1948: Hazrat Seith Ismail Adamra of Bombay, a companion of the Promised Messiahas, passed away. He was born in 1873 and entered the fold of Ahmadiyyat in 1896. In 1893, after reading articles written against the Promised Messiahas in Urdu newspapers of Punjab, he studied all the writings of Hazrat Ahmadas, from Barahin-e-Ahmadiyya to Aina-e-Kamalat-e-Islam. After reading Huzoor'sas writings, his heart testified that Hazrat Ahmadas was a truthful person.
In 1898, Hazrat Seith Ismail Adamra visited Qadian for the first time, where he met the Promised Messiahas for the first time also.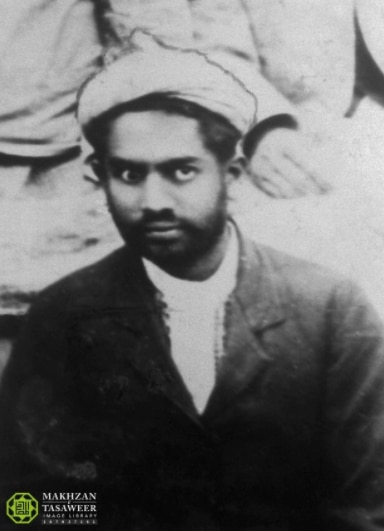 8 December 1927: Upon the announcement of the proposed arrival of the Simon Commission to India (a group of seven British members of parliament under the chairmanship of Sir John Allsebrook Simon), Hazrat Musleh-e-Maudra penned a book titled, Musalmanan-e-Hind ke Imtehan ka Waqt (A Trying Time for the Indian Muslims). Huzoorra, in the book, raised some serious questions about the whole political episode and the commission. Some people in India were outraged and suggested that the Simon Commission, which was to determine the future of India, did not include a single Indian member.
(For more details, see Al Hakam, 26 November 2021, issue no. 193, www.alhakam.org/simon-commission-first-round-table-conference-and-hazrat-musleh-e-mauds-valuable-guidance)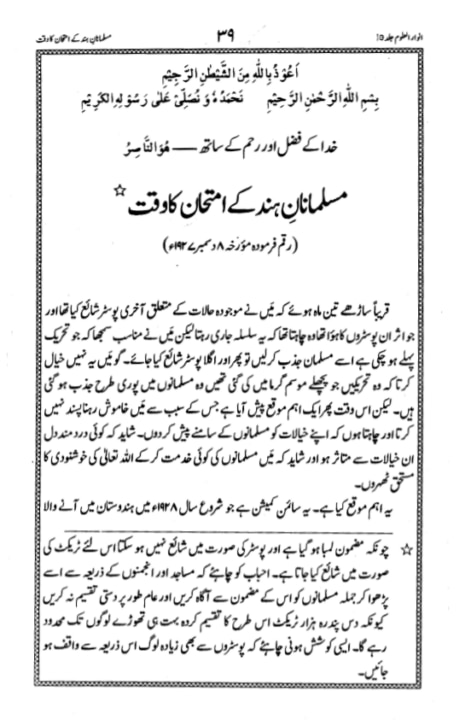 8 December 1948: Hazrat Qazi Azizuddinra of Faizullah Chak passed away. He was a companion of the Promised Messiahas.
Though he was a prominent and wealthy landowner, he preferred to lead a simple life. He was very fond of preaching and was exemplary in helping the less fortunate in different ways. (Tarikh-e-Ahmadiyyat, Vol. 12, p. 117)
9 December 1944: Hazrat Musleh-e-Maudra addressed young members of the Jamaat belonging to the North-West Frontier region of the Indian subcontinent and urged them to devote their lives to serving religion.
Huzoorra explained that a good method for preaching in this area was that the preacher should be a resident of the area who was familiar with the customs and traditions of the people. (Tarikh-e-Ahmadiyyat, Vol. 9, p. 194)
9 December 1955: The Mubarak Mosque, the first purpose-built mosque in the Netherlands, was opened by Hazrat Sir Muhammad Zafrulla Khanra on this date. The Jamaat's message reached this country in 1947. Hafiz Qudratullah Sahib was the first missionary of the Jamaat sent to the Netherlands.
According to the report of Hafiz Qudratullah Sahib, despite strong opposition from the Catholic Church, the local council approved the purchase of land for the mosque on 7 July 1950. Thus, approximately 800 square metres of land was purchased for 28,000 guilders. This news was so important that it was published by 60 newspapers, including the country's top national and local newspapers.
When Hazrat Musleh-e-Maudra appealed to Ahmadi women for donations, the way the women responded was highly appreciated by Huzoorra. Huzoorra had asked for 115,000 rupees, and the women of the Ahmadiyya Jamaat offered a total sum of 143,664 rupees.
On 12 February 1955, on the instruction of Hazrat Musleh-e-Maudra, Hazrat Sir Chaudhry Muhammad Zafrulla Khanra inaugurated the digging of the foundations of the mosque with a prayer, and on 20 May, he laid the foundation stone. Representatives of several Muslim countries were present on the occasion.
In December 1955, Hazrat Sir Chaudhry Muhammad Zafrulla Khanra returned to inaugurate the mosque. Diplomatic representatives from Pakistan, Egypt, Syria and Indonesia, and press and radio reporters were also present on the occasion.
While this mosque was still under construction, Hazrat Musleh-e-Maudra was in the Netherlands on 18 June 1955 and resided there for a week. During his stay, Huzoorra offered a long, heartfelt silent prayer at the construction site.
This mosque, with three minarets and a capacity of 500 worshippers, was designed by Frits Beck and was completed with funds collected from Lajna Imaillah members from all around the world. On 3 June 2006, Queen Beatrix of the Netherlands visited the Mubarak Mosque to commemorate the building's 50th anniversary.