30 April 1931: Hazrat Musleh-e-Maudra travelled from Mansoori to Dehradun, now the interim capital of Uttarakhand, a state in India.
There, distinguished Muslims met with Hazrat Khalifatul Masih IIra. Al Fazl reported that a public jalsa was held in Islamia School, presided by Khan Bahadur Zill-e-Hussain Sahib, Honorary Magistrate. Hindus, Muslims and many other people attended in huge numbers. Huzoorra spoke for nearly two hours on the Hindu-Muslim relations, the need for their reformation and the reasons for the disputes between these two nations. This was very much appreciated by the attendees. Some expressed that this speech was the first of its kind.
1 May 1926: Hazrat Mir Muhammad Ishaqra was famous for his general welfare projects as was his revered father, Hazrat Mir Nasir Nawabra. On this date, Hazrat Mir Muhammad Ishaqra established a care centre for orphans and needy people in the Jamaat. It was named Dar-ul-Shayookh.
In this, many poor and orphaned children, and even elders, used to reside and Hazrat Mir Sahibra would arrange for their expenses and the education of children from his own money. And he would care for them just as if they were his own loved ones. He would also arrange for the Hifz-e-Quran for the blind children. Many children of Dar-ul-Shayookh studied in Madrasa-e-Ahmadiyya, Jamia Ahmadiyya and Talim-ul-Islam High School.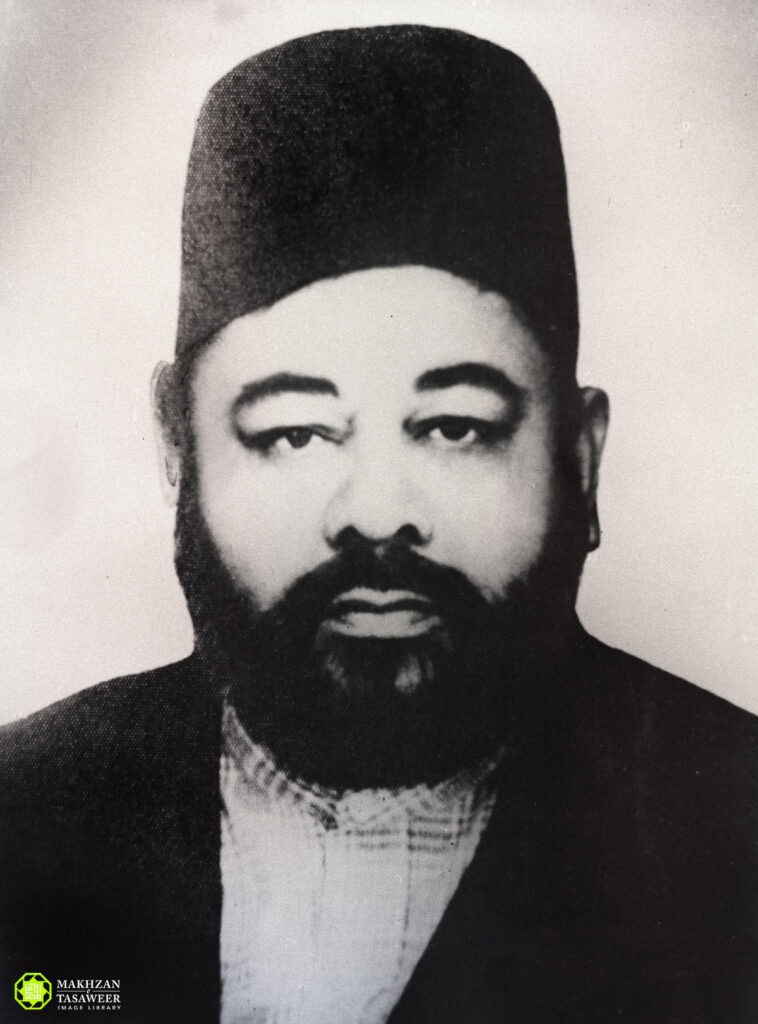 2 May 1930: Hazrat Musleh-e-Maudra wrote a detailed letter to the viceroy of India, Mr Irwin and presented him with the basic seven options to move forward with the prevailing law and order situation in those chaotic times.
A detailed reply to this letter was given by Mr Cunningham, private secretary of the viceroy of India, the summary of which is preserved in the fifth volume of Tarikh-e-Ahmadiyyat. In response to the letter, Mr Cunningham commented on Hazrat Musleh-e-Maud'sra suggestions on freedom of religion among various other matters.
2 May 1965: Renowned British Historian, Dr Peter Hardy of SOAS University of London and author of The Muslims of British India arrived at Rabwah from Lahore.
He had been working, for the last two years, as a professor in the department of history at Punjab University in Lahore and wanted to see Rabwah.
He visited the educational institutions in Rabwah and saw the Khilafat Library and Tahrik-e-Jadid offices. He met with some elders of the Jamaat and exchanged views with them.
During his visit, he stated that Rabwah, despite being a new and remote area, was an important centre for education. Later that day, after spending a couple of hours in Rabwah, at four o'clock in the afternoon, he returned and made his way back to Lahore.
3 May 1935: On this day, Dr Sir Muhammad Iqbal, a renowned figure in the Indian subcontinent, made a demand of declaring Ahmadis a non-Muslim minority.
This lengthy statement of Muhammad Iqbal was published in the famous newspapers Ehsan and Zamindar, in which Muhammad Iqbal resorted to a self-made philosophical interpretation of the issue of Khatm-e-Nabuwwat to justify his strange demand and expressed the view that the followers of the Baha'i faith were more sincere than the followers of Jamaat-e-Ahmadiyya.
Scholars of Jamaat-e-Ahmadiyya would go on to write articles refuting Iqbal's statement in Al Fazl and The Review of Religions.
The responsible Muslim press of that era found this demand objectionable and condemned the whole idea. For example a newspaper, Siasat, wrote several editorials, while Hazrat Khalifatul Masih IIra, in his sermon of Friday, 24 May 1935, shed light on this astonishing demand of Muhammad Iqbal and commented on it.
3 May 1938: A tourist from Iran, Mr Manochehar, who was Zoroastrian by faith and an agriculturist by profession, visited Qadian.
He spent 10 months touring India and met some Ahmadis at a hotel in Bombay. From there, he visited Qadian. Mr Manochehar was so impressed by the spiritual aura of Qadian that he decided to enter the fold of the Jamaat.
This individual expressed his acceptance of Ahmadiyyat in a Persian letter to the editor of Al Fazl.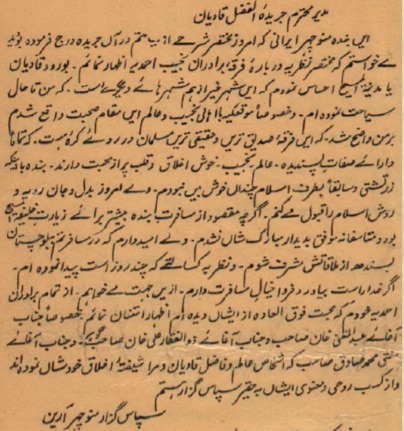 3 May 1952: Hazrat Maulvi Abdullah Rehan Botalvira passed away. He entered the fold of Ahmadiyyat on 17 February 1901. He was the first amongst the Companionsra of the Promised Messiahas to be buried in the designated area for the Companionsra at Bahishti Maqbarah, Rabwah.
Hazrat Khalifatul Masih IIra led the funeral prayer and, after the burial, Hazrat Mirza Bashir Ahmadra led everyone in silent prayer.
One of his sons, Maulana Abdul Rahman Anwar Sahib, served as a private secretary and the other, Hafiz Qudratullah Sahib, served as a missionary in the Netherlands and Indonesia. Hazrat Maulvi Abdullah Rehan Botalvi'sra daughter was the wife of Maulana Abul Ata Sahib.
Hazrat Maulvi Abdullah Rehan Botalvira was born on 20 May 1881. He dedicated his life after retiring from government service.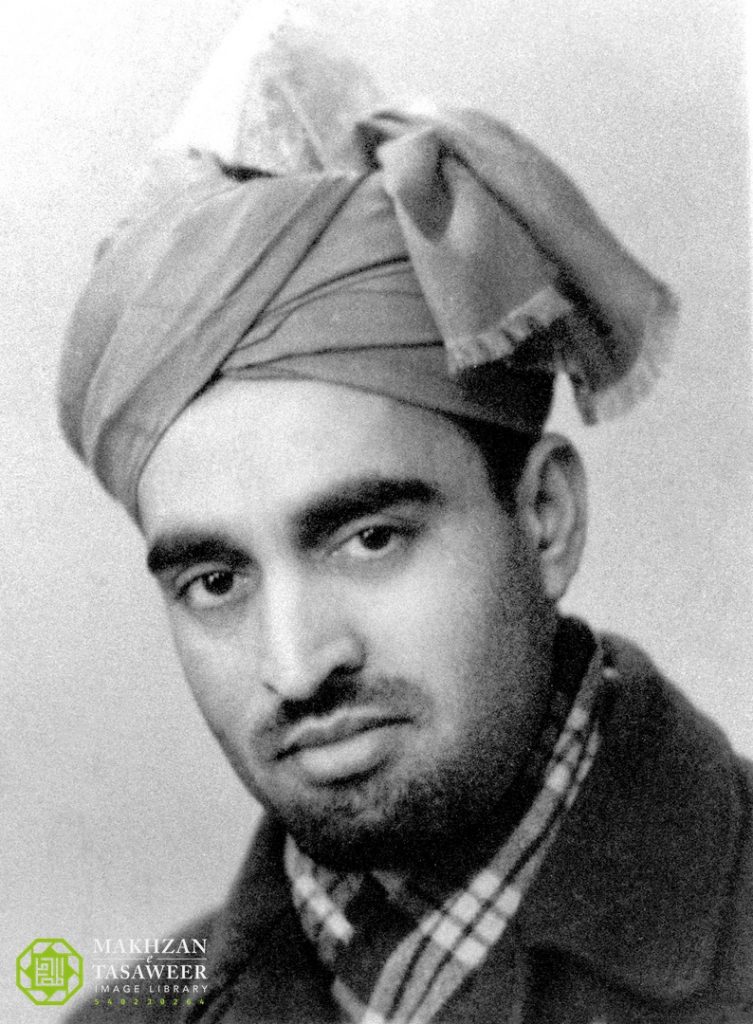 3 May 1955: Hazrat Musleh-e-Maudra was in Damascus. On this day, he announced the nikah of two Syrian Ahmadis. It is also reported that on the same day, Huzoorra graciously blessed a question and answer session in Damascus.
4 May 1904: The Promised Messiah'sas companion, Hazrat Qazi Zia-ud-Dinra passed away.
Hazrat Qazi Zia-ud-Dinra was born in 1843. He first arrived in Qadian in February 1885 and before returning after a five-day stay in Qadian, he wrote the following couplet in black ink on the wall of Masjid Aqsa, Qadian on 7 February 1885:
حسن‭ ‬و‭ ‬خوبى‭ ‬دلبرى‭ ‬بر‭ ‬تو‭ ‬تمام
صحبتے‭ ‬بعد‭ ‬از‭ ‬لقائے‭ ‬تو‭ ‬حرام
"O my Beloved! Beauty has found its pinnacle in You. It is forbidden to stay in anyone's company after meeting You."
He was the first Ahmadi in Gujranwala. He and his two sons were among the 313 Companionsra of the Promised Messiahas. The names of the three are listed in Hazrat Ahmad'sas book, Anjam-e-Atham.
Hazrat Qazi Zia-ud-Dinra passed away at the age of 61 in Qadian. The Promised Messiahas was in Gurdaspur at that time. Hazrat Maulvi Abdul Karimra Sialkoti led the funeral prayer and was buried in Qadian.
Before Hazrat Qazi Zia-ud-Dinra passed away, the Promised Messiahas received the following revelation:
وہ‭ ‬بے‭ ‬چارہ‭ ‬فوت‭ ‬ہوگیا
"The poor man has died." (Tadhkirah [English], p. 1078)
6 May 1935: From Qadian, a team of three missionaries –Maulvi Ghulam Hussain Ayaz Sahib, Sufi Abdul Ghafur Sahib and Sufi Abdul Qadeer Nayaz Sahib – departed for Singapore, China and Japan respectively.
6 May 1955: Hazrat Musleh-e-Maudra delivered a Friday Sermon in Damascus. As Huzoorra was to depart for Beirut on Saturday, many people had gathered from the early hours at the place where Huzoorra was staying. The Jamaat had arranged a photographer who captured many photos for archiving this historic moment. Huzoorra led the Friday prayer at Al Haj Badruddin Sahib's house.
Huzoorra delivered a short Friday Sermon in Arabic highlighting the revelation vouchsafed to the Promised Messiahas nearly 50 years ago:
یَدْعُوْنَ‭ ‬لَكَ‭ ‬اَبْدَالُ‭ ‬الشَّامِ‭ ‬وَعِبَادُ‭ ‬اللّٰہِ‭ ‬مِنَ‭ ‬الْعَرَبِ
"The abdal [devotees] of Syria and the servants of Allah from among the Arabs are supplicating on your behalf." (Tadhkirah [English], p. 160)
After the Friday Sermon, led by Huzoorra, Syed Muhammad Zaki Sahib recited a portion from the Holy Quran. Al-Syed Mahmud Al-Rabbani recited the Qaseedah of the Promised Messiahas. Then, Al-Syed Ibrahim Al-Jabbaan recited a qaseedah paying homage to Hazrat Musleh-e-Maudra. Many photos were taken of this gathering. It concluded with silent prayer.