6 August 1955: Hazrat Amma Ji, Sughra Begum Sahibara, passed away. She was the wife of Hazrat Khalifatul Masih Ira. Hazrat Musleh-e-Maudra was in London during this time. When Huzoorra was informed about her demise, he sent his condolences via telegram, in which he stated:
"I was very saddened by the news of Amma Ji's demise. Send my condolences to the whole family. May God Almighty elevate her soul. She should be buried next to Saliha Begum's [wife of the late Mir Muhammad Ishaq Sahib] grave. [Signed] Mirza Mahmud Ahmad."
Her year of birth is estimated to be 1874. She was the daughter of Hazrat Sufi Ahmad Jan. She got married to Hazrat Hakim Maulvi Nuruddinra in March 1889.
Hazrat Sughra Begum Sahibara was among the first women to be given the honour of pledging allegiance to the Promised Messiahas. She joined the system of Wasiyyat during the lifetime of Hazrat Ahmadas.
Hazrat Sughra Begum Sahibara paid great emphasis on the educational progress of Ahmadi women in Qadian. In this regard, her articles and speeches, which were published in the Jamaat's newspaper and magazines, are a testimony to this fact.
In 1923, when Hazrat Musleh-e-Maudra launched the scheme for the Berlin Mosque, she donated 100 rupees, which Huzoorra mentioned in one of his articles. She was amongst the blessed women who had the opportunity to prepare the cloth for the Liwa-e-Ahmadiyyat in 1939.
Hazrat Amma Jira migrated to Pakistan, from Qadian, on 25 August 1947, along with other women of Qadian. At first, she settled in Lahore and later moved to Rabwah.
She was blessed with the following children:
1. Mian Abdul Haye Sahib (15 February 1899 – 11 November 1915)
2. Amatul Haye Begum Sahiba, wife of Hazrat Musleh-e-Maudra (1 August 1901 – 10 December 1924)
3. Mian Abdul Qayyum Sahib (22 September 1903 – 12 August 1905)
4. Mian Abdus Salam Umar Sahib (25 December 1905 – 25 March 1956)
5. Mian Abdul Wahab Umar Sahib (8 February 1908 – 20 June 1979)
6. Mian Abdul Manan Umar Sahib (19 April 1910 – 2006)
6 August 1976: On this day, Hazrat Khalifatul Masih IIIrh inaugurated the Jalsa Salana of the United States of America. Prior to the inauguration, the mayor of New Jersey welcomed Huzoorrh.
During his inaugural address, Huzoorrh shed light on the status of Khilafat-e-Ahmadiyya, advised the members to always hold fast to the rope of Khilafat, to always show complete obedience to Khilafat and to strive to spread the message of the Holy Prophet Muhammadsa.
During the concluding address, Huzoorrh presented a plan for the tarbiyat of the future generation and drew the attention of American Ahmadis towards their role in saving mankind from destruction.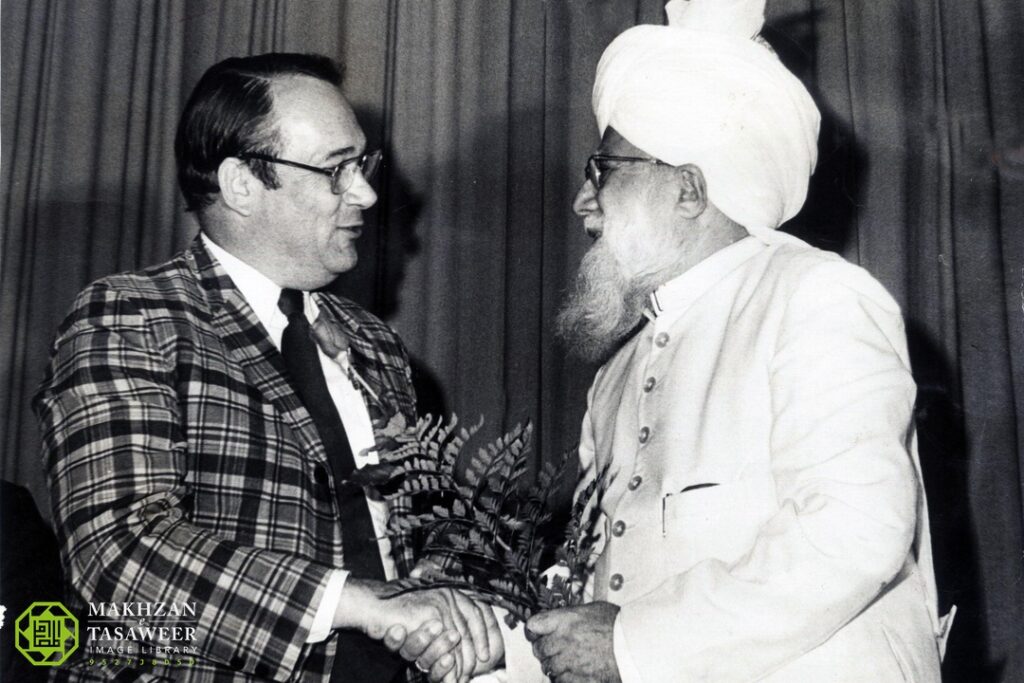 7 August 1956: The Ahmadiyya mission in Sweden saw its first convert. He was given the new Islamic name of Saif-ul-Islam Mahmud.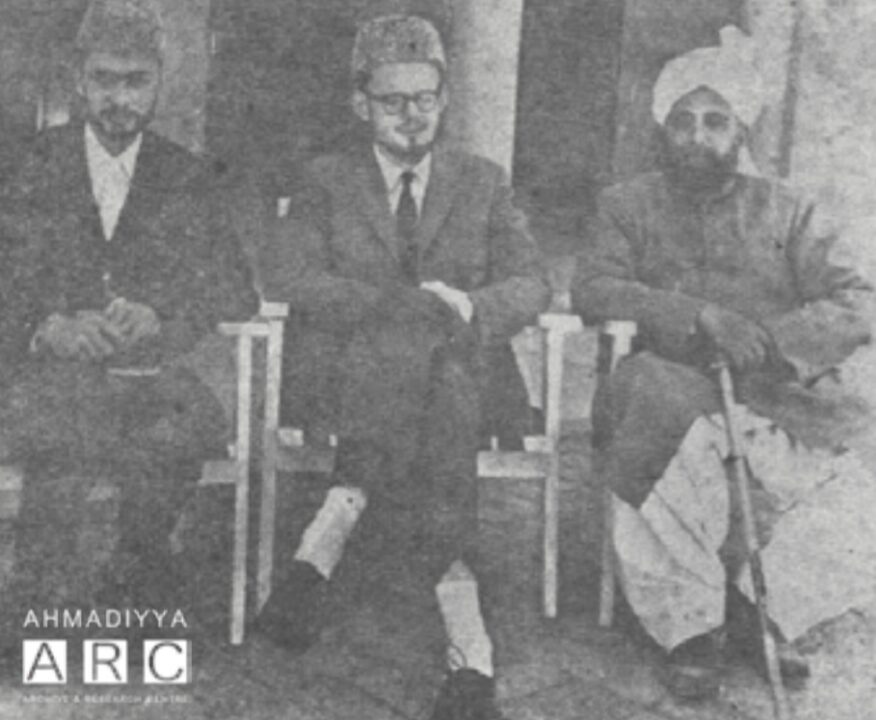 7 August 1969: Hazrat Malik Nabi Muhammadra resident of Miani, a town in Bhera, India, passed away.
He was born in 1885 and pledged allegiance to Hazrat Ahmadas in 1901 through a letter. He met Hazrat Ahmadas in 1903 for the first time. Hazrat Hakim Maulvi Nuruddinra had great love for him and would often say that he belonged to his homeland, Miani in Bhera. For a long time, he served as the president, secretary mal (finance) and zaeem Ansarullah of Ghoghiyat Miani Jamaat. Hazrat Malik Nabi Muhammadra was among the 5,000 Mujahideen of Tahrik-e-Jadid. It was his routine to write a letter to Khalifa of the time once a week. He was foretold by Allah the Almighty that he would live up to 75 or 85 years.
8 August 1934: Hazrat Mirza Nasir Ahmad'srh walima reception was arranged in Qadian. In his Friday Sermon of 10 August, Hazrat Musleh-e-Maudra elaborated on the topic of Islamic etiquettes and further mentioned some administrative difficulties that occurred on the day of the walima. He said that as the population of Qadian was estimated at 8,000, it was by no means an easy feat to cater for such a large number of people.
8 August 1976: On this date, Hazrat Khalifatul Masih IIIrh travelled from Washington DC to Toronto. Around 400 people gathered to welcome Huzoorrh. This was the first time the Khalifatul Masih visited Canada.
9 August 1978: On this date, Rasheeda Begum Sahiba was martyred in Sangla Hill.
She accepted Ahmadiyyat in 1976 along with her husband, and until her last breath, fulfilled her pledge of allegiance with great sincerity and loyalty.
Every day, non-Ahmadis would come to her home in groups and hold debates with her. She was regular in her daily prayers and Tahajud as well, even before accepting Ahmadiyyat, but after accepting the Promised Messiahas, she excelled in her level of worship. She also experienced true dreams as well. She would care for the poor and would show great respect to everyone. Rasheeda Begum Sahiba would actively participate in Jamaat related programmes and was regular in offering financial sacrifice as well. She would always preach passionately among women.
She was brutally murdered by a young boy who had no guardian. When this young boy was only nine months of age, Rasheeda Begum Sahiba decided to raise him herself. As the young boy grew older, opponents of the Jamaat incited him to murder the woman who took care of him for such a long time.
10 August 1924: Hazrat Musleh-e-Maudra departed from Damascus after blessing this historic capital city for many days. Huzoorra took the route of Beirut to reach Haifa. From Haifa, Huzoor'sra entourage headed towards Acre so they could acquire first-hand knowledge of this place, which is considered the holiest city and headquarters of the Baha'i faith.
When Huzoorra reached a place called Bahja in search of the centre of the Baha'is, he met a man named Mirza Muhammad Ali, who was the younger sibling of Mirza Abbas Ali Sahib. It turned out that this was an anonymous place. When asked about the number of Baha'is, it was said that the exact number could not be ascertained. They said that some lived in Iran, some in the United States, and some in other countries.
Huzoorra further remained there for another two hours to see if more information could be sought from another person.
11 August 1967: Hazrat Khalifatul Masih IIIrh delivered the Friday Sermon and offered prayers at the Fazl Mosque, London in the afternoon. According to a summary compiled by Laiq Ahmad Tahir Sahib, at the beginning of the sermon, Huzoorrh said:
"Present today are some members of our Jamaat from America who only understand English. Therefore, I intend to give today's sermon in English instead of Urdu."
In this sermon, Huzoorrh further stated that the fire of destruction was burning in the world, therefore Ahmadis should seek refuge under the cool shade of the Holy Prophetsa and safeguard themselves from this fire.
Huzoorrh stated that hundreds, thousands and even millions of Ahmadi members had a personal relationship with the living God. Huzoorrh talked about how God Almighty thwarts the plans of false claimants of prophethood, how the teaching of any religion other than Islam had not been safe from human interference and that the era of Islamic domination was also associated with the Third World War.
After the sermon, Huzoorrh offered the Friday prayers. Hundreds of people came from far and wide to listen to the words of the Khalifa and to visit him. Some foreign non-Ahmadi friends also participated in the Friday prayers and the sermon.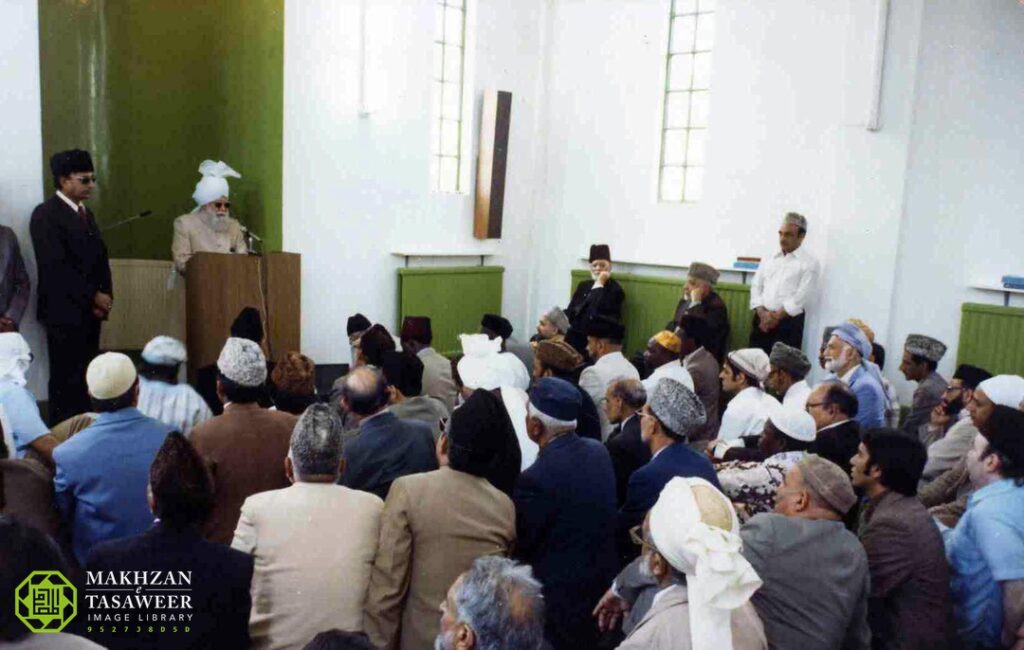 12 August 1905: Hazrat Hakim Maulvi Nuruddin'sra son, Abdul Qayum, passed away in infancy. Abdul Qayum had been suffering from measles for approximately a month. Huzoorra held the body of his son in his arms for a while and his eyes welled up with tears. Huzoorra kissed the boy's forehead, following the sacred example of the Holy Prophet of Islam, peace and blessings of Allah be upon him.
Abdul Qayum was born on 22 September 1903. The Promised Messiahas also attended the funeral prayer, and Hazrat Hakim Maulvi Nuruddinra led the funeral prayer.
After the demise of Abdul Qayum, many letters of condolences, from members of the Jamaat, were received by Hazrat Hakim Maulvi Nuruddinra. Thus, Hazrat Hakim Maulvi Nuruddinra wrote an open letter to his friends in Al Hakam and Badr in which he said that the letters of condolences had an increasing effect of love for his friends; however, Hazrat Hakim Maulvi Nuruddinra said, "There is a huge burden which is increasing day by day, so I request you, instead of writing such letters to me, to collect these expenses and put them towards religious work. This is my heart's desire […]."
12 August 1980: On this date, Hazrat Khalifatul Masih IIIrh offered Eid-ul-Fitr at the Fazl Mosque, London. 3,000 Ahmadis from different cities of the UK and other European countries attended.