Throughout the outbreak of the devastating coronavirus, we have witnessed multitudes of twists and turns by officials, "the science" and governments, the latest being the sudden U-turn by some governments and leaders now accepting the importance of wearing masks in public spaces.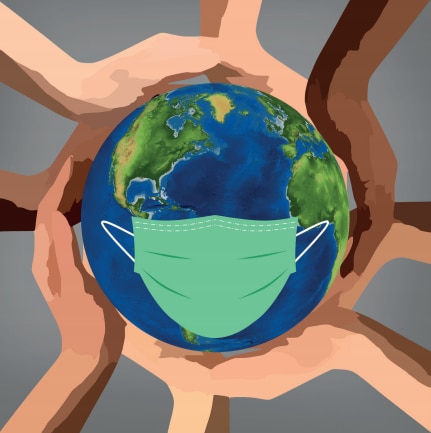 When the pandemic started, there was a split over whether masks were even effective against the novel virus. However, the predominant view being pushed out to the public in many countries was that wearing masks wasn't important.
"Both the Centers for Disease Control and Prevention (CDC) and the World Health Organization now recommend cloth masks for the general public, but earlier in the pandemic, both organizations recommended just the opposite", reported the University of California.
As a side note, it is now clear that the new god of "science" so many have accepted as a guiding light in these times has failed, yet again. Science is important, of course, but thinking that it will always be exclusively correct and rightly guided is the issue here. The fact is that the "science" has not been clear throughout and misjudgements have been made. That being said, it is commendable that scientists have pushed through and established basic facts for the governments to follow.
Despite the science catching up and proving that masks are an effective measure to stop the spread of the virus, governments and leaders ignored the facts – or used them for their own political purposes. Though many countries across the world enforced wearing masks in public spaces and dished out fines to those who refused to, some of the top leaders of the world paid no heed.
This, undoubtably, has led to more deaths and suffering. Only recently, after continuous debate, has the United Kingdom "mandated that people wear masks inside shops and supermarkets in England, putting an end to months of equivocation on the matter." (nytimes.com, 14 July 2020)
Scientists have been clear that the delay of introducing masks, despite the urge from experts, has led to thousands of deaths that could otherwise have been prevented. The story is very similar in the USA, where new cases continue to rise rapidly and the president has only recently been spotted wearing a mask in public.
Some countries are to be commended, who made the masks mandatory in public spaces very early on and thus prevented suffering on a mass scale. Venezuela, Vietnam, China, the Czech Republic, Slovakia, Bosnia, Colombia, the United Arab Emirates, Cuba, Ecuador, Austria, Morocco, Angola, Benin, Burkina Faso, Guinea, Sierra Leone and many other nations kept politics – or whatever else kept others from what is now known to be a means of prevention – aside and focused on the safety of the nation.
Voices are now calling out to political leaders and governments around the world to realise their real duties and become leading examples in helping to curb the virus, setting politics aside. The coronavirus response has unequivocally unveiled deep problems within our society. The welfare of humanity and spending all our energy in stopping further deaths and suffering should be at the top of the list.
Where countries like New Zealand must be commended, other leaders have really let their public down. This has unquestionably served as a lesson for the wider public. With elections coming this year for many countries, people are now, more than ever, having to rethink their choices.
Islam says to cast our votes with "justice"; to overlook our own wants and vote for the person most deserving. The future of Covid-19 is still uncertain. A recent study by King's College London found sharp drops in patients' antibody levels three months after infection.
"'People are producing a reasonable antibody response to the virus, but it's waning over a short period of time and depending on how high your peak is, that determines how long the antibodies are staying around,' said Dr Katie Doores, lead author on the study at King's College London." (theguardian.co.uk, 12 July 2020)
What was earlier declared by some medical professionals as a minimal threat, scientists and researchers are now warning of winter coronavirus peaks. The Academy of Medical Science has issued a recent warning to the UK that a second wave is imminent in winter and could be worse than the first, therefore appropriate measures and preparations must be made.
With such threats lingering on, it is time for world leaders to focus on the welfare of humanity and ignore any vested interests. The protection of human life is what all leaders are being urged to bear in mind. Whether we like it or not, we are in this together and, as has now become clear, this novel virus does not discriminate.