Hibatul Mohsin Abid, Mohtamim Tabligh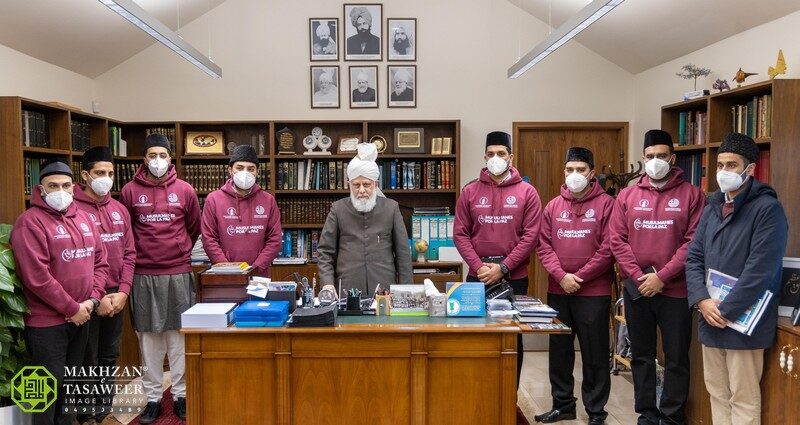 On 19 February 2022, all the members of Majlis Khuddam-ul-Ahmadiyya UK who are taking part in the tabligh tour of Argentina gathered in Islamabad, UK.
A request for a send-off congregational du'a from outside the office was submitted to Hazrat Amirul Momineenaa a few weeks ago which beloved Huzooraa accepted.
However, instead of praying outside, Huzooraa allowed us to have a mulaqat in his office and despite Huzoor's busy schedule, he graced us with the opportunity to sit in his presence and listen to golden words of wisdom that would enable us to complete our mission successfully.
As we were entering Huzoor's office, he asked Sadr Majlis Khuddam-ul-Ahmadiyya UK, Abdul Quddus Arif Sahib, if he was also going to Argentina to which he said he was not.
After an introduction to all the members going on the trip, Sadr Sahib informed Huzooraa that Usman Ahmed Sahib, Naib Sadr MKA UK would be the amir-e-qafla – leader for the group – during the trip. I gave a briefing about the trip and that we will be travelling to Ushuaia, the southern most city of the world. Huzooraa said he knew about the trip as he has been receiving regular updates and reports.
Huzooraa asked who could speak Spanish. I informed Huzooraa no one could. I also said that we tried learning some Spanish phrases but they did not stick in our minds and that we would have Marwan Sarwar Gill Sahib, an Argentinian missionary to help us.
Then Huzooraa pointed to the hoodies and said we should at least know what was written on them. Huzooraa read what was written on them [Musulmanes Por La Paz] and asked how it was pronounced and what it meant.
I said it translated to "Muslims for Peace".
Huzooraa said we could get something recorded [in Spanish] and play it when giving a leaflet so that the message could be conveyed to people. Huzooraa then said that our job was to convey the message of Islam but it was up to the individuals to believe or not to believe.
Then, Huzooraa said that, along with du'a, hard work was also needed. We are meant to work hard and with virtuous intentions.
"You are going for [tabligh] work. You can do sightseeing later," Huzooraa said.
Then beloved Huzooraa, while smiling, very lovingly asked "Mujh se kiya chahte ho?" (What do you need from me?).
I requested Huzooraa to provide us with guidance for this trip.
Huzooraa reminded us to give emphasis to prayer, nawafil (voluntary prayers), and remembrance of Allah (zikr-e-ilahi).
Sadr sahib then requested Huzooraa to lead us in silent prayer. Huzooraa led us in a silent prayerfor a very long time.
After finishing the silent prayer, Huzooraa quoted a couplet of the Promised Messiahas:
ہر‭ ‬طرف‭ ‬آواز‭ ‬دينا‭ ‬ہے‭ ‬ہمارا‭ ‬كام‭ ‬آج
جس‭ ‬كى‭ ‬فطرت‭ ‬نیک ‬ہے‭ ‬وہ‭ ‬آئے‭ ‬گا‭ ‬انجام‭ ‬كار
After this, Huzooraa very lovingly reminded us again of the instructions and guidance he provided earlier. Huzooraa re-emphasised the importance of prayer and especially nawafil (voluntary prayers).
Before a group photo, Sadr sahib informed Huzooraa that Asef Hadi Sahib from MTA International had safely reached Argentina. Asef Sahib has been sent on this trip by Huzooraa to create an MTA documentary of this trip. Them all the members had the blessed opportunity to have a photograph with beloved Huzooraa.
We then left the room silently but being full of emotions and enthusiasm after having listened to such inspirational words from our Khalifa, alhamdulillah.
After Zuhr and Asr prayers, everyone arrived at Aiwan-e-Mahmood where transportation to Heathrow Airport was arranged.
After check-in and security checks we boarded a flight to Madrid, Spain, and then boarded a connecting flight to Buenos Aires. On 20 February 2022, at 8:15 (GMT-3), we arrived in Buenos Aires, Argentina.
After some rest and lunch, the team members went to the newly acquired mission house, offered Zuhr and Asr prayers, and then attended the Jalsa Yaum-e-Musleh-e-Maudra along with the local Jamaat members. The local Jamaat members introduced themselves and narrated their stories of how they converted to Islam Ahmadiyyat, which were very emotional.
We were hosted at one of the biggest radio stations of Argentina, Radio Continental, where the director himself welcomed us, hosted us, had photos taken with us and spent 30-40 minutes with us. We discussed Islam Ahmadiyyat, shared Huzoor's message and told him about the aim of our tour.