Last Updated on 12th March 2021
Ataul Mujeeb Rashed, Missionary-in-Charge UK
It was a historic address in 1944 when Hazrat Mirza Bashiruddin Mahmud Ahmadra announced that he was the embodiment of the great prophecy vouchsafed to the Promised Messiahas regarding a special promised son. Since that time, Ahmadi Muslims all around the world commemorate the day of the fulfilment of this prophecy on 20 February, known as Yaum-e-Musleh Maud (Promised Reformer Day).
The prophecy of Musleh-e-Maud contains 52 qualities which are attributed to Hazrat Mirza Bashiruddin Mahmud Ahmadra.
In his Friday Sermon on 19 February 2021, Hazrat Amirul Momineenaa spoke on the aspect of the prophecy that says, "he shall be filled with secular and spiritual knowledge." He gave faith-inspiring examples from the life of Hazrat Mirza Bashiruddin Mahmud Ahmadra when he was still in his youth. Though he did not have any formal education, according to the divine promise, Hazrat Musleh-e-Maudra was filled with both secular and spiritual knowledge.
Rawah-ud-din Arif Khan Sahib, a UK missionary reports that this year, due to the unprecedented times, a physical gathering at mosques was not possible. However, missionaries of Jamaat-e-Ahmadiyya UK took this opportunity and invited Ahmadis to commemorate this day online while in the comfort of their homes. More than 40 online Musleh-e-Maud Day Jalsas were held across the UK on local, regional and national levels.
On another occasion, Hazrat Khalifatul Masihaa expressed his desire for the youth to be introduced to all the various aspects of this prophecy. Thus, missionaries enlightened the young and old through speeches, presentations, quizzes, and question and answer sessions on this topic on various online platforms.
Missionary-in-Charge UK Ataul Mujeeb Rashed Sahib, General Secretary Rana Mashood Ahmad Sahib, and Rafiq Ahmed Hayat Sahib Amir Jamaat UK delivered speeches at the National UK Jalsa of Musleh-e-Maud Day. Ataul Mujeeb Rashed Sahib also addressed a Richmond Park Jamaat meeting.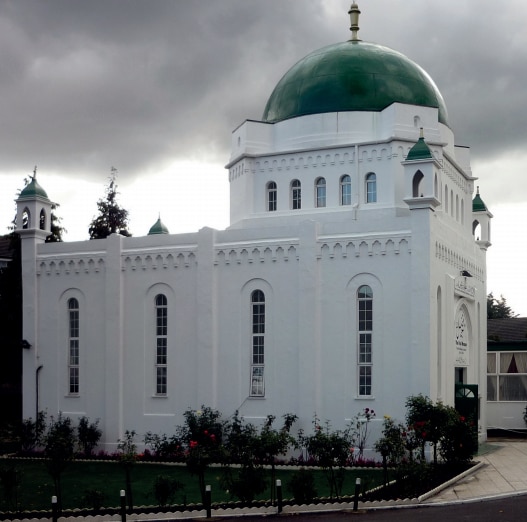 Rawah-ud-din Arif Khan Sahib delivered a presentation addressing Glasgow Jamaat.
Qureshi Daud Ahmad Sahib addressed Dundee and Edinburgh Jamaat as well as Majlis Ansarullah of Glasgow.
Slahudin Mir Sahib gave a speech to the members of Spen Valley Jamaat.
Rabeeb Ahmed Mirza Sahib enlightened Majlis Ansarullah of Slough, Hounslow East and Hounslow North with his lecture.
Naseem Ahmad Bajwa Sahib delivered a speech to Baitul Futuh East, Worcester Park and Merton Park jamaats.
Tahir Selby Sahib addressed Hartlepool and Newcastle jamaats as well as Midlands region.
Rana Mashood Ahmed Sahib delivered a speech at the National UK Jalsa Yaum-e-Musleh-e-Maud.
Imran Ahmad Khalid Sahib gave an address to Mosque East Jamaat.
Raza Ahmed Sahib addressed South region.
Sheikh Sharjeel Ahmad Sahib gave a lecture to Balham Jamaat.
Saad Mahmood Bajwa Sahib delivered a speech to Guildford Jamaat.
Syed Mashood Ahmad Sahib addressed Aldershot Jamaat.
Hafiz Aneeq ur Rehman Sahib gave speeches to Leeds, Sheffield and Doncaster Jamaats.
Mubarak Ahmed Basra Sahib addressed Bradford North Jamaat.
Tahir Khalid Sahib gave a lecture to the National Al Hafizun and Madrasatul Hifz UK.
Burhan Ahmad Raja Sahib addressed Islamabad Jamaat.
Ammar Ahmad Sahib delivered a speech to Devon and Cornwall Jamaat.
Dawood Ahmed Abid Sahib addressed Farnham Jamaat.
Humayun Uppal Sahib delivered lectures to Reading and Woking jamaats as well as Khuddam and Atfal of Bashir Region and Atfal of Muqami region. He also addressed Majlis Ansarullah of Oxford, Reading and Woking jamaats.
Faiz Ahmad Zahid Sahib addressed Thornton Heath South, Bexley and Greenwich, Thornton Heath and Norbury Jamaats. He also addressed South region.
Humayon Jahangeer Khan Sahib gave a speech to Walsall and Birmingham West jamaats.
Shahil Munir Ahmed Sahib and Laiq Ahmad Tahir Sahib delivered an address to Liverpool Jamaat.
Sabahat Karim Sahib and Mansoor Zia Sahib gave a lecture to Huddersfield South and North jamaats.
Muhammad Ahmad Khurshid Sahib and Akhlaq Anjum Sahib addressed North West region.
By the grace of Allah the Almighty, over 50,000 members of Jamaat-e-Ahmadiyya UK and abroad got the blessed opportunity to revive their faith by listening to inspirational lectures online given by 30 missionaries of the UK Jamaat.
May Allah the Almighty elevate the rank and status of Hazrat Musleh-e-Maudra. Amin