Talha Saifi, Mohtamim Ishaat MKA USA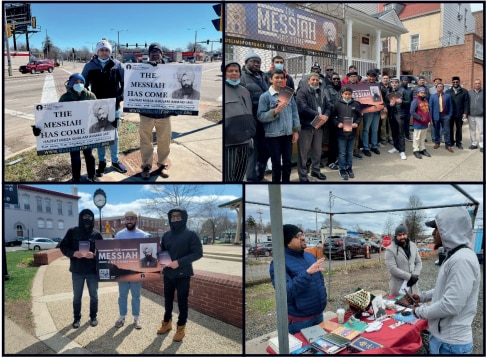 Mabroor Ahmad Sahib reports that Majlis Khuddam-ul-Ahmadiyya held "The Messiah Has Come" tabligh event at a national level on 27 March 2022.
Due to the Covid-19 pandemic, the event could not be held in the previous years, but this year's event was back in full swing as Khuddam from various majalis took on the initiative and brought the message of the Promised Messiahas and Islam to the streets of America, in 18 different locations, including Fitchburg, Seattle, Philadelphia, Queens, Bronx, Brooklyn, South Virginia, Baltimore, Milwaukee, Connecticut, Los Angeles, Willingboro, Bay Point, Fort Worth, Tampa, Atlanta, St Louis and Sacramento.
Before going out onto the streets, the Khuddam met up at their mosques and watched a presentation that explained the messaging of the flyers, general etiquette and much more about the event.
In places such as New York and Milwaukee where the weather was really cold and, in some areas, snowing, Khuddam still showed up to take part in the blessed event.
During this event, new and improved signboards and flyers were used. The flyers contained three questions relating to God. The questions were:
• Does God Care?
• Does God talk to us?
• Does God love everybody?
These questions were answered using various quotes and excerpts from the Promised Messiah's books.
An estimated 2500 flyers were handed out by the Khuddam in various locations.
Along with the flyers, a newly designed signboard was also introduced. The new feature on the signboard was a QR code that directed passers-by to the website.
The website, "MuslimYouth.org" was re-launched this year with new and improved features. Since the re-launch on 23 March, already more than 200 visits to the website have made requests for more information to connect.
Along with the website, a new YouTube channel was created with the release of the first video which included a short social experiment along with an introduction to the contents that were highlighted in the flyer. With the rising tension in the world due to war, it was deemed necessary to introduce the message of peace brought by the Promised Messiahas.
Some feedback from external contacts regarding the video was received. One of these external contacts said "The video was informative and thought-provoking."