Madeel Abdullah, Sadr Majlis Khuddam-ul-Ahmadiyya USA
On 11 February 2021, Majlis Atfal-ul-Ahmadiyya USA received news that Hazrat Amirul Momineenaa had graciously accepted our request for a virtual mulaqat to take place on 28 March 2021, at USA Headquarters, Bait-ur-Rehman Mosque in Silver Spring, Maryland. This mulaqat was approved for Atfal living within driving distance of Jamaat USA's headquarters.
Majlis Atfal-ul-Ahmadiyya USA started preparations and decided to select Atfal from four regions (East, New York, Maryland, Virginia) adjacent to Headquarters. This included majalis from the US states of Maryland, New Jersey, New York, North Carolina, Pennsylvania and Virginia.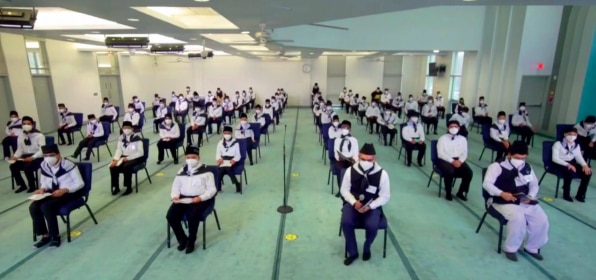 Nearly 200 Atfal applied for a chance to attend this virtual mulaqat with beloved Huzooraa, of which 60 Atfal were selected.
Due to Covid-19 safety protocols, neither Atfal, nor the administration could gather at the headquarters for any preparation or rehearsal. Therefore, we utilised technology and conducted sessions with parents and volunteers via Zoom meetings. We benefited by watching recordings of other such mulaqats held with majalis of Canada, Australia and Germany.
For the presenters, a technical rehearsal was held at the USA headquarters, a week prior to the virtual mulaqat.
The programme started at 12:35 pm EST, with a recitation from the Holy Quran.
After the initial programme, Huzooraa graciously allowed the Atfal to ask questions. Atfal of various ages asked various questions for about 45 minutes. Huzooraa gave detailed answers to the satisfaction of Atfal. All Atfal thoroughly enjoyed the conversation with Huzooraa, which was conducted in a light-hearted environment.
We are immensely thankful to Allah the Almighty for the blessings of Khilafat and providing means for our youth to be guided by beloved Huzooraa.
A few impressions of the Atfal are as follows:
Al-Ameen Adewusi Sahib, from Baltimore majlis, said:
"When I stood to deliver the translation of the recitation of the Holy Quran, Huzooraa asked me if I was Ghanaian, to which I responded in the negative, and that I was instead from Kano, Nigeria. Huzooraa then lovingly asked me the pronunciation of my name, which was surely special for me, but also, I know my family will definitely be overjoyed to learn of when I get home and share all of the details with them."
Qaasim Malik Sahib, from Maryland majlis, said:
"My special request to beloved Huzooraa was that Huzooraa allow me to read a few verses of a poem my mother and I wrote for beloved Huzooraa. Huzooraa instructed that if Sadr Sahib Majlis Khuddam-ul-Ahmadiyya allowed, then I could read my poem. I looked towards Sadr Sahib and he kindly gave permission. I was nervous, but also excited to be expressing my sentiments of love, to my most beloved. Huzooraa afterwards remarked that I was a good poet, which filled me with a warmth and joy that I cannot contain into words. It was an unforgettable moment that I will cherish forever."
Mohammad Iqbal Khan Sahib, National Secretary San'at-o-Tijarat, Majlis Atfal-ul-Ahmadiyya USA, said:
"Another moment that brought about a small laugh and put a smile on my face was a young tifl who requested Huzooraa to lead his amin. Huzooraa graciously mentioned that he would lead his amin in person after the pandemic subsided, and even if the Talim-ul-Quran department said he was too old, he would lead it in his own home. Huzooraa, out of his immense grace, even allowed the young tifl to recite Surah al-Ikhlas. The particularly sentimental and sweet moments just go to show the beautiful connection Huzooraa has with all Ahmadis – be it young or old, boy or girl. Huzooraa is our most beloved and he makes each of us feel loved."