Syed Mukarram Nazeer, Canada Correspondent
Jamaat-e-Ahmadiyya British Columbia region has been hosting a "World Religion Conference" in the city of Kelowna and Vernon since 2005 and 2018 respectively. Both cities are situated in the Okanagan Valley located in the south eastern part of British Columbia, approximately 400 km from Baitur Rahman mosque, Vancouver. This year's virtual event permitted both these cities to have the World Religions Conference concurrently, on 16 November 2020.
This event has the following goals and objectives:
1. To explore teachings and practices of different religious and philosophical traditions, with the hope that such mutual exploration will encourage better understanding and promote harmonious co-existence among members of Canada's cultural mosaic
2. To strive to bridge the gap between diverse communities and to demonstrate that we can live together in spirit of acceptance, harmony and compassion
3. To promote interfaith respect, harmony, inclusiveness and diversity. It inculcates mutual understanding and respect between different faith traditions and philosophies of the world. It promotes respect, harmony and cohesion among all people.
The event was organised under the supervision of Regional Coordinator Tabligh British Columbia, Rizwan Peerzada Sahib. Majlis Khuddam-ul-Ahmadiyya Abbotsford, British Columbia played a crucial role in the promotion of the event.
The event was promoted using multiple campaigns on a variety of media. The Facebook campaign garnered 7,163 views, 74 comments and 51 reactions, while Instagram had 2,109 views, 7 comments and 36 reactions. This was the first time a video in native language was made and promoted.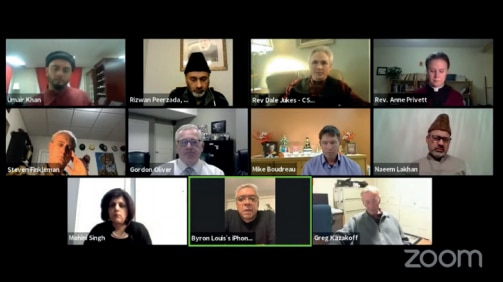 Print media campaign had 472,277 impressions with 538 clicks spread over six different venues.
Radio and newspaper advertisements campaigns promoted the event at local level. Okanagan TV interviewed the Missionary of British Columbia, Umair Khan Sahib, and helped promote the event locally.
The conference started at 6pm with the recitation of the Holy Quran by Qaid Khuddam-ul-Ahmadiyya Abbotsford, Mirza Naveed Sahib. The event was moderated by Okanagan Indian Band Chief Byron Louis, who is also the first Chief in Canada to moderate a World Religions Conference.
City of Kelowna Councillor, Mrs Mohini Singh welcomed all attendees on behalf of the city.
Regional Amir British Columbia, Mr Naeem Ahmad Lakhan Sahib introduced the event while Missionary-in-Charge Canada, Abdul Rashid Anwar Sahib, introduced Islam and Ahmadiyyat.
"Religion in the time of adversity, help or hinderance" was the topic for this year.
The following seven speakers represented their respective faiths:
1. Baha'i: Mrs Eva Strom
2. Buddhism: Mr Mike Boudreau
3. Christianity (Anglican Church): Reverend Anne Privett
4. Christianity (The Jesus Christ Latter Day Saints Church): Mr Gordon Oliver
5. Judaism: Dr Steven Finkelman
6. Living Spirituality: Rev Dale Jukes
7. Islam: Missionary Umair Khan Sahib
YouTube had 237 online clicks, while another 32 sign-ins were recorded on Zoom. Often, many sign-ins have more than 1 person attending, thus, the total attendance was estimated to be 370 guests.