Talha Saifi, Mohtamim Ishaat, MKA USA
Faiq Ahmad Malik Sahib, Qaid MKA Los Angeles, reports that on 14 March 2021, Majlis Khuddam-ul-Ahmadiyya Los Angeles organised, under its Ishaat department, a conference named "Why should I read this?" requesting Amer Safir Sahib and Qaasid Muin Ahmad Sahib, to present the history, evolution and a few arguments to convince local Khuddam to subscribe to their respective publications. Additionally, Farhad Ahmad Sahib was also present and substituting for Abid Khan Sahib from the International Press Office, presented facts about how Hazrat Khalifatul Masihaa approaches the secular and religious publications.
The conference, recorded via Zoom, gathered more than a hundred participants and was presented in a light and friendly approach. The idea behind it was to present some historical and contemporary facts about The Review of Religions and Al Hakam for Khuddam to subscribe and benefit from the insights provided within those publications.
The meeting started with a silent prayer and the moderators took the floor in order to present the programme. Faiq Ahmad Malik Sahib, Qaid MKA Los Angeles, Asif Arif Sahib, Secretary Ishaat MKA Los Angeles and Abdullah Dibba Sahib, Missionary USA, moderated the event.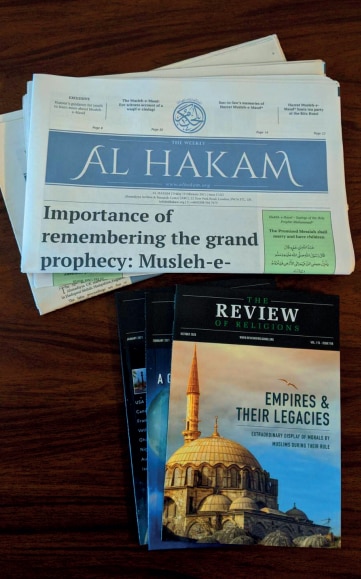 It was the first time that MKA Los Angeles was presenting a programme broadcast live through a studio constructed through the efforts of young Khuddam and guidance from Ghalib Khan Sahib, from MTA International USA.
This was a tremendous opportunity to provide enrichment to Khuddam during the pandemic via virtual content.
Amer Safir Sahib presented some facts in relation to Hazrat Khalifatul Masihaa and The Review of Religions and all the participants realised how critical the USA plays a role in laying down the foundation of this historic publication.
Launched by the Promised Messiahas, The Review of Religions helped many Americans to convert to Islam Ahmadiyyat. The example of Dr Baker is worth quoting. Amer Safir Sahib stated:
"Mufti Sadiq Sahibra, when he reached American, settled in Philadelphia. In fact, the first convert of Philadelphia was converted through The Review of Religions. Huzooraa mentioned in his sermon that he was the first convert in Philadelphia. On his grave, and Huzooraa visited it, it is written that he was a convert through The Review of Religions".
Qaasid Muin Ahmad Sahib then presented how Al Hakam, also launched during the Promised Messiah'sas time was equally important. Qaasid Sahib mentioned, in particular, how "we are looking, in the current world, for our identity. These publications are in fact our identity as a Jamaat."
At the end of the programme, Farhad Ahmad Sahib presented some outstanding facts about how Hazrat Khalifatul Masihaa was approaching mainly secular press. Very often, the International press and media department encounter that, while presenting a piece of news to Hazrat Khalifatul Masihaa, Huzooraa was already aware of it. Farhad Sahib mentioned that Huzooraa has very good knowledge of every country that he has visited and was always up to date regarding the news.
At the end of the event, and before the questions and answers, Tariq Malik Sahib, a waqif-e-zindagi, in-charge of The Review of Religions USA, presented the importance of subscribing to The Review of Religions and all the members of the audience were reminded to download the Al Hakam application and to subscribe to those publications.
In fact, during the programme, many Khuddam discovered new historical facts that further encouraged them to subscribe to The Review of Religions and Al Hakam to help deepen their understanding of how these publications are the fruit of our history and our identity as a Jamaat.