Atif Ahmed Zahid, Regional Missionary, South Australia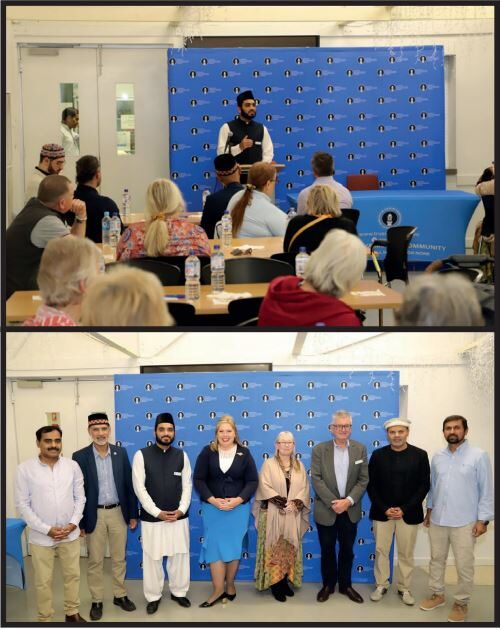 On 20 April 2022, Jamaat-e-Ahmadiyya Adelaide South organised a unique event; "Iftar dinner with your local Ahmadiyya Muslim community" in collaboration with the Christie Downs community house.
This event was unique in the sense that it was the first time that the Jamaat organised any event about the Holy month of Ramadan outside the premises of the Jamaat.
Preparations for the event began two weeks in advance. A team was formalised with dedicated duties assigned to them. A flyer was designed highlighting the purpose and details of the event.
The event was promoted through social media. Individual invitation letters were also sent to dignitaries and tabligh contacts.
On 20 April, Jamaat members arrived earlier at the community house to set up for the event. The main hall was prepared for the formal proceedings, a relatively small hall adjacent to the main hall was organised for prayers while an exhibition on Islam and a bookstall were set up at the entrance in the foyer area.
The formal event started at 5 pm with the recitation from the Holy Quran, followed by a short presentation on "The significance of the Holy month of Ramadan and its blessings", and a question and answer session.
All members opened the fast (iftar) and Maghrib prayer was offered, meanwhile, the guests were invited to observe the prayer. For many guests, it was a very unique learning experience about the Islamic prayer.
After the prayer, dinner was served to all the guests and informal discussions on different topics of Islam continued.
More than 60 tabligh guests and five dignitaries attended the event.
Some of the comments of the guests are given below:
Katrine Hildyard MP said:
"It's been such a pleasure and an honour to be here tonight at the wonderful Christie Downs community house with the members of the Ahmadiyya Muslim community. Thank you to everybody who has brought us together tonight, to learn more together as a community about the holy month of Ramadhan, fasting, about the deep period of reflection, spirituality, prayer and charity. That is what is at the core of the holy month of Ramadhan. Thank you so much for generously sharing your culture with us, for teaching us more, and through doing so bringing us together as a community in harmony to celebrate diversity, and build much stronger connections, there's a very special gift for you to do that. Thank you also to every member of the Ahmadiyya Muslim community for always living your value of 'Love for all, Hatred for none'. You make our community a stronger place, a better place, a kinder and much more deeply connected place. Thank you so much for having me and everybody here this evening. I certainly look forward to all that we can do with and for our community together into the future."
Councillor Geoff Eaton said:
"This is the third of your events that I have actually been to since being appointed a councillor back in 2018. I really got to say that the interaction with your mosque and your community is excellent. It's really an example that can be shown to the rest of Australia; how your community have integrated with our community and how much you are helping our community, so that's a big bonus."
Councillor Jason Haskett said:
"I was really happy to be invited here tonight to break the fast for Ramadan. Thank you for your generosity and warmth and to get more of an insight into your culture and your religion. Thank you."