Al Fazl, 2 December 1920
Hazrat Maulvi Abdur Rahim Nayyarra
"I would cut off your head if I could"
England is an independent country and its inhabitants are considered liberal. Certainly, a section of its people is unbiased and open-minded, but some of them are still under the influence of Christian prejudice.
A few days ago, a friend took me to YMCA (Young Men's Christian Association). There, I first spoke to an African-American. He got upset after hearing the Islamic belief about the death of Jesusas and said, "I would cut off your head if I could."
English women were also present in the room, including the housekeeper. Thinking that these English women would express displeasure at the comment of this black man, I turned towards them and repeated the said sentence.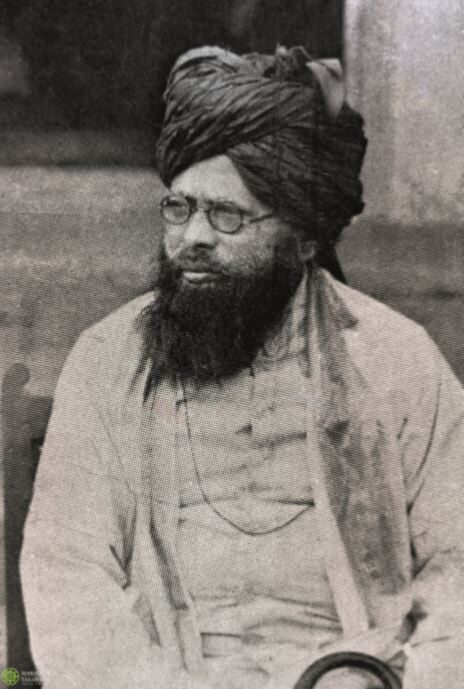 However, I was completely surprised when I heard the soft-hearted white Christians of the Young Men's Christian Association address me with the utmost conviction that, "Yes! I would [have also cut off your head] if I could."
The best way for an Ahmadi to respond towards such conduct is to pray for their guidance, in accordance with the teachings of the Promised Messiahas, and leave that place.
African brotherhood
A society by the name of United African Brotherhood has been formed by the African people. Recently, one of its conferences was held at the house of our friend, Ahmad Ibrahim Thomas. I was also invited to it. The speakers delivered speeches with political zeal and called for establishing mutual unity. They also emphasised on proving their superiority over the white man.
During his speech, an African American said:
"Europe has received all knowledge of religion and civilisation from Africa. Even the name of this continent has been given by us. Europe means the land of no sun. As our people came from lands that benefited from sunlight, they called this cold continent the land of no sun, or Europe, because the sun shines less often over here."
I also gave a short speech at the conference and advised them to leave Christianity and convert to Islam, to learn the lessons of brotherhood, to reform themselves and to progress gradually with moderation, patience and hard work. Many European women who had married African men were also present there. By the grace of God, [my speech had] a good effect on everyone.
Lecture in East Finchley
Finchley is an area in north of London. I went there to give a speech at the invitation of a women's society. The name of the society is Women's Guild. The gathering was arranged in a room of the Wesleyan church. More than 60 women were present there. The subject of the lecture was, "What Britain and India owes to each other".
In the speech, I mentioned the benefits that the two countries had enjoyed from each other. Moreover, acknowledging the former services of England, I told the audience that India presents an Indian Prophet to the people of Britain in return for their good works. I also conveyed the message of the Ahmadiyya mission and the teachings of Hazrat Jariullah [the champion of Allah] and people were glad [to hear it]. Ahmadiyya literature was then distributed to the audience.
Lecture in Watford
There is an area called Watford on the outskirts of London. It is twenty-five miles from the city centre. One of its societies invited us to deliver a lecture. At their request, I went there on 2 November [1920]. More than a hundred men and women were gathered there. The title of the lecture was "Family life in India".
In the speech, apart from discussing happiness, sorrow, dress and habits, I talked about religion as well. Then eventually, I mentioned the reforms that came about, which are still taking place, in India through the teachings of the Promised Messiahas.
Furthermore, I mentioned the instructions laid down by the Holy Prophet, peace and blessings of Allah be upon him, regarding the rights of women in times of joy and grief. The full speech lasted for one and a half hours and then a question and answer session took another half hour. Everyone unanimously expressed thanks and liked the speech, alhamdolillah.
Speeches at home
In addition to outdoor gatherings and speeches at various societies, regular lectures are held at home as well. Hence, last Sunday, Chaudhry Fateh Muhammad Sayal Sahib delivered a lecture on the topic of "Unity of East and West" at the Ahmadiyya Lecture Room.
The erudite speaker presented his lecture brilliantly and proved that the unity of East and West is possible only through Islam, the acceptance of which can end differences and lead to unity and peace. Esteemed Chaudhry Sahib said:
"Three religions are worth mentioning in this speech: Hinduism, Christianity and Islam. Hinduism has cut off the roots of equality, justice and peace by making caste and race a part of religion. On the other hand, discrimination began in Europe under Christianity.
"Europe was a [unified] nation at first, but it was divided into countries. After the division of countries, they were divided into smaller groups. At present, there is so much animosity between the labourers and the merchants, or the labourers and the landlords, that they are ready at each other's throats. Similar incidents are taking place in Russia as well.
"Thus, how is it possible for those who are themselves falling apart to create unity in the world?
"India did not benefit from Christianity. There is no harmony and compassion between the ordinary Christians [of India] and the English people. In the same way, the Brahman-Christians look down on the 'chuhra' [lowest caste in Indian] Christians.
"Hence, Islam is the only religion through which unity and peace can be established amongst mankind. In Islamic civilisation, there is neither any conflict of caste, nor any differences and enmity among various groups. The followers of Islam consider each other as brothers."
Tabligh
Certain eminent and highly learned people are under being preached. We request members of the Jamaat to pray for them that Allah the Almighty may enlighten them with the light of Islam. Moreover, may He accept our prayers and hard work and overlook our shortcomings.
Al Fazl, 6 December 1920
Donations for Mufti Sahib's magazine
1. By the grace of Allah, I promise to give a monthly donation of five rupees for the magazine that Hazrat Mufti Sahib wants to publish from America. May the expenses for this magazine be arranged soon and may it start publishing in the near future.
Humbly yours, Inayatullah (Sub-Inspector, Bank Zamindara), Bahlolpur
2. I promise to donate one dollar annually for the English magazine, which will be launched by Hazrat Mufti Muhammad Sadiq Sahib from America. The dollar will be sent according to the instructions as soon as its publication starts, insha-Allah.
(Muhammad Ali Ahmadi, Dera Ghazi Khan)
3. This is to inform you that all the employees of the Promised Messiah'sas langar khana [a place funded by charity, offering free food and accomodation to all] and guesthouse want to present a donation of 15 rupees annually for the launch of Hazrat Mufti Muhammad Sadiq Sahib's proposed Ahmadiyya magazine from America. They will start submitting one rupee and four annas [a unit of currency formerly used in the subcontinent, equal to 1/16 of a rupee] monthly in the accounts office of Sadr Anjuman Ahmadiyya from their salary of November 1920, insha-Allah.
Wassalam, Muhammad Din, Clerk at Langar Khana, Qadian
Honourary magistrate accepts Islam Ahmadiyyat and other tabligh efforts
First class courtier, kursi nasheen [successor of a sufi], prominent and esteemed Khan Sahib Chaudhry Muhammad Khan Sahib Zaildar, Honourary Magistrate, Gujrat, is the brother of Khan Sahib Chaudhry Fazal Ali Khan Sahib, First Class Honourary Magistrate and President Municipal Committee, Gujrat.
He had already allowed Ahmadis to pray in their mosque. Now he has sincerely accepted the rightful Ahmadiyya Jamaat and written the following letter to Hazrat Khalifatul Masih IIra:
"In the name of Allah, the Gracious, the Merciful.
"Peace and blessings of Allah be upon the Holy Prophet.
"To His Holiness, Khalifatul Masih, may Allah prolong his life. Assalamo alaikum wa rahmatullahi wa barakatuhu!
"I sincerely believe in the Promised Messiahas and join his truthful Jamaat and accept all of his claims. [I promise] to follow all the conditions of Bai'at and I request you to accept my Bai'at and pray for my religious and worldly betterment. Moreover, especially pray that may God grant me the strength to do good deeds, protect me from evil paths, give me perseverance and make me beneficial for the Jamaat.
"Humbly yours, Muhammad Khan, Honourary Magistrate, Gujarat, Punjab"
New postal address of Hazrat Mufti Sahib
Hazrat Mufti Muhammad Sadiq Sahib went through a lot to find a suitable house in Chicago due to the impediments placed in his way by the bigoted Christians. His current postal address is: 4334 Ellis Avenue, Chicago, Illinois, USA …
Patiala Jamaat introduces resolution – The need for a college in Qadian
A meeting was held on 31 October 1920 in the presence of Dr Hashmatullah Sahib and members of the Jamaat at the Ahmadiyya Mosque, Dhak Bazar. The following proposals were presented in the meeting by Sheikh Muhammad Afzal Sahib, Secretary Patiala Jamaat and passed. They were then sent to be presented before Hazrat Khalifatul Masih for approval and it was requested that if Huzoorra considers it to be appropriate, he may appeal to other Anjumans in this regard. Anjuman Patiala Jamaat is ready to donate as much as it can for this cause.
1. All members of the Jamaat should try to send their children to study in Qadian.
2. The educational institute of Qadian only offers education up to intermediate level. People want to acquire education up to BA [Bachelor of Arts]. Some of them want to educate their children up to BA or MA [Master of Arts], so students have to enroll in other educational institute. As admission in other institutes causes a negative effect on some innocent natured children, it is best if education up to MA level is established in Qadian.
(Muhammad Hussain Ahmadi, Assistant Secretary, Patiala)
Tabligh in Raotiani
On 18 November [1920], Hafiz Ghulam Rasul Sahib came here [in Raotiani] and delivered many sermons before the people, who are generally unfamiliar with religion. By the grace of God, the sermon he gave in Wapa 34 had a very positive impact. The women also listened to the sermon while observing purdah. May Allah the Almighty help people to understand.
(Muhammad Akbar Zamindar, Wapa 34, President Anjuman Ahmadiyya, Raotiani)
Tabligh in Shakargarh
Sheikh Chirag Din Sahib Munshi Fazil has been engaged in carrying out tabligh in this [Shakargarh] tehsil for a month. My wife and daughter-in-law did Bai'at in Mauza Dudhu.
(Sharfuddin)