Al Fazl, 12 & 15 June 1922
Hazrat Maulvi Abdur Rahim Nayyarra (1883-1948)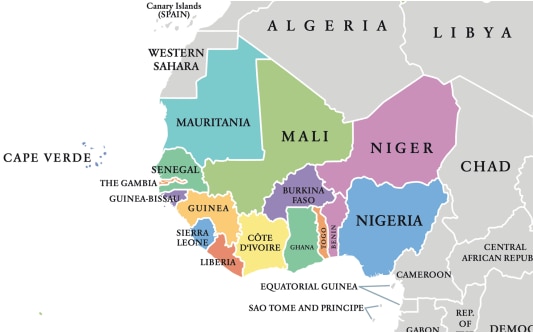 Apologies
I ask for pardon and apologise for not being able to enlighten the readers of Al Fazl [through my reports] in the last few weeks due to my busy schedule and poor health.
Why is there opposition here?
The opposition to the truth is inevitable and I am experiencing this. The non-Ahmadi ignorant alfas [maulvis] started preaching against the Jamaat when they found the people interested in the truth and inclined towards the true message of Islam. They did so because after becoming an Ahmadi, no Muslim is bound by amulets and polytheistic rituals and thus there is no chance that these hunters of faith can deceive anyone. Moreover, they cannot enjoy the meats presented by the people.
Tabligh efforts
With the support of Allah the Almighty, the following tabligh activities are being carried out on regular basis:
1. Daily dars [religious sermons] of the Holy Quran and hadith.
2. Dars for women three times a week.
3. There are two lectures on Sundays, one from five to seven o'clock and the other from 7:30 to 9:30. The former is for young people and the latter is for older people. This division has to be done due to space constraints.
4. Outdoor lectures.
5. Friday Sermons.
6. Individual preaching.
Structure of the Lagos Jamaat
The city of Lagos has been divided into three parts and each division has several districts. Majlis-e-nazim of each division has been formed separately. The work has been started. In one division, Ahmadis were expelled from the mosque [of non-Ahmadis]. Therefore, it has been proposed to build a new Jalsa Gah and a mosque. The proposal to build a high school is also being considered by the Lagos Jamaat. Letters are being exchanged for three and a half acres of land for mission needs. There will be a mosque and a madrasa [school] in every division, insha-Allah, and apart from them, there will be a central mosque and madrasa as well.
New jamaat
A few miles outside of Lagos [Island] is a place called Agigi. Our Jamaat is already present there. However, now our Jamaat has been established in the centre of the Nigerian Railways and in the first Nigerian city that is located on the mainland, i.e. on the [African] continent. A few gentlemen and an elderly man are proposing to build a mosque there. Thus far, around 24 people have joined that new jamaat.
How Ahmadiyyat is taking root
Despite the opposition, by the grace of Allah, the Jamaat is progressing. Thousands of people are being drawn towards the truth of the Jamaat. There is a discussion in every home [about the Jamaat]. The people are also focused on reforming themselves in general. Every Sunday, Christians convert to Islam and Muslims join the Ahmadiyya Jamaat.
Fazlur Rahman Sahib arrived on 5 April [1922] in good health. Owing to his arrival, the people have realised and therefore they are saying:
"Ahmadia Movement means business."
Some educated Christians are believing in the truth of Islam through individual tabligh and they are openly saying, "Our views on Islam have changed."
Al Fazl, 15 June 1922
Lectures in the city and tabligh in general
A series of outdoor lectures has been started in the hall and in the city. The series of dars [religious sermons] of the Holy Quran and hadith is going on unabated. Those books of the Promised Messiahas that are available in English translation are translated into Yoruba language and presented to the people. Religious sermons are being held in all the three divisions of the city and their districts. Men and women are engaged in acquiring knowledge with sincerity. African missionaries are performing their duties very well under the guidance of their amir, KR Ajose. Every Sunday, the secretary of each division reports his work and the increase of members.
Stir in the Christian community
The speeches of Ahmadi missionaries have created a stir in the educated people of Lagos. Their priests are afraid and their work as far as Muslims are concerned is over. If any educated Muslim gentleman has not yet converted to Ahmadiyyat, then they are also not converting to Christianity.
Those who have converted to Christianity are only waiting for the time when they can find a place of worship according to their social status and position. They say that when the Ahmadiyya Jamaat builds its own exceptional mosques, halls, etc., then it will be easier for them to join. (These are worldly notions, but before making worldly people religious, it is necessary to at least make something for them, albeit not on a large scale.) Previously, several Christian gentlemen and a few days ago, a pastor said to me, "Our views on Islam have changed completely." There is a stir in the Christian community.
The pitiable state of Muslims
I have been on the West African coast for over a year. There are people here who understand Arabic and are acquainted with the issues. They sometimes say to people:
"It is time for the appearance of the Mahdi. The signs have been fulfilled. There is no other voice except for the Ahmadiyya Jamaat which says that Mahdi has appeared, so we must pay attention."
However, on the other hand they are engaged in litigation, ignorance, innovations and all kinds of mischief, and continue to oppose the Jamaat. According to them, the major mistakes of Ahmadis are:
1. They offer salat while placing their hands on their chests
2. They abandon old rituals
3. They do not prostrate to humans
4. They educate women
5. They wear English clothes
6. They are against singing and dancing
7. They preach about a peaceful Mahdi when the Mahdi ought to have a sword in one hand and the Holy Quran in the other
Owing to the aforementioned crimes, every mischief against the Jamaat is considered legitimate and all kinds of lies are allowed. May Allah have mercy on them.
A strange question and the ignorance of the alfas [maulvis]
During the question-and-answer session, a person asked a strange question as to whether a person born feet first would enter Paradise or not. Upon receiving the answer, the questioner said that a man was very rich and was a Muslim but he was told by the alfas that he would not enter Paradise because he was born feet first, so he apostatised and became a Christian and built a magnificent church. There are many similar orders that led the children of most Muslims to convert to Christianity.
Bai'at of a chief from inland Nigeria
Last Saturday and Sunday, I went to a village eleven and a half miles away. Imam Qasim Ajose was with me as an interpreter. Three jalsas were held at three different places. Muslims from 24 villages attended those tabligh gatherings. Their chief, Mr Ibrahim Lewis took bai'at. This honourable man has always been an admirer and a supporter of the Jamaat. His house is the centre of the Jamaat in Lagos. Despite strong opposition, he continued his affectionate relationship and now, after much deliberation, he has entered into the bai'at of Hazrat Khalifatul Masih II[ra] at the hand of this humble one. In this way, Allah the Almighty has blessed us with a new jamaat.
Inauguration of a mosque
Abruda village has been made the markaz [centre] of the new division and this new division has been named Agigi. A remarkable mosque has been built by the new convert chief in the markaz. I inaugurated this mosque on Sunday and appointed Mr Muhammad Sawal Lewis, a sincere educated Ahmadi, as the imam and missionary in-charge of the new mosque. May Allah bless their work.
Christianity has gained a foothold in the villages here. Extraordinary churches are being built. The work of a new missionary is difficult here but by the grace of Allah, he is a wise man. He has a gout issue, so friends are requested to pray for him.
New converts
In the days of the report under discussion, six Christians and disbelievers converted to Islam and around 30 men took bai'at, alhamdulillah.
Miscellaneous
Maulvi Fazlur Rahman Sahib helps me in work. However, his primary duty is in the Gold Coast mission and the Saltpond centre. He has started to deliver lectures and hopefully he will be able to work successfully.
We have requested the government for allotting us land for the construction of a dar-ul-tabligh [mission house]. The police officials have strongly endorsed it. We hope from Allah the Almighty that it will be approved.
From, Abdur Rahim Nayyar. 26 April 1922.
(Translated by Al Hakam from the original Urdu published in 12 and 15 June 1922 issue of Al Fazl)