Al Fazl, 17 May 1920
As has been briefly reported in the previous issue, by the grace of God Almighty, all the obstacles that stood in the way of Mufti Muhammad Sadiq Sahib have been removed. He has been allowed to openly spread Islam in America. All praise be to Allah who made this possible!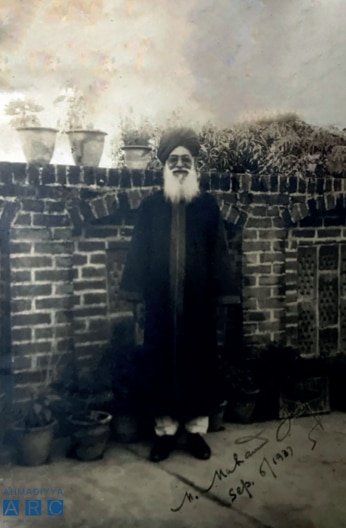 The courage, patience and perseverance with which the revered Mufti Sahib faced those impending hardships is a model of excellence and it is impossible for anyone other than a person who has complete trust in God Almighty to stand up against them.
Leading American newspapers also expressed surprise and admiration for the courage and bravery of Mufti Sahib. They were amazed to see that not the slightest bit from the spirit of this sole person dropped in the face of America's ill-treatment.
Consequently, God Almighty helped His faithful servant in front of a mighty government and showed that the one who strives hard in the way of the Almighty Allah, no matter how much they are helpless with respect to apparent means, still achieves success and triumph. One of the many divine providences underlying the hurdles placed in the path of Mufti Sahib was the achievement of this [victory], which was fulfilled with great perfection and eminence.
Taking this opportunity, where we urge our Jamaat to prostrate due to this immense bounty and blessing of God Almighty, we also say that for those people of our Jamaat who wish to lay down their lives for the spread Islam and intend to go to distant lands of the world for elevating the name of Allah, respected Mufti Sahib has set such an example and model which they should be ready to follow and adopt with sincerity of heart and true intent in the face difficulties and hardships that may come their way. This is so that God Almighty may help them in every difficulty and distress in the very same way as He supported Mufti Sahib.
On this occasion, we thank those associates and newspapers who, regardless of their religious differences, expressed sympathy in the case of Mufti Sahib. Although in principle it was their duty to do so, we still value their sense of honour and devotion for religion because they separated from those who claim to be Muslims, but are never ready and willing to do anything about Islam in practice and raised their voices against [the treatment of] America.
On the other hand, those people and newspapers (in which the periodical, Paigham-e-Sulh stands out) – who once more expressed their spite and jealousy and showed their disrespect for Islam on this occasion as well – we consider them worthy of sympathy for they will mourn and lament when they will hear about Mufti Sahib's permission to promulgate Islam in America. I wish they had not grown so much in hatred and envy so that today, they would not have to go through all this.
Last but not least, we request those newspapers, which, in their columns mentioned the detention of Mufti Sahib, to convey to their readers that by the grace and mercy of God Almighty, reverend Mufti Sahib has been granted the permission to spread Islam in America.
Now, he will freely introduce the teachings of Islam in America and bring rational, noble souls under the flag of Islam. May the blessings of God Almighty be with him and help him on every occasion and at every opportunity and grant him victory and succour in every field, so that His religion may spread across the globe and those who have attached themselves with this world may incline towards the divine religion.
Ahmadiyya mosque, Peshawar
The presence of the [Ahmadiyya] Dar-ul-Kitab in central Peshawar, in the form of an upper storey room (for the accommodation of guests), library and dars of the Holy Quran, is an extraordinary blessing. This room has been dedicated for some time by our noble and respected Mirza Abdur Rahim Sahib Ahmadi in the name of Anjuman for the needs of the Ahmadiyya Jamaat. May Allah the Almighty grant this man of God a great reward from Himself.
This place is very suitable and useful to some extent. However, in view of the ever-increasing members of the Jamaat and the growing needs of Ahmadiyyat, it was deemed necessary to have a mosque and a guest house in Peshawar. In addition, we often have Ahmadis coming from places like Afghanistan, Kabul and other places along the border, for whom we find it very necessary to arrange accommodation and hospitality.
Consequently, keeping these matters in sight, a proposition of a mosque was presented before Hazrat Khalifatul Masih IIra, which he accepted with great delight. He even granted a reasonable amount of money in this regard.
Our Community, in spite of being a poor Jamaat, took part in this cause with great courage in the days of extreme scarcity and famine and contributed up to around 1,000 rupees in Chanda. May Allah the Almighty reward the handsome efforts of our respected Mirza Abdur Rahim Sahib. He has made an additional promise of offering more than 300 rupees as well.
Apart from obliging us by participating in this good deed, some associates of Mardan are also worthy of Allah's reward. Other members of Mardan and Nowshera jamaats have also promised to offer huge contributions. O Allah, bless our efforts in this regard. Efforts are now underway to purchase land at a suitable place. Members of the Jamaat are requested to help us succeed through prayers and alms-giving and become worthy of reward in this world and the next life.
Ahmadiyya mosque, London
In spite of other Chanda mentioned above, this destitute jamaat [of Peshawar] participated in the contribution of the London Mosque with great courage. Thus far, 631 rupees, 6 annas and 6 paisas have been collected for this cause and sent to Qadian.
Moreover, it is estimated that upon the fulfillment of all the promises, the total chanda will amount to around 1,000 rupees. Surely, Allah alone can help us succeed.
Muhammad Abdul Majeed Khan Ahmadi,
Secretary Anjuman Ahmadiyya, Peshawar
Role model – Monetary sacrifice for London Mosque
After the appeal of Chanda for the London Mosque, respected Abdur Rahman Sahib, son of Haji Umar Dar Sahib, resident of Nasnoor, Kashmir immediately presented 50 rupees. A detailed report of the total Chanda received in this regard from the time of appeal to 6 March 1920 has been published in the 29 March issue of Al Fazl. It expressed that Nasnoor's jamaat offered 130 rupees and the Kashmir region contributed 306 rupees and 8 annas to this cause.
Moreover, it was noted that the said region seemed to have paid less attention towards offering Chanda. Due to this and through the stimulation of Maulvi Habibullah Sahib, the sons of the late Haji Sahib donated a part of their property worth 1,600 rupees for the London Mosque and handed over the rights of ownership of their property to the Anjuman.
May Allah grant them the best of rewards. Members and Jamaats should draw a lesson from this good and exemplary model. May Allah give them the strength to perform much higher deeds of goodness and accept our sacrifices. Amin.
Wassalam,
Nazir Bait-ul-Mal, Qadian Dar-ul-Aman