Migration of Hazrat Mirza Tahir Ahmad, Khalifatul Masih IVrh 
From Pakistan to UK
A Chronology
We will be taking a look back at the April of 1984 when Hazrat Mirza Tahir Ahmad, Khalifatul Masih IVrh made a move that would begin a new chapter in the history of the Jamaat. His migration from Rabwah, Pakistan to London, UK was not as easy as it sounds today. There were many challenges not just for him and his family but for the entire Jamaat. Thus, we will be travelling back in time to those crucial days of April and highlighting the chronology of events in that month. (Editor)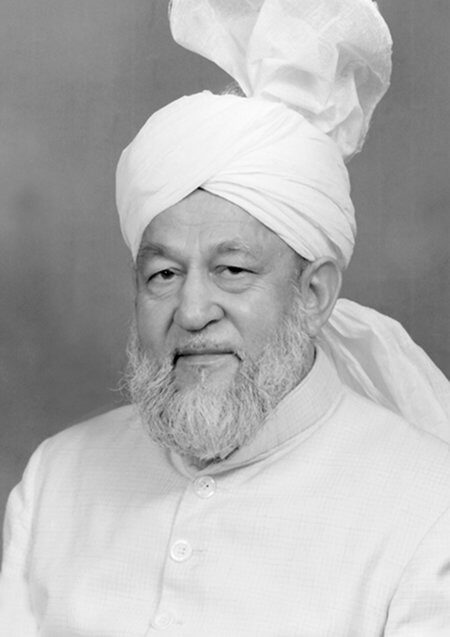 26 April 1984:
The situation for Ahmadis in Pakistan was getting tense. The situation was assessed and meetings were convened. Kalimullah Khan sahib got to know about the upcoming Ordinance XX the day before, and thus arrived in Rabwah, describing the situation in an audience with Hazrat Khalifatul Masih IVrh
Hazrat Khalifatul Masih IVrh instructed Kalimullah sahib to travel to Lahore and discuss the matter with the Amir of Jamaat Ahmadiyya Lahore, Chaudhry Hameed Nasrullah sahib
Chaudhry Hameed Nasrullah sahib called a meeting with Ahmadi lawyers and presented their report the following day
The announcement about Odinance XX being declared was made in the 8pm national news bulletin on Radio Pakistan. This led to emergency meetings being held in Rabwah that continued late into the night
27 April 1984:
Representatives from various Jamaats of Pakistan started arriving in Rabwah, leading the consultation to expand with committees and subcommittees being formed
A committee, with Mirza Mubarak Ahmad sahib in chair, was formed to consider Hazrat Khalifatul Masih IV'srh migration. The committee recommended that Huzoorrh migrate from Pakistan
Huzoorrh accepted the decision as, with the Ordinance in place, he could not perform his duties as Head of the Ahmadiyya Muslim Jamaat
Masood Jehlmi sahib, then Wakilut Tabshir, left for Karachi to make travel arrangements
28 April 1984:
Arrangements for Huzoor'srh travel were finalised
Brigadier Waqiuz Zaman sahib oversaw the travel arrangements
Masud Jehlmi sahib would manage Huzoor'srh air travel while Chaudhry Hameed Nasrullah sahib arranged for cars and drivers for the road journey from Rabwah to Karachi. Chaudhry Ahmad Mukhtar sahib, Amir Jamaat Karachi, was to supervise the exit arrangements from Karachi
Brigadier Waqiuz Zaman and Chaudhry Hameed Nasrullah sahib were instructed to accompany Huzoorrh to London. Chaudhry Ahmad Mukhtar sahib travelled to Karachi the same evening and held meetings to plan the journey from Sakkhar (border of Punjab and Sindh provinces) onwards, including spots for breaks etc.
Huzoor'srh stay during his transit in Karachi was to be arranged by Zartasht Munir Khan sahib (then Qaid, Majlis Khuddamul Ahmadiyya Karachi), while Raja Shahid Ahmad sahib and Raja Nasir Ahmad sahib were responsible for clearance at the Karachi Airport
Drivers, with their respective cars, arrived from Lahore and stayed in the houses of Mirza Khushid Ahmad sahib and Mirza Ghulam Ahmad Sahib
Hazrat Khalifatul Masih IVrh, travelling in a private car of the Tahrik-e-Jadid, left his residence (Qasr-e-Khilafat) and arrived at Al Bushra (then residence of Mirza Hameed Ahmad sahib) at 11pm
Mirza Khurshid Ahmad sahib drove this car, with Mirza Ghulam Ahmad Sahib in the passenger seat, and Huzoorrh, his wife and the two youngest daughters in the back seat
Huzoorrh wore a topi and not his turban during this short drive from his residence to Al Bushra
Secrecy was paramount, so even Mirza Hameed Ahmad sahib was not made aware of who was staying at his house that night
The mother of Mirza Khurshid Ahmad sahib and Mirza Ghulam Ahmad sahib was critically ill in those days and so, that night, the unusual presence of cars around their house was thus covered; onlookers and passers-by could not sense the commotion
The historic migration of Khilafat-e-Ahmadiyya, from Pakistan to UK, would commence the following morning…
29 April 1984:
The historic migration of Khilafat-e-Ahmadiyya from Pakistan to England began in the early hours. Cars carrying members of the convoy left Rabwah before daybreak.
Car 1: Sardar Abdus Sami (Lahore), Malik Sultan Harun (Kot Fateh Khan, Attock), Sheikh Amir Ahmad (Lahore), Chaudhry Idris Nasrullah Khan (driver)
Car 2: Hazrat Mirza Tahir Ahmadrh, Hazrat Syeda Asifa Begum Sahiba, Huzoor'srh two youngest daughters, Chaudhry Hameed Nasrullah Khan (driver)
Car 3: Brigadier Waqiuz Zaman, Sheikh Mubasher Ahmad (driver), Sheikh Saeed Ahmad, Malik Faruq Ahmad (co-driver)
Car 4: Mirza Khurshid Ahmad (representing Sadr Anjuman Ahmadiyya), Mirza Mujib Ahmad (driver), Mirza Luqman Ahmad, Faiza Begum, Mirza Usman Ahmad
When Mirza Khurshid Ahmad sahib sent a message to Huzoorrh that it was time for departure, Huzoorrh was offering Tahajjud prayers
Huzoorrh came out ten minutes later and sat in the car. He was wearing white clothes, an over coat and a topi
The convoy left Rabwah at four-o'clock in the morning. Three of the four cars left together, while the pilot car had already left for Sargodha Road; joining the three at the main road
The convoy drove in the direction of Sargodha, taking a turn to the left, just before Lalian towards Tarkhanawala. This small road joins Sargodha-Jhang Road further down
Earlier, while still in Rabwah, Huzoorrh had pointed out a spy of the military agencies in the disguise of a pauper but wearing army boots. More spies were spotted again between Lalian and Jhang
One hour after the departure, Mirza Mansoor Ahmad sahib sent off another car with the instruction to keep an hour's distance behind the convoy
About 80 miles before Sukkur, a tyre of Car 4 went flat. The convoy, hence, came to a halt when Mirza Khurshid Ahmad sahib received a message from Huzoorrh from the car in front that food from a roadside dhaba (roadside inn) be bought. Food was purchased from a nearby dhaba
The convoy stopped for a lunch-break near Sukkur Bypass at around 2 pm. The food bought earlier was served for lunch. Namaz was offered here
At this point, a convoy of three cars from Karachi joined and piloted the convoy from here onwards
The convoy arrived at Karachi around sunset and stopped briefly near Malir Toll Plaza. After some discussion, the convoy moved in two parts to where accommodation had been arranged
The three cars accompanying Huzoorrh went to Kalimullah Khan sahib's residence, while others headed to Sheikh Abdul Majid sahib's house in the area of Defence
Soon after, Masud Jehlmi Sahib (Wakilut-Tabshir) and Raja Shahid Sahib left for the airport with passports of passengers to have them ready for departure
Before the six London bound passengers arrived at the airport, their passports were ready for boarding. (Visas were not a requirement for travel to the UK then)
As a precaution, Huzoor'srh passport was processed separately. Huzoor'srh passport clearly stated "Head of the Ahmadiyya Movement" as Occupation
Zartasht Munir sahib, Malik Faruq sahib and Mirza Mujib Ahmad sahib also left for the airport
The on-duty immigration officer looked through Huzoor'srh passport, read all details and stamped it, granting exit clearance
Brig. Waqiuz Zaman sahib, Chaudhry Hamid Nasrullah sahib and Huzoor'srh two youngest daughters arrived at the airport about half an hour before Huzoorrh and Hazrat Asifa Begum Sahiba
Huzoorrh and Hazrat Asifa Begum Sahiba arrived at Karachi Airport at 1:25am and went straight through to the VIP lounge. The flight was scheduled for take-off at 2am
Huzoorrh was dressed in his usual attire of Sherwani [overcoat] and turban. His name was entered twice in the VIP lounge books along with his designation as "Head of the Ahmadiyya Movement"
Some military personnel were seen scanning through the VIP lounge. This was alarming but it soon became known that they were there as part of protocol for an African dignitary
The flight had landed with a delay of 30 minutes, so boarding time was pushed back by 30 minutes
Half an hour after take-off, the flight lost signal with the Air Traffic Control Tower at Karachi Airport, meaning that it had crossed the Pakistani airspace and could not be withdrawn by Pakistani authorities
After this confirmation, those who saw Huzoorrh off returned from the airport
30 April 1984:
Huzoorrh first arrived in Amsterdam, and after a brief transit, safely arrived in London
This was the beginning of a new chapter in the history of the Jamaat, opening new avenues for prosperity and success