The Moslem Sunrise, January 1922
Hazrat Mufti Muhammad Sadiqra (1872-1957)
On account of certain financial difficulties, I have not been able to accomplish much during the last quarter. Being invited to Grand Rapids, Mich., I delivered a series of lectures there, the syllabus of which is given below in Press Notice. I also secured 10 new converts to our faith there, whose names are printed in the list. Brother and Sister Alberto, Bro. Russell and Bro. Jacob have been busy in securing new converts and the majority of those enlisted in the last quarter comes through their efforts. Madam Rahatullah sends the names of two new converts from New York. The communications received for the quarter ending October were 700 and those dispatched 3000. Mr Yusuf Khan and Mrs Fatima Ayesha have been helping me in the writing work.
Thanks are due to Mr and Mrs Brown, Mr and Mrs Kelly and other friends in Grand Rapids for their generous hospitality. I am much obliged to Rev Flower, Mr Fellows, Mrs EG Carpenter and Secretary Theosophical Society for inviting me to speak in their churches and halls. Since the last report, I have delivered 15 lectures in different places, given interviews to many and distributed a large number of literature.
A letter of congratulations for his successful career as President of Czechoslovakia was written to Dr Masaryk drawing his attention to the betterment of Moslems in that land. Mr Lloyd George, the British Premier and the Prince of Wales have respectively thanked me for my epistles to them, mentioned in the previous issues of this magazine. Missionary epistles and messages of Islam were sent to many celebrities, including Vice Presidents of Unitarian American Board; American Judge in the League of Nations; General Wood, new general of Philippine Isle; Sultan of Zula; Sheikhul Islam of Azerbaijan, etc.
1800 circular letters with literature were mailed to the Principals and Governors of Universities and selected colleges all over the United States.
New converts to Islam and Ahmadia brotherhood (Since last report)
Mr Houston Green of Chicago (Hassan), Laurene Green of Do. (Hussain), Mrs Addie Evans of Florida (Umama), Mrs Cora Lafren Olsen of Tampa (Hafsa), Mrs Jose M Martnez of New York (Abdul Qadir), Mr M Head of Florida (Abdul Rabb), Mr James Dunn (Abdul Alim), Mr George Powell (Abdul Basitt), Mr George Churchill (Abdul Samee), Jesee Mecheral III (Abdul Razzaq), Mr Govan D August of Chicago (Abdul Hakim), Minnie Krueger of Canada (Fatima Ayesh), Mr Arthur Brooks (Akbar), William L Scott of Chicago (Abdullah) TW Gantt III (Abdur Rahman), John Q Williams of Chicago (Othman), Mr Randolph Bonnell (Ali), Mr Railey Groham of Chicago (Omar), Mr David Stigiby (Farooq), Mrs Emar Salmen (Aesha), Mr Thoma H Cop (Aboo Bekr), Miss Florence Witozap of Grand Rapids (Amina Khateeb), Miss Inis Smith (Abdo) of Grand Rapids (Aneesa), Mr Wilmer J Green (Abdul Mannan), Mrs Lexia J Green (Kareema), Mrs AJA Strangham of Penn. (Saleha), Professor JH Watkins of Tenn. (Abdul Jaleel), Bessie Shepherd (Brown) of Grand Rapids (Saeeda), Louisie Clasussen (Kaled) of Grand Rapids (Mariam), Mr WF Philip of Chicago (Abdul Aziz), Mr EM Philip of Do. (Abdul Ghaffar), Mr WG Edwards of Do. (Abdul Hameed), Mr JW Sarreals of Grand Rapids (Muhammad Yusuf), Mrs L Sarrreals of Do. (Sikeena), Mrs Elsie Saide of Do. (Aisee), Mr William N Main (Nasir), Mrs Mill Main (Nusrat), Miss Anna C Pettit (Berket), Mr Harry Fresh of Tampa (Ameen), Mrs Mamie Virdyke of Do. (Sady), Mrs Claira Shears (Kubra), Mr FR Mondel of Central America, Shaikh Abdul Ghaffar of Tele., Honduras, Mr Jamal Bey of Chicago.
Press Notices
1. The Egyptian Gazette of Alexandria (28 July 1921) has published a long article headed as "Moslem Missionaries abroad – Making converts in USA", quoting profusely from The Moslem Sunrise about our work and the writings on Polygamy.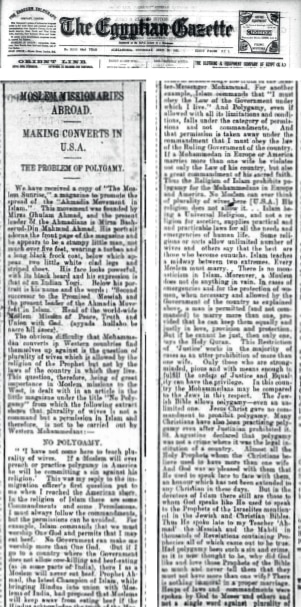 2. Toledo Club Woman, August 1921: "A gentle-souled old Mohammedan missionary paid the faithful in Toledo a visit recently and so wholesome was his philosophy and so broad and farseeing his outlook upon life that he left an indelible impression of deep friendliness upon the city in his brief sojourn and taught all who came in contact with him anew the principle that not all good is encompassed in any one land or religion and that a saint may blossom upon the bosom of a Confucius or a Mahommed, given the right elements mixed in a man.
"For Dr Mufti Muhammad Sadiq, Moslem lecturer and man of letters, with his picturesque green turban and his small, gesticulating hands and piercing eyes, those who sought him out, found to be a man of parts with learning profound, fit associate for saints and sages of this or any other day.
"His own visiting card, with its quaint Arabic characters, bore an inscription voicing his belief in God and man, which read like, not unlike, the Christian's creed. The Mohammedan family with whom he tarried while in the city although of humble circumstances and with no pretensions to culture, showed a kindly politeness to all visitors who sought out the learned man for conference that would put to shame the breeding of fashionable Collingwood Avenue. Never during his stay did his hostess allow any individual to enter and leave her house, without offering from a tray refreshment in the form of beautiful sweet liquid, specially iced and refreshing indeed in these heated days, since no Mohammedan will allow anyone to pass his threshold without tasting of his hospitality.
"Those who met Dr Sadiq made a friend they will long remember. With all his depth of learning and his almost occult wisdom he possessed to an unusual degree the saving sense of humor, lightening the heaviest of his discourse with its sparkle shafts."
3. Grand Rapids News, 4 October 1921:
"6 October 1921:
"Islam Missionary Here
"Dr Mufti Muhammad Sadiq of India to Give Lecture Series
"Dr Mufti Muhammad Sadiq of India will deliver a series of lectures in Church of Truth, Shelby street, near division avenue, S., at 7:30pm.
"4 October, Tuesday – 'The Object of Man's Life and How to Obtain It.'
"7 October, Friday – 'Moslem System of Prayers, Silence and Meditation.'
"11 October, Tuesday – 'Buddha, the Great Teacher.'
"14 October, Friday – 'Ahmad[as] of India, The Prophet of India.'
"Mufti Muhammad Sadiq is the first missionary of Islam to this country, visiting the city. He is staying at 517 Fairview Avenue. He has been delivering lectures in New York, Chicago, Detroit and other cities on Islam and oriental subjects. Dr Sadiq belongs to the reformed Church of Islam, founded by Ahmad[as], who claimed to be the promised Messiah and peaceful Mehdi and has prophesied about war and dethronement of the czar of Russia 10 years before the occurrences. Dr Sadiq edits the quarterly magazine Moslem Sunrise. He is translating El Quran, the Moslem bible, into the English language, the first part of which has already been published."
4. The American Evangelist, Siloam Springs, Arkansas, for August 1921:
"Mohammedanism in America
"Things must be bad in America. We have long suspected that there would be no harm in trying Christianity as a remedy for our many ills. But since we are slow to do this, our need has been discovered abroad and now we have a fully accredited representative of the Ahmadia Movement in Islam located among us. His name is Dr Mufti Muhammad Sadiq and his address is 27 La Belle Avenue, Highland Park, Michigan. America can now advance under his leadership to a position among the great nations dominated by Mohammad, such as Turkey, Egypt, Russia and Afghanistan.
"And more, there is a special message of greeting from the Ahmad himself. He is the second successor to the Promised Messiah and Mehdi and the present leader of the Ahmadia Movement in Islam. Head of the world-wide Moslem Mission of Peace, Truth and Union with God. This is his message to 'All the American Moslems and members of the Ahmadia Movement in Islam':
"'Assalam-o-Alaikum,
"'Greetings
"'The Pioneers in the Colonization of American land are always looked back upon with honor and respect. Their work was temporal but now my dear Brothers and Sisters, Allah the Almighty has made you the Pioneers in the spiritual Colonization of the Western world. If you will work with the same love, zeal, sincerity and loyalty, as they did, your honor and respect and name will be still greater than theirs, as you will have moreover the Reward at the Last day and Allah's pleasure and grandeur and beauty of which no one can estimate here in this world.
"'Mirza Mahmud Ahmad.'"
Mr H Alberto (Mubarik)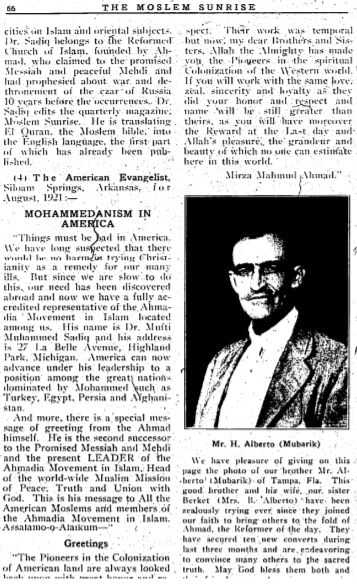 We have pleasure of giving on this page the photo of our brother Mr Alberto (Mubarik) of Tampa, Fla. This good brother and his wife, our sister, Berket (Mrs B Alberto), have been zealously trying ever since they joined our faith to bring others to the fold of Ahmad[as], the Reformer of the day. They have secured ten new converts during last three months and are endeavoring to convince many others to the sacred truth. May Allah bless them both and their friends ever and ever.
(Transcribed by Al Hakam from the original in The Moslem Sunrise, January 1922)